Edgar Wright Turned Down The 'American Werewolf In London' Remake [Updated]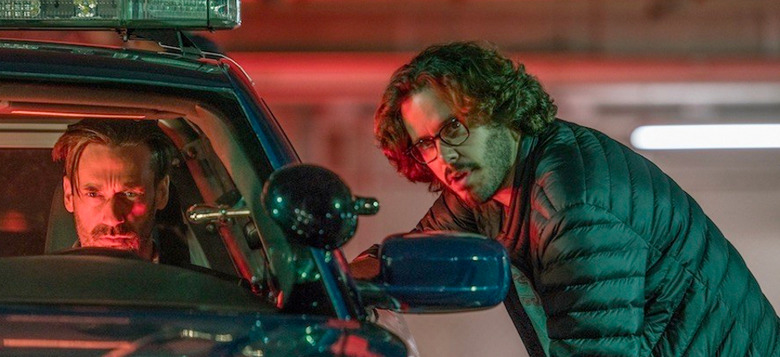 Update: Max Landis has reached out to us about this story and has clarified a few details about what went down here. We have added the new details at the bottom of our original story.
One movie that absolutely does not need a remake is An American Werewolf in London, John Landis' brilliant horror-comedy featuring mind-blowing special make-up effects. But there are plans for a remake anyway, with Landis' son Max Landis writing the script and maybe even directing. At one point, though, Baby Driver Edgar Wright was offered the opportunity to helm the American Werewolf in London remake, and wisely turned it down. Find out why below.
Discussing Film attended a recent Shaun of the Dead Q&A screening with director Edgar Wright in attendance, and learned an interesting bit of trivia: the filmmaker told the crowd that he was once asked to helm the American Werewolf in London remake. We reached out to Wright for more info, and he confirmed, saying: "It was years ago. Way before Max [Landis] came onboard. There was no script, just the idea of doing it. John [Landis], whom I love, asked me and I said it's a perfect movie as far as I'm concerned, and I have nothing to add to it."
He's right, folks! Look, Edgar Wright is a wonderful director, and if he were attached to helm a remake of American Werewolf, I would be curious. But the filmmaker is correct in his statement that there's nothing to add to the original movie. It stands the test of time, and remains just as good today as it was when it was first released in 1981.
It's worth noting that Wright is a huge fan of American Werewolf, and while that might be enough to inspire a filmmaker to take on the remake, he decided to pass. In a previous /Film interview, Wright said:
"Off the top of my head, my favorite needle drop, and I think it's magical, is the cut to the end credits of An American Werewolf in London. Every time I watch that movie, I just think it's the perfect, perfect ending. I don't know how to talk about it without ruining it for someone who has never seen it. It's such a tragic, heartbreaking ending and then a cut to black and the most upbeat, doo-wop version of "Blue Moon" by The Marcels. I remember the first time I saw it, it gave me such a rush and goosebumps. And it still does. I think it's the greatest cut-to-black credits song ever. It sort of sums up the mischief of the movie. There's real alchemy in that movie. It somehow manages to do everything. It's funny and scary and heart-wrenching at the same time."
In An American Werewolf in London, two American backpackers in the U.K. are attacked by a werewolf. One of the men dies, while the other survives – only to find himself now cursed to be a werewolf. Writer-director John Landis deftly blended horror and humor, and Rick Baker's transformation effects remain the gold standard in special effects make-up work. I am not looking forward to the remake, whenever it should happen.
Update: Shortly after this story ran, Max Landis reached out to /Film to clarify the story. He explained that his father, original American Werewolf director John Landis, did not have the rights to the film when he pitched Edgar Wright on remaking it. At the time, the rights were tangled and it took years of work to secure them for the remake Max Landis is currently writing. While a friendly conversation between John Landis and Edgar Wright undoubtedly happened, it sounds like it was far from being an actual pitch for a remake, as it was impossible make at that time.
An American Werewolf in London