Dune Star Josh Brolin Is Also Unhappy About That Denis Villeneuve Oscar Snub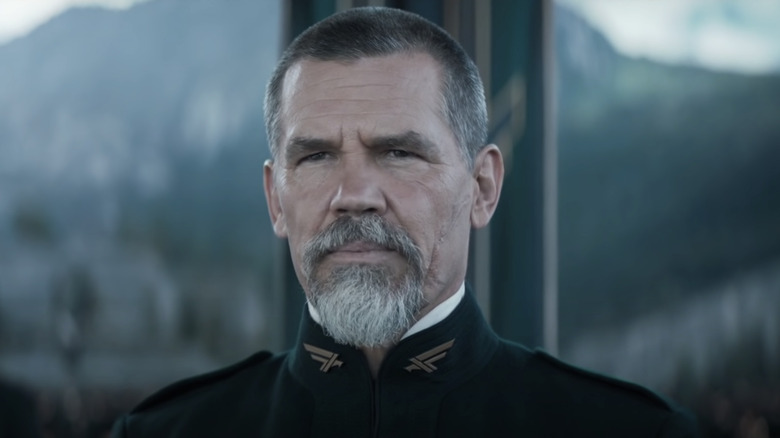 Warner Bros.
It always happens: someone gets snubbed at the Academy Awards, and someone online has something to say about it. In this case, however, it's not just anyone who's out there saying things about filmmaker Denis Villeneuve getting snubbed in the Best Director category for "Dune."
Actor Josh Brolin has worked with Villeneuve twice now — starring in both "Sicario" and "Dune" — and he himself earned an Oscar nomination for his 2008 performance opposite Sean Penn in "Milk." After the the nominees for the 94th Academy Awards were announced this week, Brolin took to Instagram to congratulate some of his "Dune" collaborators. "Dune" was second only to "The Power of Dog" in nominations, earning 10 total in the categories of best picture, best adapted screenplay, best cinematography, best editing, best costume design, best production design, best original score, best sound, best visual effects, and best make-up and hairstyling.
Villeneuve, however, went unrecognized for best director. The five nominations in that category instead went to Kenneth Branagh for "Belfast," Ryusuke Hamaguchi for "Drive My Car," Paul Thomas Anderson for "Licorice Pizza," Jane Campion for "The Power of the Dog," and Steven Spielberg for "West Side Story."
Here's what Brolin had to say in his Instagram video:
"Hey, I just want to say congratulations to Legendary and Warner Bros., everybody who got nominated for 'Dune': editing, cinematography, score, music, writing, pretty much everything. And the unbelievable, almost numbing, flummoxing I feel for Denis Villeneuve not being nominated for Best Director. It's just one of those things where you go, 'Huh? What?!' "
"Congratulations ... it's all really, really dumb"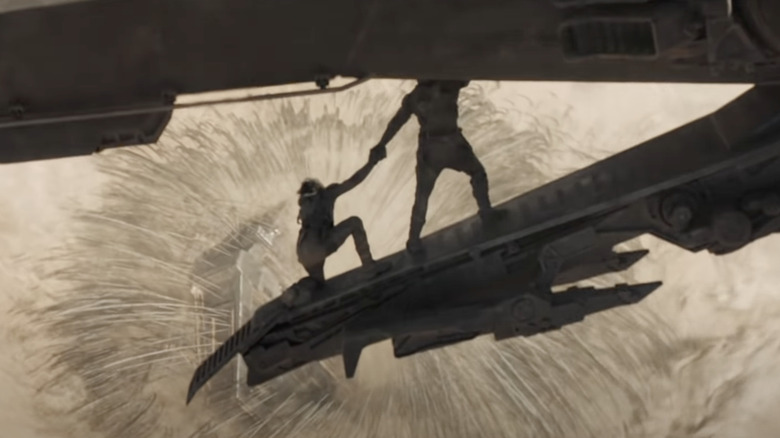 Warner Bros.
With the help of his co-writers, Jon Spaihts and Eric Roth, and the rest of his massive crew and cast, Villeneuve gave the first half of Frank Herbert's classic science fiction novel, "Dune," the proper film adaptation it deserved. He succeeded where other talented filmmakers like Alejandro Jodorowsky and David Lynch had failed.
Having only seen one of the five films so far that the Academy chose to recognize in the best director category this year, it's tough for me to really say which of the filmmakers — if any of them — should have gotten the boot in place of Villeneuve. Brolin, for one, somewhat echoed comments made by Seth Rogen this week about how important or unimportant the Oscars really are to anyone other than movie people. The "Dune" actor continued:
"I don't know how you get 10 nominations and then the guy who has done the impossible with that book doesn't get nominated. It makes you realize that it's all amazing and then it's all f****** totally dumb. So congratulations for the amazing accomplishments that these incredibly talented people have been acknowledged for, because it's all really, really dumb."
If there's any consolation for "Dune" fans, it's that Villeneuve did earn one best director nomination already for "Arrival," the film that set him down the sci-fi path to "Blade Runner 2049" and "Dune." Even if he never does pick up another nomination or win for best director, he'll be in fine company with other great directors who never won, such as Akira Kurosawa, Alfred Hitchcock, Stanley Kubrick, and many more.
"Dune: Part II" is set to begin filming this year for an October 20, 2023 release.