Charlie Cox Admits He Knows 'A Little Bit' About His Future In The MCU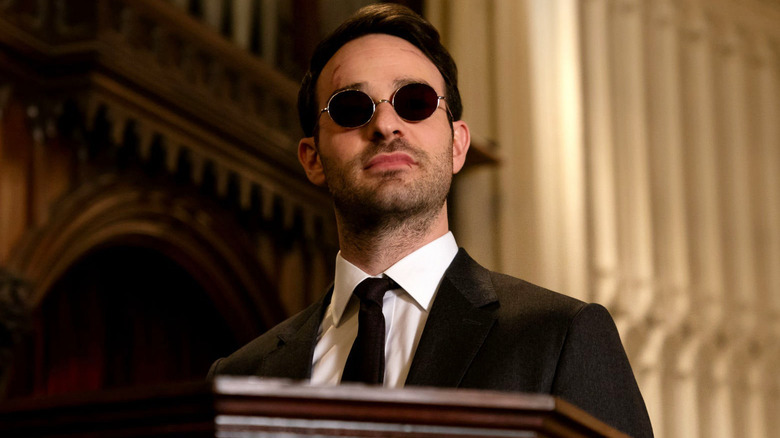 Marvel/Netflix
As we wait to find out where, exactly, Marvel's Netflix Original series are headed (more on that breaking news here), let's pause and consider what comes next for "Daredevil" star Charlie Cox. The actor is now formally part of the Marvel Cinematic Universe thanks to his no-longer-secret cameo as Matt Murdock in "Spider-Man: No Way Home." However, lest anyone assume that Matt showing up as Peter Parker's new lawyer was a one-off bit of fan service, Cox is already teasing that he knows for certain he will return to the MCU down the line. Question is (okay, one of many questions, that is), will Matt be facing off against his old enemy Wilson Fisk, AKA Kingpin, when he does?
Much like Cox's cameo in 'No Way Home," the statute of limitations on spoilers has expired when it comes to talking about his "Daredevil" co-star Vincent D'Onofrio and his own formal introduction to the MCU as Kingpin on "Hawkeye." If he knows about any future plans for the powerful crime boss, then D'Onofrio is keeping them close to his chest, and for good reason. The "Hawkeye" finale left Fisk's fate firmly up in the air by having Maya Lopez (Alaqua Cox) confront her "uncle" after uncovering his role in her father's death, only to cut away as she raised her gun to shoot him — leaving it unclear as to whether she really killed him or if she merely fired off a warning shot.
Bringing Some Darkness Into the MCU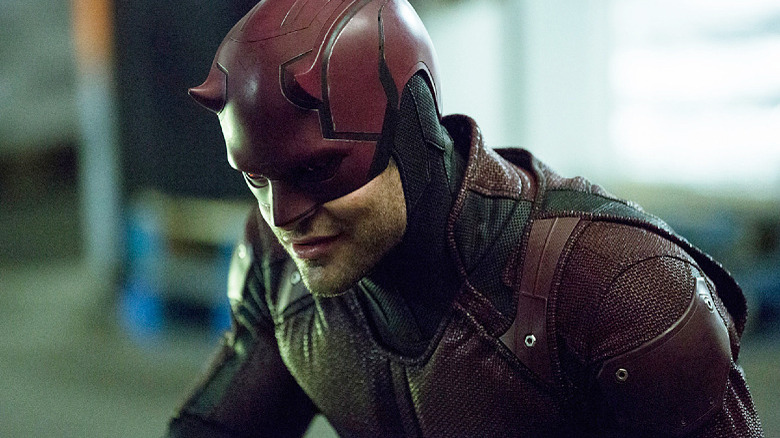 Marvel/Netflix
Cox, for his part, is claiming that while he does know "a little" about Daredevil's MCU future, he has no idea if it will include Kingpin or not at this stage. Here's the full quote he gave to The Hollywood Reporter:
"Look, I don't have any idea what anyone's plans are at this stage, but I presume there's more for [both D'Onofrio and myself] to do. I know a little bit — not a huge amount — but a little bit. I am imagining, I am hoping, that our worlds will collide again because the stuff we've done in the past was tremendous fun to do, and he's such an incredible actor. We have to start every conversation with, 'What do you know?' because you have to be careful. It's really exciting."
As I see it, Daredevil joining the MCU proper feels like part of a greater effort to bring a little more darkness into the franchise. That's not to say the property is abandoning its non-family-friendly PG-13 style, but between characters from Marvel's Netflix Originals — as well as the shows themselves — finally being integrated into other MCU projects, and darker superheroes like Moon Knight and Blade being added to the mix, it seems like Marvel Studios is setting the stage for some of its future movies and series to go to more adult places. That would not only inject some welcome variety into the property but maybe even pave the way to a worthy new "Daredevil" show featuring Cox and(?) D'Onofrio. Perhaps we could also bring back some of those great Marvel-Netflix action scenes while we're at it?
"Spider-Man: No Way Home" is currently playing in theaters.