The Daily Stream: The Daredevil Season 3 One-Take Prison Fight Scene Makes Me Nostalgic For Great Marvel Action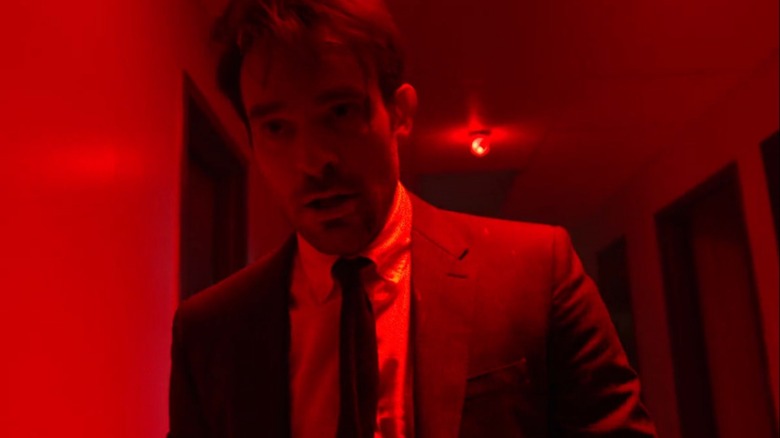 Netflix
(Welcome to The Daily Stream, an ongoing series in which the /Film team shares what they've been watching, why it's worth checking out, and where you can stream it.)
The Series: "Daredevil"
Where You Can Stream It: Netflix
The Pitch: Blinded in a chemical spill accident as a child, Matt Murdock gains heightened senses that allow him to see the world differently. He uses his abilities to moonlight as a vigilante while working as a lawyer by day. But he's also intensely Catholic. Like super Catholic. As in, will go to confession to ask forgiveness for the violence that he inflicts and the simmering anger that he cannot repress no matter how much he tries.
It's this bundle of nerves and rage and angst, all wrapped up in Charlie Cox's taut little body, that makes the magic that was Netflix's "Daredevil" the best thing to come out of the short-lived Netflix-Marvel partnership. Why am I talking about "Daredevil" four years after it was canceled by the streaming giant and apparently wiped from Marvel Cinematic Universe canon? Well, partly because the latter ended up not being so true — appearances by Cox in "Spider-Man: No Way Home" and Vincent D'Onofrio, who plays Daredevil's archenemy, Kingpin, in "Hawkeye" confirmed that "Daredevil" is in fact a part of the MCU. Or, at least, some version of it. Nevertheless, it piqued a lot of people's interest in the three-season Netflix show, and it reminded me that I never got around to "Daredevil" season 3. Finding myself with more free time than I've had in a while, I finally popped it on. And reader, am I glad I did.
Why It's Essential Viewing
Before I dive into the nitty-gritty of the greatness of "Daredevil" season 3, let me get those first two seasons of the show out of the way. The first season was the template for Netflix's Marvel shows — proof that you could do a gritty, hyperviolent, streetwise superhero series full of morally grey protagonists and bone-crunching action. It was imperfect, to be sure. Like many Netflix shows, it was five hours' worth of story stretched out over 13 episodes, was often too dark both literally and thematically, and the binge model left most of its plotting forgettable. But there was a moment in the second episode of "Daredevil" season 1 that put the series on the map, that made people sit up and pay attention: the hallway fight.
A visceral three-minute scene that appears to take place in one long take, the fight saw Charlie Cox's Matt Murdock, barely able to hold himself up after taking a brutal beating the night before, facing down an army of thugs, breaking down doors, throwing TVs, and throwing his body — and theirs — against the wall. It's an incredible sequence that, while obviously borrowing from Park Chan-wook's "Oldboy," demonstrated the show's commitment to that kind of tactile action that we were starting to see less and less in the MCU proper.
"Daredevil" would spend the rest of its run trying and often failing to live up to that hallway fight — though season 2 had a one or two really cool action sequences, namely Punisher's (Jon Bernthal) prison massacre — and even had the Defenders tried to replicate it in, um, "The Defenders." But good action couldn't be the only thing holding up a TV show, and "Daredevil" started to lose steam as its sophomore season fell victim to the plodding plot problems that had started to rear its head in season 1.
A Very Good Lawyer, an Even Better Fighter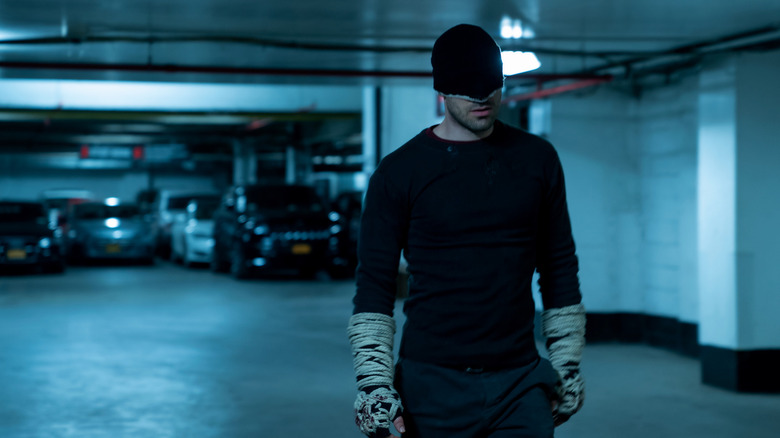 Netflix
But as we head into the fourth phase of the MCU, I've started to think: maybe good action is enough? Bad plotting in both "Daredevil" season 2 and the (very bad) team-up series "Defenders" is what killed my interest in finishing the third season about the Man Without Fear, but the lack of really interesting, exciting action has started to kill my excitement for the latest Marvel projects. When even the martial arts-forward MCU movie starts to feel weightless, or when every Disney+ show immediately becomes worse because of the obligatory third-act CGI fight fest, I'd started to wonder whether we took the days of those small-scale hallway fights in "Daredevil" for granted.
Reader, I'm here to tell you we did. First off, "Daredevil" season 3 was miles better than both seasons 1 and 2 — it didn't fix its plotting problems per se, but it was much improved and felt less like they spent three episodes wheel-spinning. The season wisely sheds the red suit (sorry comic book purists, but it looked bad!) in favor of the form-fitting black suit. Cox and Donofrio were as impeccable as ever (no wonder Marvel plucked them out of the show to bring over to the MCU), and I found myself happy to revisit Matt Murdock's perpetual angst and love for parkour all over again. But the scene that made my jaw drop was the latest and greatest "Daredevil" hallway fight, and perhaps the best showcase of action to come out of Marvel yet.
I'm talking, of course, about that 11-minute (!) long-take prison fight sequence, in which Cox's Matt Murdock drags his bloody body through a labyrinthine prison, all the while evading attackers with shanks and prison guards with guns. It's astonishing — it's actually two separate immaculately choreographed fight sequences, with a dialogue scene sandwiched in the middle, and never a camera cut can be seen. I know a lot of ink has been spilled about this sequence (not enough, I might say!) but it is all the more incredible how it feels like night and day after watching so many Disney+ Marvel shows with ho-hum action. It's like a kick in your teeth after being hopped up on nitrous oxide. Oh my god. Why did we ever satisfy ourselves with fight scenes that were CGI-ed to oblivion when we could have had this the entire time?
And the sad thing is, I don't think we'll have it again. Charlie Cox's Daredevil might be a part of the MCU (and maybe we'll even see him get his own Disney+ miniseries one day), but as committed as he is to the part, I don't know if Disney would ever be as committed to the action as Netflix and "Daredevil" showrunner Steven S. DeKnight were. I almost dread the day we get a longer Daredevil appearance devoid of those tactile thrills that made the Netflix series so good. My only hope is that Charlie Cox at least gets a better suit.