Vincent D'Onofrio Reveals Why His Kingpin Was So Different On Hawkeye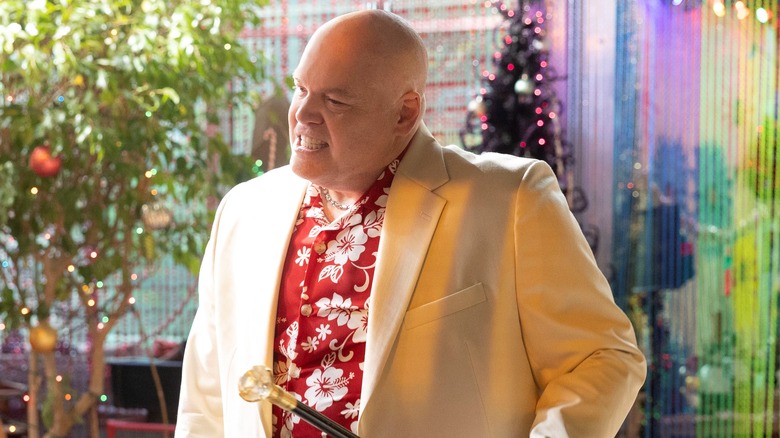 Marvel Studios
Despite the outside perception that the Marvel Cinematic Universe operates like a well-oiled machine (and, in fairness, it pretty much does), Marvel Studios has actually experienced quite a few bumps and detours along the way to gaining box office supremacy with their deeply interconnected franchise of movies and shows. The arrival of the Disney+ streaming service (combined with the restructuring of Marvel Studios and cutting out the middleman of Kevin Feige reporting to the "Creative Committee") ushered the MCU into a whole new era of multimedia storytelling, even though Marvel technically produced prior shows for ABC (nobody misses "Inhumans," but RIP "Agent Carter," cancelled far too soon!) and Netflix (those, you've probably heard of).
After years of the MCU essentially pretending as if Netflix shows like "Daredevil," "Punisher," and "Defenders" simply never happened, "Hawkeye" came out of nowhere to suddenly draw a much, much closer connection between the officially sanctioned universe and those redhaired stepchildren of the MCU. Vincent D'Onofrio reprising his role as Wilson Fisk/Kingpin caused a significant stir among fans ... but not just out of pure hype. Many viewers couldn't help but notice the vast difference in his portrayal between "Daredevil," which once famously depicted the madman decapitating someone with a car door, versus his glaringly bloodless appearance in "Hawkeye." Now, the actor himself is weighing in on this change and whether fans can look forward to a more brutal, hard-edged Kingpin.
"For Me, It's Not A Worry"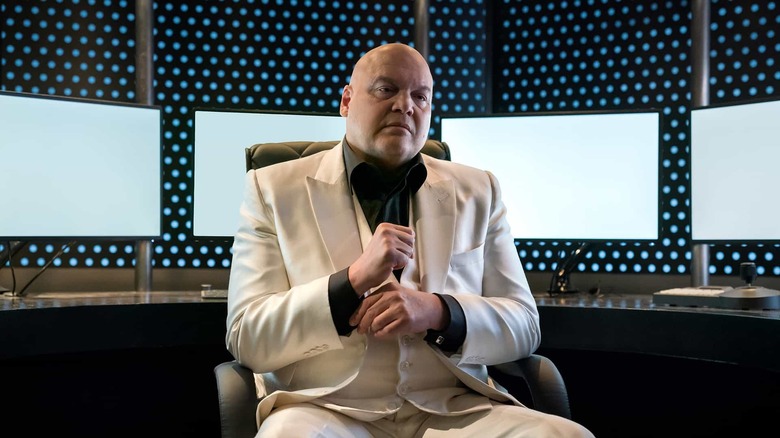 Netflix
Before we go any further, I feel compelled to point out that superheroes in general, and the Marvel Cinematic Universe in particular, are primarily aimed at audiences of all ages, but especially kids. As such, I'm not sure anyone should've ever expected that "Hawkeye," starring pop icon Hailee Steinfeld and no doubt viewed by many of her adoring, young fans, would suddenly morph into an R-rated horror show once Kingpin arrived on the scene in the latter episodes of the season.
That's not to say that the Disney+ series neglected to take advantage of the actor's physicality and imposing screen presence, as D'Onofrio (or should I say his double, who was a fairly obvious stand-in throughout the scene) put poor Kate Bishop through the wringer in their brief fight sequence. His role on the show ended with the heavy (but notably off-screen) implication that his niece, Maya Lopez (Alaqua Cox), put a bullet in him in an act of vengeance ... but possible death doesn't seem to phase D'Onofrio in his candid comments with ComicBook. The actor acknowledged the differences between Netflix and Disney+, saying:
"I think the [different] tones are obvious. I think it's less bloody. We talked a lot about it, and for me, it's not a worry, because if I ever get the chance to take it further with the MCU, then I'm going to do the same work I did on 'Daredevil,' like I did in 'Hawkeye.' [Fisk is] about emotional brutality, and he is just a mess. He's a broken monster, and he is capable of many different kinds of brutality...so none of that worried me during 'Hawkeye.' I did notice obviously that there's less blood and there's less torture. The thing you have to do is, you have to stay away from torture, and that really cuts things down. A lot of baddies that you play, they're not just baddies, but they also actually torture people. They get control of them, and torture, and that's too hardcore. So that's out for 'Hawkeye,' and hopefully something will happen after this."
That doesn't sound like a man who's been told his (brief) time in the MCU is already at an end, but his comments are as thoughtful as ever. May all fans be as level-headed and understanding as he is!
"Hawkeye" is streaming on Disney+.