The Major Moments Of And Just Like That Season 1, Ranked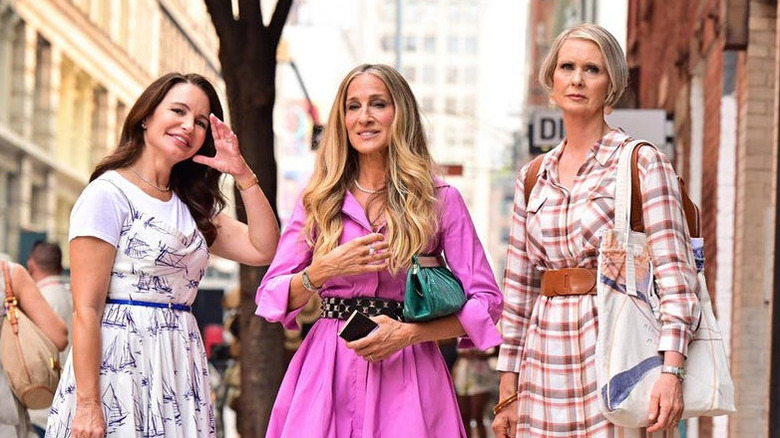 HBO Max
With a cosmo and a designer bag in hand, the "Sex and the City" franchise seems to always find new ways to continue. And with the season finale of its sequel series "And Just Like That...," fans are still processing every new detail in the lives of Carrie (Sarah Jessica Parker), Miranda (Cynthia Nixon), and Charlotte (Kristin Davis). From the death of a significant love interest to the emotional transformations of some key characters, this latest installment in the franchise doesn't hold anything back — leading to some successes and some controversies along the way.
But what are the big moments in this new chapter of the "Sex and the City" saga? That's a puzzle that even the hosts of "X, Y, and Me" couldn't quickly solve. From the hilariously horrendous segments all the way to the wonderfully brilliant scenes, this ranking is here to cover all of the juicy bases. So grab your favorite pair of sparkly stilettos, and let's dive deep into crucial moments of the bizarre and dramatic "And Just Like That..."
Of course, be warned — Spoilers Ahead!
15. Che sings about their new plans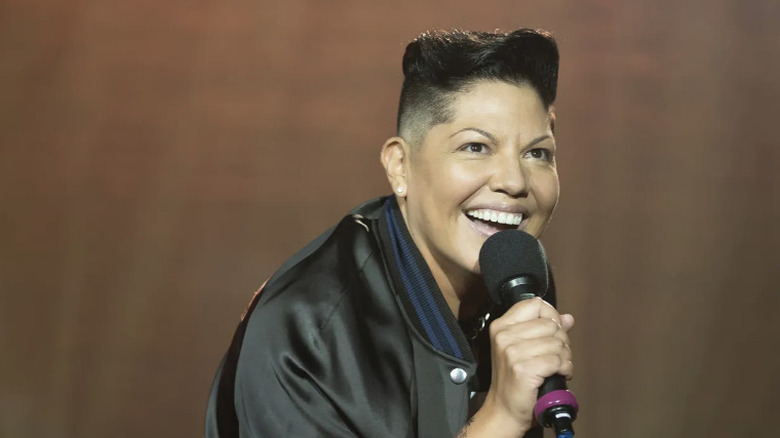 HBO Max
Right from the get-go, "And Just Like That..." hasn't been afraid of introducing new characters to longtime viewers. One such individual is non-binary comedian Che Diaz. Played by "Grey's Anatomy" star Sara Ramirez, Che has been the most talked-about character in the entire series thus far. And while there are many moments in which fans have questioned why Miranda (Cynthia Nixon) would be so infatuated with the outspoken comedian, one sequence (during the series finale) left some viewers especially puzzled.
In the scene, Che invites Miranda to meet their family. As Miranda settles into her seat, Che takes the stage, singing an oddly arranged cover of the Beach Boys' "California Girls." They announce that they're leaving for Hollywood to film a TV pilot. But why should this small scene be considered one of the most significant moments of the show's first season? Because it leads Miranda to change her life even more. Plus, it is yet another example of how (despite Ramirez's renowned Broadway vocal talents) the writers have no clue how annoying they've made Che throughout the series. In "And Just Like That...," Che is, unfortunately, significant for all the wrong reasons.
14. Carrie brings Big's ashes to Paris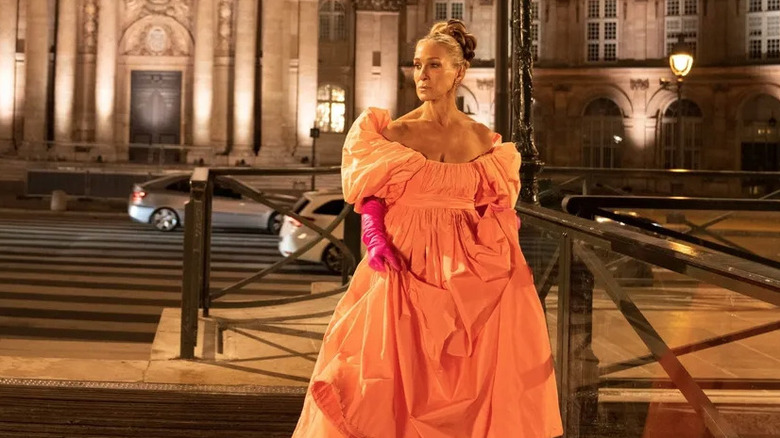 HBO Max
Many "Sex and the City" fans know that Paris is one of the most iconic locations in the series' history. Not only was it the reason behind the drama in Season 6, but it was also the place where Mr. Big (Chris Noth) proclaimed his love for Carrie. So it seems fitting that during the "And Just Like That..." finale, Carrie would finally realize where her beloved husband wanted his ashes spread — Paris, of course. And while it took a flashing light to make Carrie get the message, fans guessed this one way in advance.
From Chris Noth being cut from an intended dream sequence to rumors of Paris being a location in the series, it made sense that this is where things would go for Carrie. Yet, what makes this scene a major event (aside from the obvious) is its dramatic nature. From Carrie's oversized orange couture gown (by Valentino) to her using an Eiffel Tower-shaped purse to carry Big's ashes, the whole scene was as different and ridiculous as the entire season. And with Sarah Jessica Parker's emotional performance, it's easy to see why this moment is on this list.
13. Stanford's abrupt departure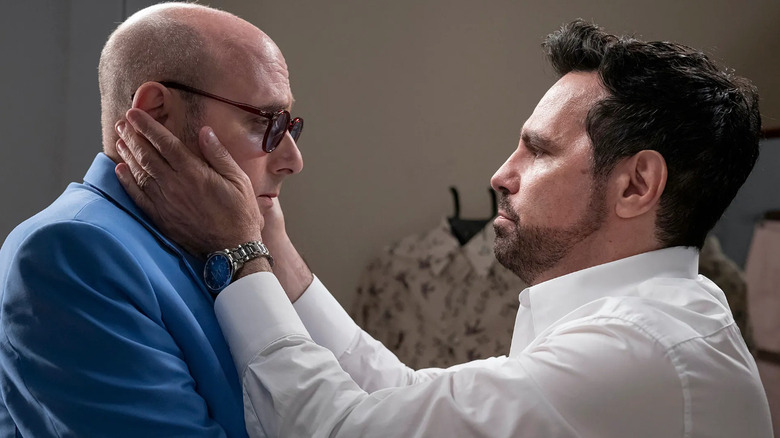 HBO Max
With the sudden death of actor Willie Garson, "And Just Like That's..." writers were left with a tragic conundrum. How would they explain the absence of Stanford Blatch and not make the entire first season a depressing death-fest? Well, their solution definitely left fans in a tough spot. Near the end of Episode 4, Carrie finds a note from her dear Stanford in her apartment. In the letter, Stanford reveals that he has decided to move to Japan for his career. When Anthony (Stanford's husband played by Mario Cantone) comes to tell Carrie that Stanford wants a divorce, the whole scene leaves everyone involved (including the audience) incredibly confused.
First, it's important to note that writing a character off a show is never an easy task (especially when it wasn't intended narratively). So props must be given to the writing team for doing the hard work. Yet, this scene leads to an arc that feels a bit out of touch for Carrie's iconic gay bestie because, in Episode 2, it seemed clear that Stanford was committed to staying with Anthony after Big's death. Ultimately, this scene is significant for a multitude of reasons. Above all, Stanford (and Garson) shall always be missed.
12. Carrie's worst break-up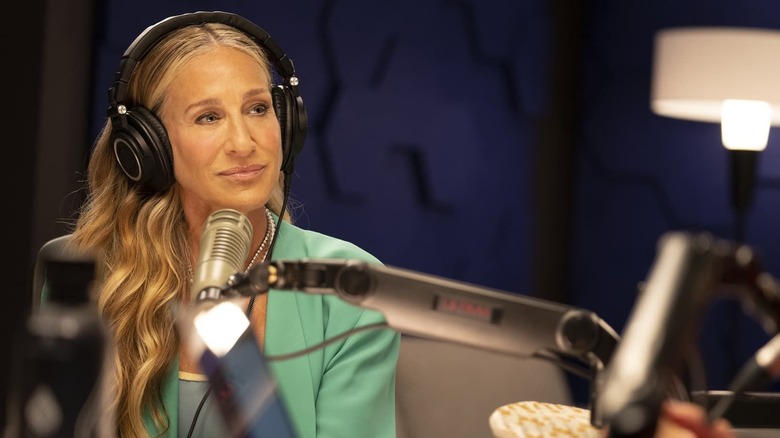 HBO Max
While the death of Big is an absolutely horrible life-changing event for Carrie, it stands to reason that the sex columnist has been through quite a few tough ordeals before — romantic and otherwise. So when Che asks Carrie what her worst break-up ever was during the recording of their podcast, fans' jaws were left on the floor with her answer. Carrie says that Big's death is the defining break-up moment of her life so far. For longtime "Sex and the City" fans, that answer seems like a missed opportunity.
In Season 6 of "Sex and The City," Carrie dates Jack Berger (Ron Livingston), a down-on-his-luck writer who definitely supplies a lot of drama in Carrie's life. Yet, it's his decision to end their relationship via a post-it note in Episode 7 of that season that fans still think about almost 20 years later. So for Michael Patrick King and the rest of the "And Just Like That..." writers to not acknowledge this iconic sequence speaks volumes. Yes, Big's death is a terrible blow for Carrie. Nevertheless, this is another prominent example of how little the sequel series seems to care about honoring the legacy of the original show.
11. Miranda chooses Che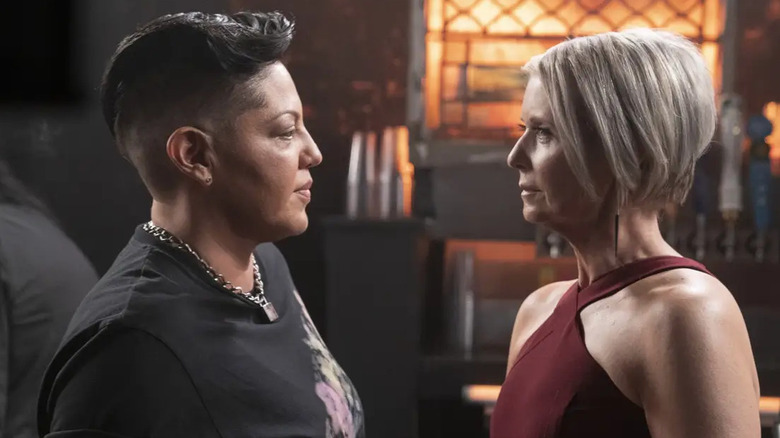 HBO Max
Throughout "And Just Like That...," we've seen Miranda put a lot of time into her career, even going as far as picking up a new degree. Yet, when Che asks Miranda to move with them to Los Angeles, it's pretty clear where Miranda is heading. Her decision challenges everything fans have come to know about their favorite, ever-changing Brooklynite. This is especially true when comparing this version of Miranda to her Season 6 incarnation in the original series.
Fans will never forget the iconic Season 6 moment in which Miranda tries to talk Carrie out of moving to Paris. Deep down, Miranda knew what was best for her friend, yet Carrie was nonetheless headstrong in her decision. In "And Just Like That...," the roles are reversed, leading Carrie to try to understand Miranda's decision to move while at Rock's (Alexa Swinton) "they-mitzvah." This scene echoes a fascinating shift in Miranda's personality. She is no longer a realist but a starry-eyed romantic who craves change. While we don't know if a second season is coming, here's hoping Miranda won't regret her change of scenery like Carrie once did.
10. Carrie and Natasha dish it out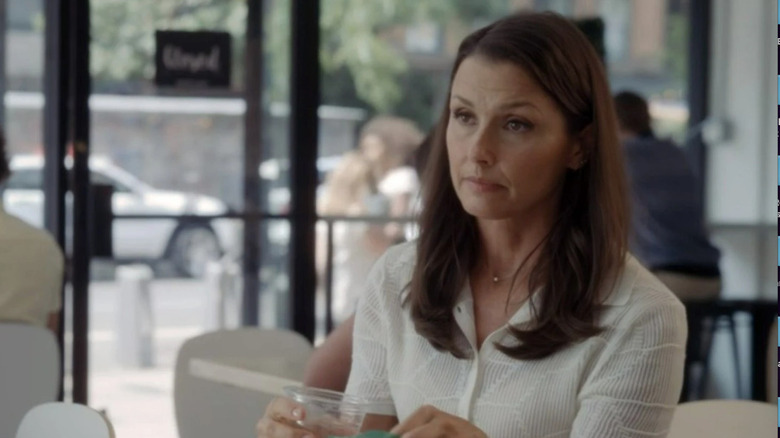 HBO Max
For longtime fans of "Sex and the City," one of the most iconic arcs occurs when Carrie cheats on Aidan (John Corbett) with Big. And while Carrie's romance is a significant source of drama, the most intense scenes involve Big's then-wife, Natasha (Bridget Moynahan). When Natasha discovers Carrie in her apartment, the result is an epic, tooth-destroying fall down the stairs. With the death of Big in "And Just Like That...," it absolutely comes as no surprise that Natasha returns.
In Episode 3, Carrie becomes fixated on Natasha after finding out that Big left her a large sum of money in his will. After multiple failed attempts to contact her, Carrie awkwardly encounters Natasha in a coffee shop, forcing the two of them to finally talk. What results from this conversation is one of the most down-to-earth and genuine sequences in all of "And Just Like That..." Bridget Moynahan really gets to flex her acting muscles, allowing Natasha to be more than the scorned ex-wife from Big and Carrie's past. Sure, the first season of this new show has made some odd choices, but this scene is an entertaining gem.
9. Miranda tells Charlotte about Che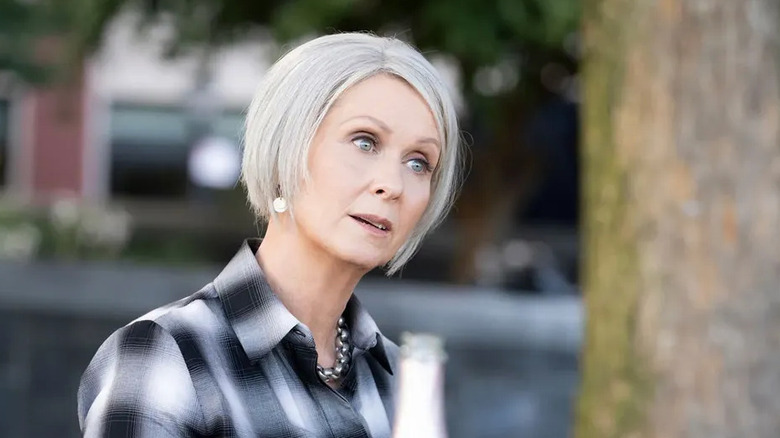 HBO Max
The original "Sex and the City" is fondly remembered for its iconic lunch conversations. Yet, in this significant moment from "And Just Like That...," the girls are taken from their usual indoor environs to a vulnerable outdoor set-up. It's a narrative choice that fits nicely with Miranda's big news. She confesses her true feelings about Che to her two besties. While Carrie knows what's coming, Charlotte (obviously) is caught off guard by the news.
From the beginning, "Sex and the City" has been a mixed bag when it comes to certain topics. While it has always promoted an honest depiction of the sexual identities of its lead characters, it has often been a bit awkward in handling LGBQT+ characters. While there are certainly elements of this scene that could be improved, it should be appreciated for what it gets right: It focuses on the core of what makes Carrie, Charlotte, and Miranda stick together in the first place — their loyalty to each other. They might not understand their individual life choices, but they refuse to give up on their bond. And that is a quality to be cherished. 
8. The Samantha text sessions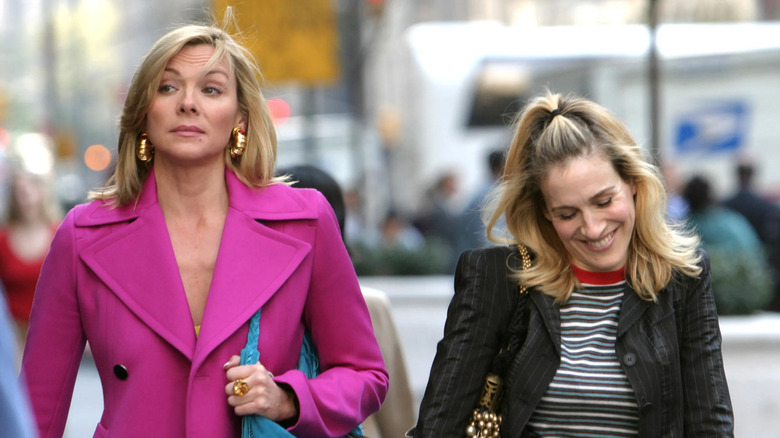 HBO
Right from the beginning, "And Just Like That..." had a lot of struggles to overcome. Easily the most glaring of them all is the absence of Kim Cattrall as the iconic Samantha Jones. While the reasons behind Cattrall's refusal to return to the franchise are filled with behind-the-scenes drama, her absence was an issue the writers couldn't ignore. As a solution, they created a plotline in which Samantha has moved to London after having a disagreement with Carrie. Yet, that didn't stop Michael Patrick King and company from keeping Samantha out of the series entirely.
While many sequences involve Carrie attempting to reconnect with Samantha via text messaging, arguably the best of these occurs in the episode "Tragically Hip." After her hip surgery, Carrie (on painkillers) accidentally tells a memorable Samantha story during a podcast recording session. Of course, this leads her to text her old friend to recount the details. The result is some truly signature Samantha wit. While the series would have been much better with Sam actually there, this little taste of the fan-favorite character is a sweet reminder of the past.
7. Lisa's mother-in-law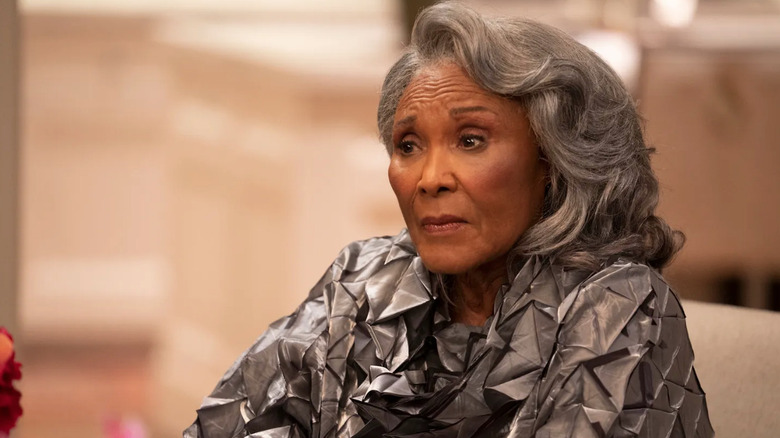 HBO Max
While many of the new characters on "And Just Like That..." leave memorable impressions, none of them are quite as stylish as Lisa Todd Wexley (played by Nicole Ari Parker). With her documentarian skills and exquisite wardrobe, Lisa brings vital, new energy to the "Sex and the City" franchise. With her handsome husband Herbert (Hamilton's Chris Jackson), and their three children, she also has the most beautiful family in the entire show 
One of the greatest things about Lisa (aside from the incredible outfit she wears when coming out of the car in Episode 9) is her relationship with her mother-in-law, Eunice Wexley. Though only making a brief appearance in the series, Eunice has become a fan favorite because of her sharp one-liners and equally fabulous outfits. Portrayed by Pat Bowie, Eunice's star-making entrance during the first episode is the definition of legendary. If "And Just Like That..." returns for another season, please let it include more Eunice!
6. Seema calls Carrie out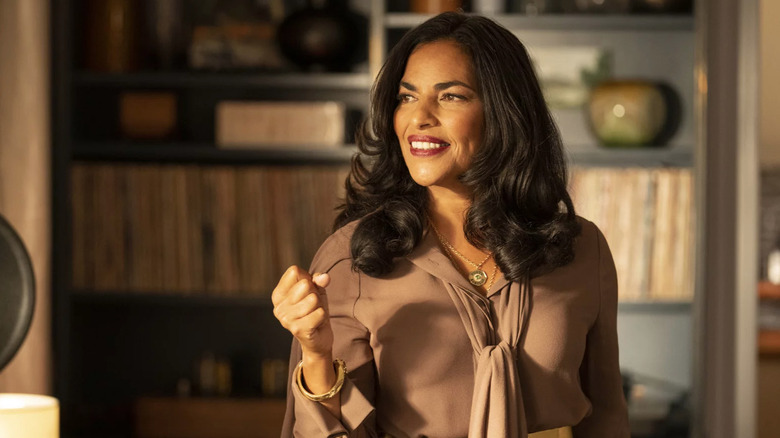 HBO Max
Although "And Just Like That..." has introduced us to some fantastic new characters, none of them have left a mark like Seema Patel (Sarita Choudhury). She's the total package — she has beauty, brains, a killer wardrobe, and the financial success to match. Yet, Seema's most outstanding quality is her loyalty. From the start, she has Carrie's best interests at heart, and she has the potential to be an equally fantastic friend. However, what really solidifies her as a fan favorite is one brutally honest scene.
After Carrie chews Seema out for breaking a framed photo of her and Big, Seema speaks her mind by confessing how hurt she was about a remark Carrie made a few days prior. Seema is upset because Carrie made an insensitive comment about her dating life. While this is a brief exchange in which Seema displays some vulnerability, it allows the writers to finally speak on a subject that fans of the franchise have noticed for years — Carrie often doesn't see the error of her ways. Carrie is a great character, but she needs to realize that she can sometimes be selfish.
5. Charlotte takes control of the "they mitzvah"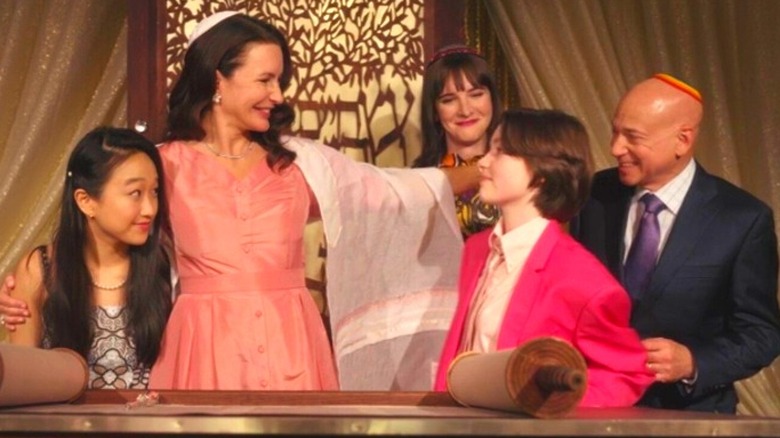 HBO Max
From the moment she converted to Judaism, Charlotte has wanted to belong. Fans know of the iconic character's intense drive to be the best of the best. So when it comes to her child Rock's "they mitzvah," Charlotte goes out of her way to make it perfect — including getting an insane, fully stocked rainbow sweets bar for the guests. Yet, when Rock refuses to participate in the ceremony, Charlotte does the best thing she can: She takes control of the situation and turns it into an opportunity. Charlotte finally gets to mark her own milestone by having a bat mitzvah for herself.
Though the scene definitely has some odd moments here and there, the result is a fantastic representation of who Charlotte is at her core — a woman who desperately wants to have a happy ending, even if that means bending tradition to make everything work out. In this case, Charlotte proves that she can rise to any challenge no matter what curveballs life throws her way. Considering that she has to deal with both Rock and the drama between Carrie and Miranda, this scene proves how great Charlotte truly is.
4. Miranda and Che's kitchen smooch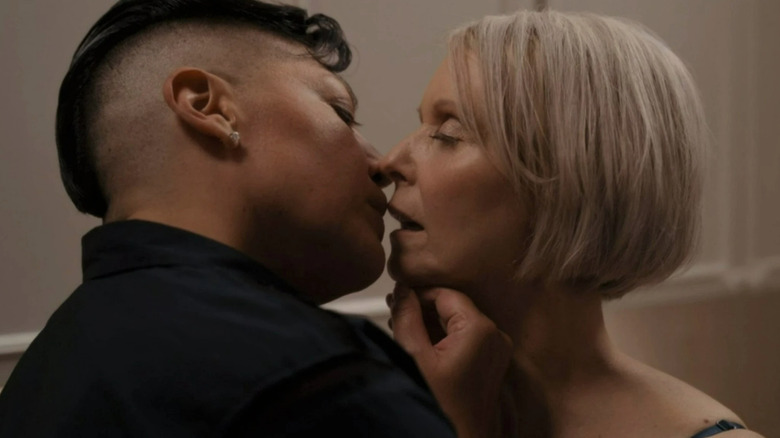 HBO Max
No moment in "And Just Like That..." was as intensely debated as Che and Miranda's kiss. In the episode "Tragically Hip," Carrie returns home after hip surgery, with Miranda and Charlotte swapping nursing duties. On one of Miranda's "shifts," Che stops by Carrie's apartment to check up on their podcast co-host. When Miranda and Che begin to party it up in Carrie's kitchen, the two finally act upon the chemistry that's been building between them. And Carrie is left to get to the bathroom all by herself.
From Che bringing an incredibly inappropriate present for someone on painkillers and Miranda's intense screaming to Carrie trying to pee in a water bottle, this moment is full of shocking twists and turns. However, the steamy scene between Che and Miranda proved controversial. Some fans think of it as the definition of cringe, while others believe it is a sizzling bit of on-screen chemistry. Regardless, the scene certainly left its mark on both "Sex and the City" and pop culture.
3. Miranda wants a divorce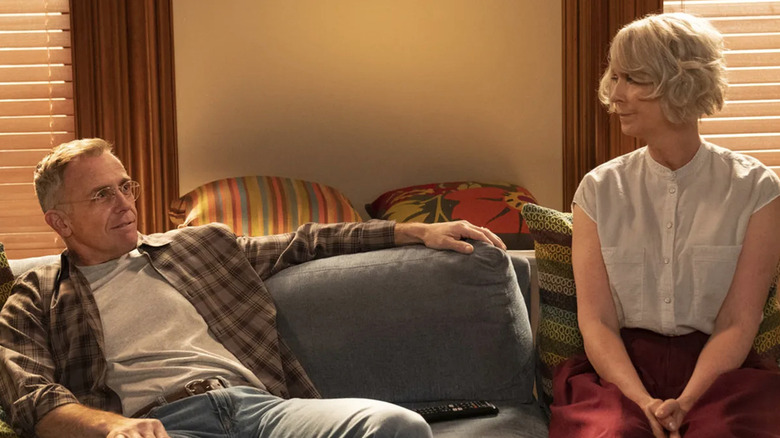 HBO Max
Miranda and Steve (David Eisenberg) have had an odd romance. From their constant breaking up and getting back together to the two proclaiming their love on the Brooklyn bridge, their relationship has gone in every direction imaginable. Or at least that was the case until "And Just Like That..." in which Miranda realizes she is unhappy and decides to tell Steve she wants a divorce. While many shows would have a scene like this play out in the most dramatic of fashions, the writers allow this moment to be calm yet significant.
On one hand, Miranda is ready to rush off to a possibly happier and brighter future with her new love interest. She wants "more everything." On the other hand, Steve just wants Miranda to be satisfied. This allows Steve to speak a truth fans have believed for years: He has never been enough for Miranda. No matter what he did, he never could fill the void in her life. While it is sad to see Miranda ride off into the sunset, this scene allowed Steve to be honest. Still, he deserves so much more than that.
2. Big's death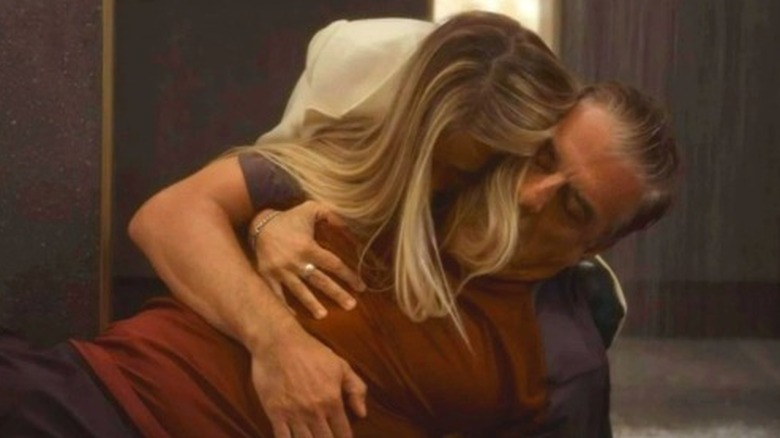 HBO Max
Many longtime "Sex and the City" fans knew of Michael Patrick King's original plans for the unmade third movie — which included killing off Mr. Big. Even with that forwarning, Carrie finding Big dying of a heart attack (after an intense Peloton session) was quite a shock. Whether you like him or not, Mr. Big is an essential part of the original series. Few of the iconic moments in Carrie's life would have happened without him. His impact (both good and bad) makes Big a hard character to replace.
Audience response was swift and divided. Fans debated if killing off Big was a good narrative turn of events. Peloton's stock plummeted, and the company quickly produced a commercial in response to the show (featuring Noth as an implied version of Big). However, the ad was pulled just as fast when allegations of sexual assault against Noth surfaced. No matter how you see it, Big's death and the controversy around it defined pop culture for a brief time. And fans of "Sex and the City" will never forget it.
1. Steve and Carrie's ring conversation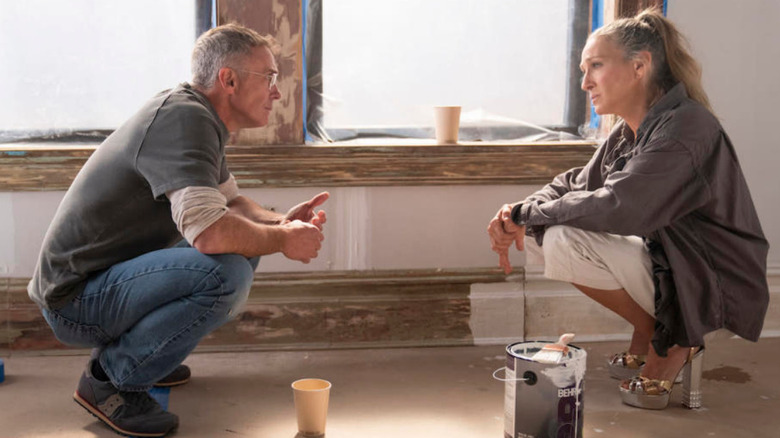 HBO Max
While Mr. Big's death certainly seems like the candidate for the most important moment in all of "And Just Like That...," there was one scene that gave fans another exciting narrative thread to digest. In Episode 9, Steve and Carrie come to Brooklyn to help Miranda and Professor Nya Wallace (Karen Pittman) paint a new women's shelter. As they pair off, Steve opens up to Carrie about Miranda leaving him for Che. However, when Steve rescues Big's wedding ring from slipping down a sink drain, the two friends open up in some significant ways.
From the excellent acting of both David Eisenberg and Sarah Jessica Parker to some beautifully-written dialogue, this is one of the few scenes in the entire season that fires on all cylinders. It speaks to the reasons why Steve has remained a fan-favorite character. Despite his flaws, he's a good person. Steve never gives up on the things he truly loves — including Miranda. And for Carrie, the conversation allowed her to see her relationship with Big in even grander ways. This scene is a great example of the kind of magic that "Sex and the City" has always been known for.