And Just Like That, Cynthia Nixon Defends Miranda's Decision To Break Up With Steve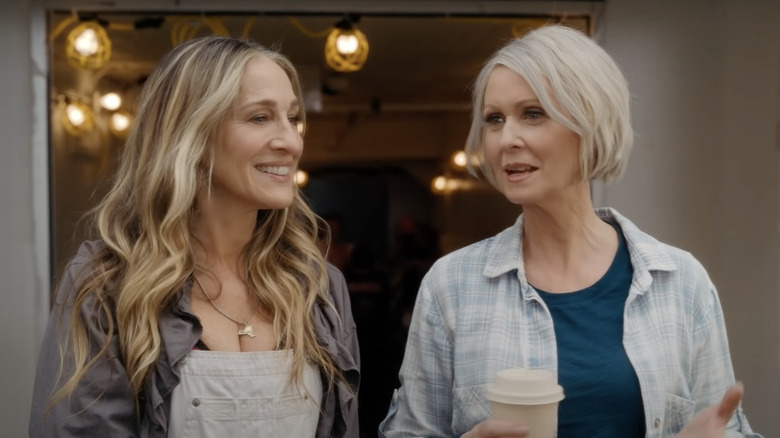 HBO Max
Cynthia Nixon has stepped up to defend her character's decision to divorce her husband in "And Just Like That," the HBO Max sequel series to "Sex and the City." "And Just Like That" sees Nixon reprising her role as Miranda Hobbes, whose short red hair has now gone grey ... and that's not the only thing different about her.
If you haven't seen "And Just Like That," join the club, but also be aware that we'll be discussing certain plot points here, which could be regarded as spoilers, if you care about such things.
After two movies, three of the four New York gals at the heart of "Sex and the City" returned in December with "And Just Like That." The 10-episode first season, which costars Sarah Jessica Parker as Carrie Bradshaw and Kristin Davis as Charlotte York-Goldenblatt, is in its home stretch now, with the finale set to air this coming Thursday. Along the way, Miranda has experienced what The Washington Post describes as "a sexual awakening, sparked by her falling for Che Diaz (Sara Ramirez), a stand-up comedian — and Carrie's podcasting boss — who is nonbinary."
Long story short, she's decided to leave Steve (David Eigenberg), her husband of many years, for Che. In a recent interview on Watch What Happens Live with Andy Cohen (via TVLine), Nixon put her character's divorce decision in terms of a regular old breakup, saying:
"That's the thing about breakups, you know? Oftentimes, there's one person that is making the breakup happen and another person who is reluctant. But I have to say: That person who is reluctant is pretty miserable, too, and they're just not admitting it."
And Just Like That, Art Imitates Life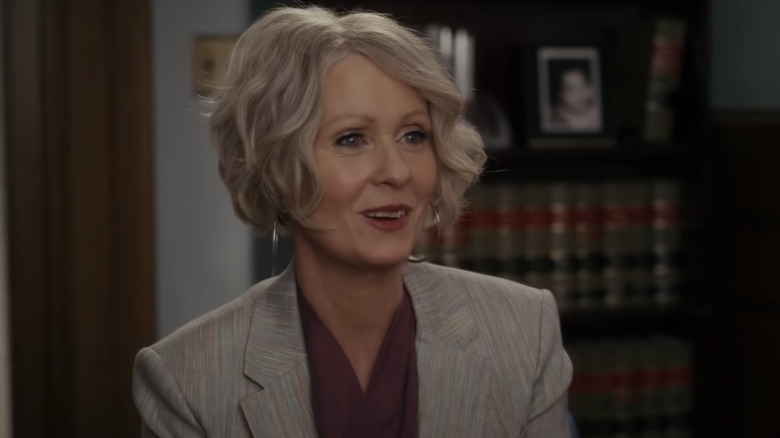 HBO Max
Look, I'll level with you: I'm probably not the best person to try and analyze or mansplain anything having to do with "Sex and the City." I did see the headlines about Kim Cattrall not returning for "And Just Like That," and Chris Noth's character, Mr. Big, being killed off and being gone for good (no returning fantasy scenes) due to the real-life sexual assault allegations against the actor. Beyond that, what I know of the actual "And Just Like That" storyline could fill a thimble.
It's been a slow news day, however, so I'll do my best here, based on research, pop culture osmosis, and Kermodian rants, to try and relay the basic facts. According to The Advocate, Nixon herself was in a longtime straight relationship, but she now identities as queer and has a wife of 16 years. So there's a bit of art-imitating-life going on, perhaps, with Miranda's arc in "And Just Like That." Evidently, in the first "Sex and the City" movie, Steve also revealed that he had cheated on Miranda already, so it's not as though she's just betrayed a spouse who was completely faithful to her.
Talking to my wife — who was a fan of the series and who I've accompanied to Magnolia Bakery for "Sex and the City" cupcakes upon occasion — I get the impression that Miranda was always the sensible one in the show's quartet of friends. Whether or not she's acting out of character now in "And Just Like That" is a question best left to the show's viewers.
"And Just Like That" has received mixed reviews, but if you've stuck with it, the season finale airs on HBO Max on February 3, 2022.