Tom Holland Wants To See His Spider-Man And Charlie Cox's Daredevil Team Up One Day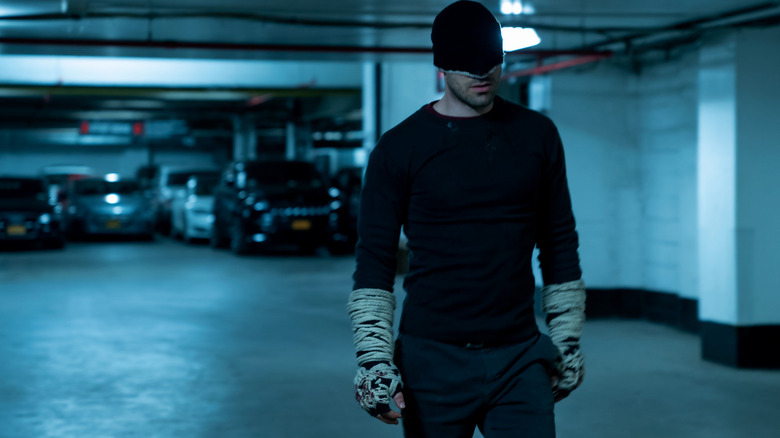 Netflix
This article contains spoilers for "Spider-Man: No Way Home," even though you've probably either seen it by now or already been spoiled. But you've been warned either way!
Ever since fans first received word that the rights-sharing agreement between Sony Pictures and Marvel Studios meant that Spider-Man would finally be able to crossover with the other Marvel heroes, fans have anxiously looked forward to one particular team-up more than any other — Matt Murdock, AKA Daredevil, crossing paths with Peter Parker's web-slinging hero. All these years later, however, that hasn't quite come to fruition just yet. We came close with "Spider-Man: No Way Home," when an early scene (teased ahead of time by Tom Holland) featured Peter, Marisa Tomei's Aunt May, and Jon Favreau's Happy Hogan sitting around a table with Charlie Cox's Matt Murdock, reprising his role as Daredevil after making it his own throughout the popular Netflix series. But as well-received as that scene was — my entire theater broke out into spontaneous applause, as I'm sure most did on opening weekend — the all-too-brief cameo only whet appetites among audiences even further to see the two street-level heroes actually suit up to fight crime together, as they've done many times before in the comics.
Months removed from the release of "No Way Home" and ahead of the debut of Tom Holland's "Uncharted," journalists are still asking the actor about every possible facet of the recent trilogy-capper. This time, the question revolves around Holland's perspective of the scene he shared with Charlie Cox. Unsurprisingly, the "Spider-Man" star is just as eager as you are to see him and Daredevil share the screen once more. 
'It Obviously Teased the Future of What Could Be'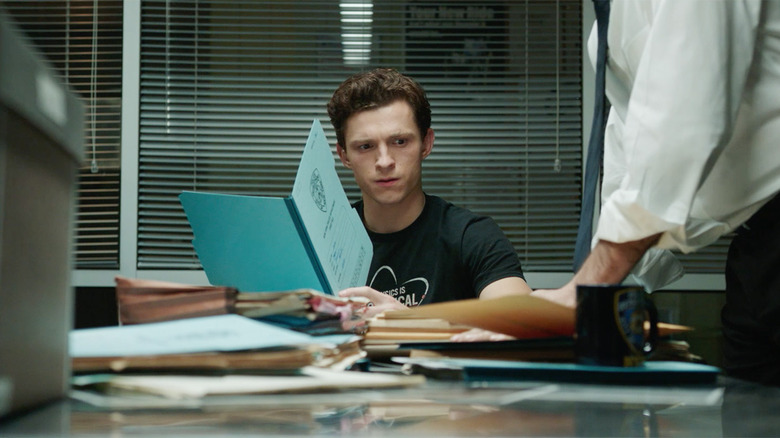 Sony Pictures
Once upon a time, months before "No Way Home" released, fans gravitated towards a certain moment from one of the trailers (as shown in the above picture) and insisted that the person standing over Tom Holland's Peter Parker simply had to be Charlie Cox's Matt Murdock. That ... didn't turn out to be the case, obviously, but the sentiment proved to be close to the mark anyway. Assuming you didn't pay much attention to the numerous leaks surrounding the massive production, the reveal of Cox reprising his role as Murdock in Peter's apartment building likely came as a pleasant shock. But as exciting as that moment may have been for fans, Holland himself couldn't have been more delighted to actually shoot that scene opposite the "Daredevil" actor. In an interview with THR, Holland was asked about what that day on set was like.
"Working with Charlie was incredibly exciting. I was a big fan of the 'Daredevil' series, and I think he's a fantastic actor. He's done a wonderful job with that character, and albeit it was a small cameo, it obviously teased the future of what could be. It was a real actors' piece, that scene. We blocked the scene, which was essentially us just sitting there, and we read the lines. It was great. It felt like an actors' workshop while working with people I really look up to, and Charlie was a lot of fun. It was really cool to see him snap back into a character that I am really a fan of and that he has a lot of love for, obviously. So it was pretty awesome, and I hope that one day we find a way for Spider-Man and Daredevil to team up again."
Amid the somewhat standard PR response, fans will probably zero in on the "teased the future" line as well as Holland's hopes that they'll manage to share the screen again someday. Whether it ultimately comes about in another movie or a Disney+ series down the line, it's hard to imagine that Marvel's Kevin Feige went to the trouble of recruiting Charlie Cox once more for a cameo that wouldn't lead to anything else in the years to come. While the "Daredevil" series is grounded for good, we probably haven't seen the last of Cox's Daredevil.