Tom Holland Explains What It Would Take For Him To Play Spider-Man Again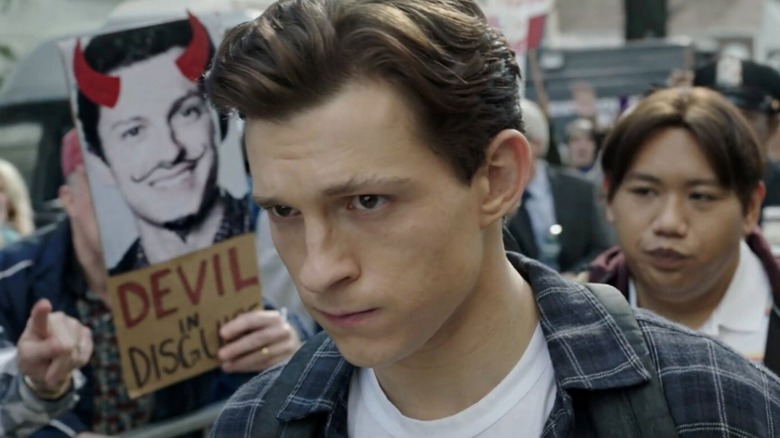 Sony Pictures
This article contains spoilers for "Spider-Man: No Way Home."
Anyone else starting to feel like acting as Spider-Man is almost as grueling an experience as actually being Spider-Man? Ask any actor who's starred in one of these superhero extravaganzas, as Tom Holland has done for a total of six MCU/Sony "Spider-Man" appearances now, and they can attest to those endlessly long hours spent in the makeup chair, on set, between takes, and ultimately carrying out exhausting stunts (those deemed safe enough to do without the doubles, at least) before going out and lying to everyone you know. It's sort of like living the same double life that Peter Parker endures on a daily basis in all his adventures, though with the important distinction that Peter would never even be able to fathom the box office success these movies pull in regularly.
Whether it's the fatigue build-up talking or simply playing coy about giving away potential spoilers, Tom Holland is once again addressing the question on practically everyone's minds these days: how long is he going to continue playing Spider-Man? We've covered the murky and sometimes contradictory nature of his contract status before, but obviously much of it depends on his own willingness to keep putting on the suit. As obviously passionate as he may be about the role that put him on the map, Holland's in the prime of his career and has every right to explore other roles that don't take up as much of the calendar as these extensive Marvel shoots do.
In an interview with Deadline, Holland was joined by Andrew Garfield and Tobey Maguire to share their thoughts on the whirlwind event film. Inevitably, the discussion turned towards Holland's future plans in the Marvel franchise and he offered this frank and honest assessment:
"The truthful answer — and I've done a whole press tour where all I do is lie — the truth is, and you're not going to like the truth, I don't know the answer to that question. This film for me was as special as an experience could ever be. Sharing the screen with these guys. Playing Spider-Man could be quite an alienating experience because, you know, we're the only three blokes who have done it. So to share that with you two, it's been such a wonderful experience, of which I have such amazing memories. I don't know."
"I Am Not Ready to Say Goodbye"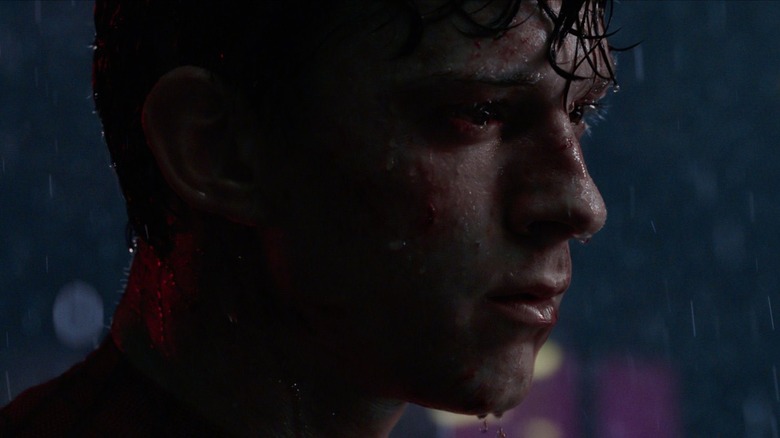 Sony Pictures
Tom Holland seems to be taking an "It's out of my hands" angle, which checks out when you consider how much his tenure as Spidey has remained at the whims of the decision makers at Sony and Marvel. Though both Andrew Garfield and Tobey Maguire's runs were famously interrupted by studio interference, Holland has had to deal with an unprecedented level of scrutiny and cross-company negotiations. There have been times when it appeared his time in the MCU had ended, and times when it seemed like he would remain forever. The truth, obviously, is somewhere in between, but Holland isn't entirely taking the pessimistic view. He further adds:
"I know I love this character, and I know that I am not ready to say goodbye. But if it's time for me to say goodbye, then I will do so proudly, knowing that I've achieved everything I wanted to with this character, and sharing it with these boys will be forever one of the most special experiences of my career. So, if it's time, it's time. If it's not, it's not. But at the moment, I don't know."
Aside from how sweet it is that he refers to Garfield and Maguire as "these boys," the main takeaway from these comments should probably be that Holland needs some time away from the franchise machine before anyone asks him questions like this again. Like Daniel Craig before him, we probably shouldn't put too much weight on comments delivered in the heat of the moment. In Holland's case, nobody should be surprised if official word comes down in the next few months that he's re-upping his deal for several more appearances. But personally, I'd understand if he decided to hang up the suit and felt at peace with what he's accomplished — which is a lot!
One thing's for sure: even if he continues to suit up for years to come, he may not top his impressive performance in "Spider-Man: No Way Home" anytime soon.