New Spider-Man Trilogy In The Works From Sony And Marvel, Tom Holland To Stick Around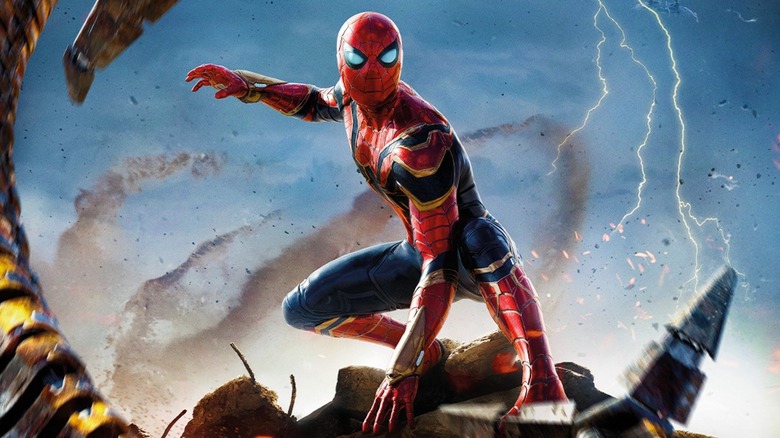 Sony Pictures
Last night, tickets for "Spider-Man: No Way Home" went on sale ahead of the threequel's highly anticipated release. Based on how quickly ticketing websites crashed due to overwhelming amounts of traffic and enormous wait times (for those lucky enough to even get that far, of course), the public's interest in this latest "Spider-Man" outing — which boasts a handful of familiar villains ripped straight out of the multiverse and from two decades of "Spider-Man" cinematic canon –  has put "No Way Home" squarely in the realm of a blockbuster event movie. The enduring popularity of Peter Parker as a character, and particularly Tom Holland's version of the hero, made it that much more alarming when rumors arrived a few years ago that the unprecedented rights-sharing deal between Sony Pictures and Marvel Studios may have come to an unceremonious end.
That crisis was narrowly avoided, thankfully, and now the future of Spider-Man looks to be as bright as ever. As if anticipation for the newest Spidey flick couldn't get any higher, word has come down straight from one of Sony's top decisionmakers that this won't be the last we've seen of Holland's Spider-Man in the Marvel Cinematic Universe. Far from it, in fact. Buckle up for years and years of spider-themed adventures to come in the ever-popular MCU.
'This is Not the Last Movie...'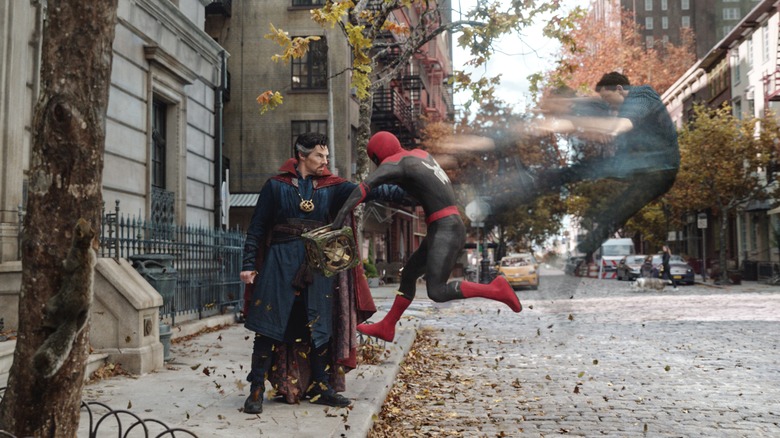 Sony Pictures
Spider-Man isn't going anywhere. Fans would have been forgiven for assuming that the larger-than-life premise of "Spider-Man: No Way Home" might mean that the threequel could be serving as the character's swan song from the MCU proper. That couldn't be further from the truth, however, as Sony Pictures producer Amy Pascal has revealed that Sony and Marvel are continuing full steam ahead for more collaborations in the future to keep the character in the MCU. A whole new Spider-Man trilogy, in fact.
Pascal spoke to Fandango the morning after tickets for "No Way Home" first became available to moviegoers, assuring fans that there's much more to come.
"This is not the last movie that we are going to make with Marvel — [this is not] the last 'Spider-Man' movie. We are getting ready to make the next 'Spider-Man' movie with Tom Holland and Marvel. We're thinking of this as three films, and now we're going to go onto the next three. This is not the last of our MCU movies."
If "No Way Home" had served as a trilogy-capper and brought an end to Spidey's direct involvement in the MCU, attention likely would have shifted entirely towards possible crossovers with Tom Hardy's Venom and Jared Leto's Morbius. Instead, fans may very well get their cake and eat it too now that Pascal has confirmed yet another entire trilogy of "Spider-Man" movies that will be set within the familiar confines of the money-making MCU franchise. We may yet see Holland's Peter Parker interacting with Sony's rapidly growing standalone universe, as well, but first we have "No Way Home" to get to. Either way, fans can breathe a little easier that we will be seeing much more of Holland's distinctive take on the teen hero.
"Spider-Man: No Way Home" comes to theaters on December 17, 2021.