Tom Holland Pitched Other Spider-Man Ideas During The Brief Marvel/Sony Break-Up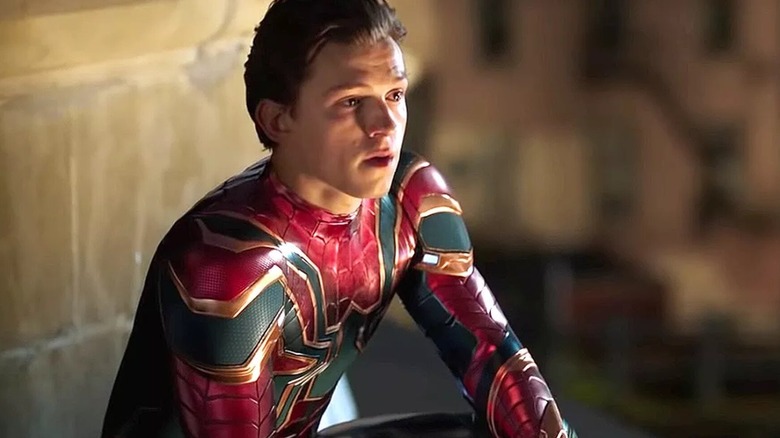 Sony Pictures
The most traumatic celebrity break-up of our generation came in the form of two multi-billion dollar companies deciding to call it quits. Sad, right? We all remember that fateful summer day when Sony and Marvel endured a brief yet painful break-up. Just a few years after finally striking a deal to bring Spider-Man into the MCU — two movies into his shiny solo journey — the studios announced they were parting ways. And then fans wept in the streets and Spider-signals flashed in the sky and poor Tom Holland wondered what his next suit-up might look like. In the end, everything worked out just fine and Spider-Man was welcomed back into the Marvel Cinematic Universe... Honestly, he never really left, but ya know, it was a dangerously close call. The break-up lasted all of five seconds, but the idea of Sony getting Peter Parker in the divorce upset many, many fans.
Sony has held the rights to Spider-Man (along with 900 related characters) since the late '90s. They first put them to use with Sam Raimi's beloved Spider-Man trilogy and later followed up with the Andrew Garfield-led reboot, "The Amazing Spider-Man." The latter received a lukewarm response which ended up giving good reason for Sony's later collaboration with Marvel Studios — especially given the MCU was in full swing. And thus we received an appropriately young and nerdy Peter Parker, in the form of Tom Holland. While the internet never quite comes to consensus, his portrayal has been heavily praised — so yeah, an abrupt end to his run caused quite a bit of fan distress. But according to Tom Holland, Sony had a "really wonderful idea" for how to orchestrate the ending and keep Peter's story going.
Sony's Spider-Man Back-Up Plan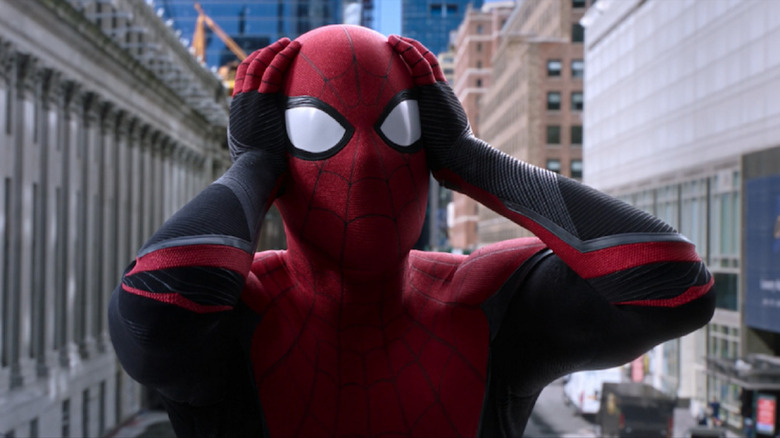 Sony Pictures
While many feared the big screen's Spider-Man would go downhill without Kevin Feige's guidance and some frequent MCU cameos, Holland has previously argued otherwise. In an interview with Empire (via Screenrant), for the upcoming release of "Spider-Man: No Way Home," Holland expanded on what the alternate plan might've looked like. He shared that on the day of the split-announcement, "he drove over to Amy Pascal's house and sat with her by her pool." Sony procedure Amy Pascal has worked on all the Spidey related films since "Homecoming," including Holland's trilogy, "Spider-Man: Into The Spider-Verse," both "Venom" films and upcoming projects like "Morbius" and "Kraven The Hunter."
Of that day, Holland said:
"We sat there for hours, just chatting, and pitching movies. How would we do a film without Marvel? Does Peter Parker fall through a portal, and then he's in the Venom world? Or do we do a Kraven the Hunter film? It was a nice distraction... because as a young kid I was so in love with Marvel, and I was so lucky to be a part of it that when they took the rug from under my feet, I was not ready to say goodbye yet."
Peter Parker exploring the multiverse?! What a wild concept! Can't imagine that one coming to screen, that's for sure... Thankfully, things worked out well enough to grant us a third movie in Holland's solo run of the character. Still, it's hard not to be tempted by the possibilities — with a ton of other characters to dig into, Sony had no shortage of options for the next chapter of Peter's life. On the bright side, the door is still open. 
Tom Holland seems excited to stick around for more and thanks to some recent developments of the Venom-ous variety, not all the ideas discusses by Pascal and Holland need to be abandoned. Kraven The Hunter is going forth with Aaron Taylor Johnson in the lead role and the Tom Hardy's Venom movies are oddly only getting better. Ultimately, we can speculate all we want but this is one of those only time will tell scenarios, especially given Marvel's penchant for secrecy... Then again, with Tom Holland involved, maybe we'll find out some exciting details a little early.