Sony Clarifies That Tom Holland's Spider-Man Isn't Done In The MCU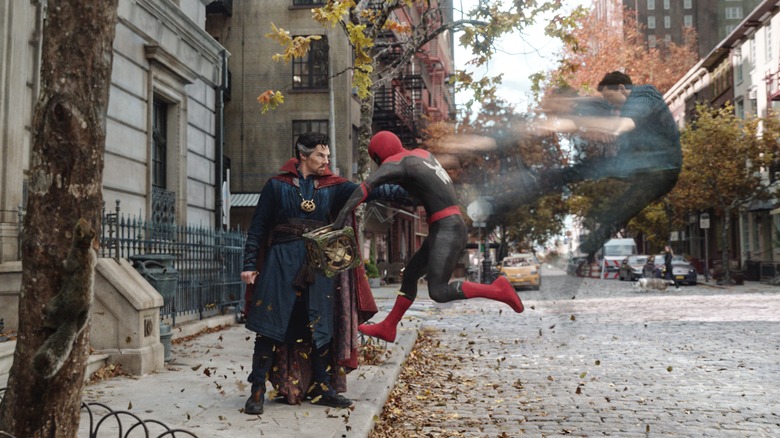 Sony Pictures
Another day, another attempt to clear up the messy and confusing environment that the character of Spider-Man finds himself in these days. A lesser writer than I would probably say he's helplessly caught in a web of convoluted, sometimes even contradictory corporate legal strictures ... thankfully, I'm above those sorts of puns!
A few days ago, it was left to actor Tom Holland himself to explain the ins and outs of the current deal between Marvel Studios and Sony Pictures. Contrary to our previous assumptions that there would be a very specific number of appearances left between his "Home" trilogy for Sony Pictures and his roles in other MCU projects, such as "Avengers: Infinity War" and "Avengers: Endgame," Holland explained it as an "...open conversation and open dialogue between Mr. [Bob] Iger and Mr. [Tom] Rothman" that allows for as many films (and possibly television series, too, with the popularity of the Disney+ shows?) as they can agree on. That came on the heels of Sony's Amy Pascal announcing a whole new trilogy of "Spider-Man" films, which would easily turn Holland's Peter Parker into an MCU mainstay. Unfortunately, earlier today we brought you Sony Pictures chairman and CEO Tom Rothman's tempered comments (that were very likely stated with the intention of creating some leverage on his side in any future discussions with Marvel down the road).
Now, Rothman's at it again as he further attempts to lend some insight on how we can expect this whole rights-sharing business to unfold in the years to come.
On Second Thought...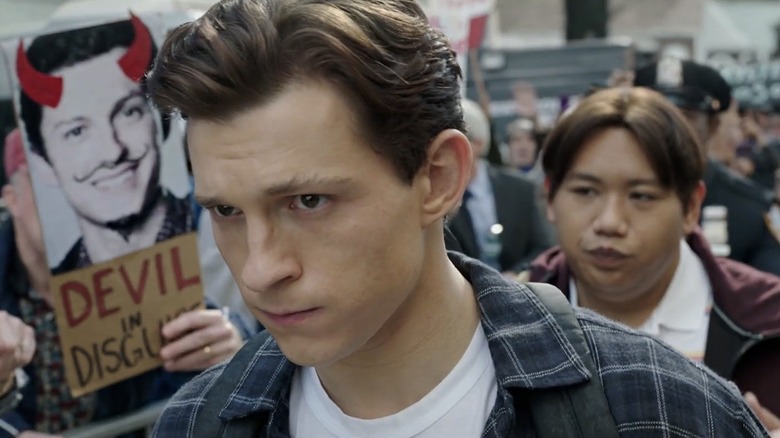 Sony Pictures
Boy, who would've thought that trying to set the record straight on Spider-Man's appearances in the MCU would prove to be more complicated than figuring out how the multiverse works? The ongoing conversation surrounding this hot topic adds yet another update, as Sony's Tom Rothman has stepped up to the plate for press tour duties ahead of the world premiere of "Spider-Man: No Way Home." In an interview with Comic Book, Rothman further explained the inner workings of the collaborative process between Marvel and Sony.
"It's reciprocal. So we lend one [character], and they lend one, and that's how Benedict [Cumberbatch] is in this movie. So we have one more 'lend back' that's committed. But the thing that I can say, and this [is] actually the accurate scoop on this, which is that the two companies have a terrific working relationship. I think it's a mutual hope that that would continue. But there really isn't anything definitive at this moment, because the truth of the matter is, we gotta ride ['Spider-Man: No Way Home'] and see what happens."
Though he's still playing the same noncommittal card as before, the telling portion of that quote is that Sony apparently still has one more "lend back" on their part for some future movie. This would presumably indicate that Holland's Spidey is due for another crossover with the MCU in a separate film, perhaps even as soon as "Doctor Strange in the Multiverse of Madness." Given Sam Raimi's involvement with that sequel, how fitting would it be for him to be able to direct the character of Spider-Man one more time?
Of course, all this back-and-forth takes a lower priority in the face of the imminent arrival of "No Way Home" in theaters. /Film's Hoai-Tran Bui called it "...a whirlwind universe-shattering adventure that might best be described as fan service with heart" in her review. Audiences will get a chance to find out for themselves later this week on December 17, 2021.