Billions Character Has Heart Attack After Using A Peloton Bike; Peloton Is Getting Sick Of This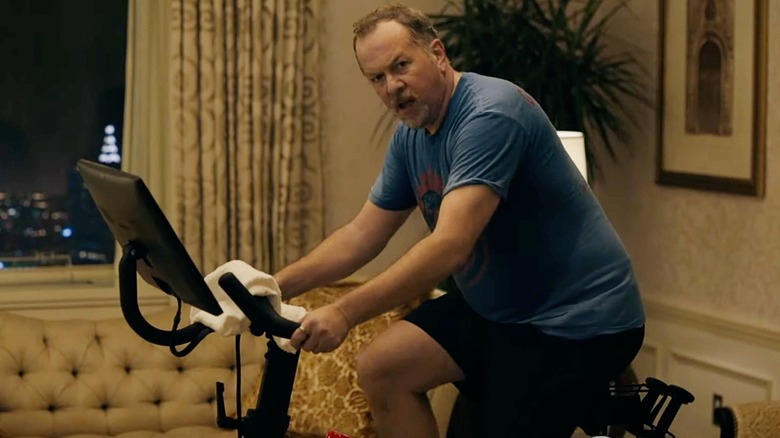 Showtime
This article contains spoilers for last month's debut of "HBO Max's "And Just Like That...," this past weekend's premiere of Showtime's "Billions," and the general well-being of Peloton shareholders everywhere.
Talk about adding insult to injury. Or is this merely an incredible demonstration of how pride — in this instance, the Peloton exercise equipment company going viral after that funny (and weirdly unsettling?) advertisement over two years ago — goes before a fall? Whatever the case may be, Peloton once again finds itself struggling to keep its head above water after this latest wave of bad PR, stemming from yet another fictional character on television suffering a health incident after using, you guessed it, a Peloton bike. 
This saga most recently came to a head when beloved "Sex and the City" character Mr. Big bit the dust in "And Just Like That..." after suffering a heart attack from using a Peloton bike. The stock market didn't take that development too kindly, and the value of the company's shares plummeted in the immediate aftermath. Peloton attempted to rectify the situation by "resurrecting" Mr. Big in a commercial ... which backfired when a major story broke about Mr. Big actor Chris Noth being accused of sexual assault by multiple women. Peloton has since taken the ad down.
Apparently Peloton just can't catch a break, as last night's episode of "Billions" featured a character suffering a (non-fatal) heart attack after hopping onto the trusty exercise bike for a little workout. Though you might think that "There's no such thing as bad publicity," Peloton has been quick to dispel the notion that they ever signed off on this example of product placement. At this point, Hollywood seems to have it in for the exercise company and, if you ask me, that seems like a story worth telling. Check out the details below.
The Billions Dollar Question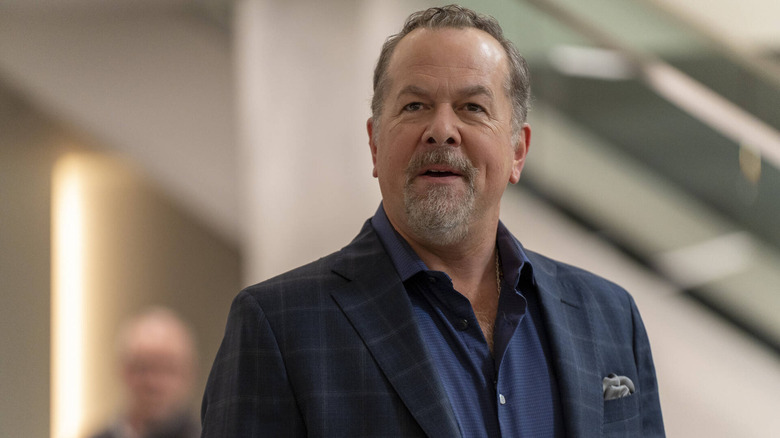 Showtime
It hasn't exactly been the best two months in company history for the fine folks over at Peloton. "And Just Like That..." creator Michael Patrick King magnanimously absolved Peloton of all wrongdoing, although financially speaking that's kind of like closing the barn door after all the horses have already run out. Now "Billions" has become the latest piece of fiction to put Peloton in the headlines for all the wrong reasons. 
Via TVLine, Peloton responded to the unauthorized (and very unflattering) use of its equipment in "Billions" after David Costabile's Mike "Wags" Wagner became the latest victim of the Peloton exercise bike. He even went so far as to reference the incident from "And Just Like That..." in the aftermath, saying, "I'm not going out like Mr. Big." Though the character didn't end up dying from this accident, Peloton mustered up the exact same air of disapproval that my parents would whenever I came home from school with a subpar report card. The official Twitter account for the company posted the following statement:
"We get TV shows want to include @onepeloton to get people talking, but to be clear, we did *not* agree for our brand or IP to be used on @SHO_Billions or provide any equipment. As the show itself points out, cardio-vascular exercise helps people lead long, happy lives."
In all honesty, the funniest thing television writers could do is to keep including increasingly bizarre and horrific accidents suffered on exercise bikes, Peloton or not. According to The New York Times, the similar plot points were completely coincidental and the dialogue referencing Mr. Big's Peloton-induced demise was only added in after the fact.
For now, Peloton will probably have to remain in damage control mode. In the meantime, Showtime has made the entire episode of "Billions" available to stream for free on YouTube. Just maybe hold off on getting some cardio in while you watch it.