And Just Like That Trailer: Can Some Things Change?
HBO
"The more I live, the more I find that, if you have good friends in your corner, anything is possible." So begins the latest, and likely final, trailer before the premiere of the new "Sex and the City" revival, "And Just Like That..." Where we previously had a premiere month to look forward to, we now have an official date: Thursday, December 9.
What's more, we're getting two episodes in a row. Both the first and second episodes of the revival are written and directed by series producer Michael Patrick King. Following this, episodes will air weekly on Thursdays until February when it wraps its ten-episode run. Or just the first season? As far as we know, this is a one-and-done situation, but I suppose stranger things have happened!
The trailer itself offers some interesting and suggestive content to digest. Given that we're already prone to gleefully reading into things (AKA reading all of the very visible cues right in front of us, you don't know!), what's a little harmless brainstorming?
Check out the official trailer below and we'll get into it.
And Just Like That... Trailer
The trailer starts looking out over Manhattan, and Central Park specifically. The above-mentioned voiceover — Carrie Bradshaw's signature — chimes in as we get rapid-fire glimpses of the city. Carrie (Sarah Jessica Parker, natch) is back in her old apartment, staring longingly into her ever-outstanding closet. Charlotte (Kristin Davis) walks alongside her skateboarding daughter, Rose (Alexa Swinton). John James "Mr. Big" Preston (Chris Noth) is working hard on what must be a Peleton bike. Meanwhile, Miranda (Cynthia Nixon) comes up the steps from the subway, flanked by young women in a moment reminiscent of her "he's just not that into you" moment of levity from season six. And Carrie chimes in again, saying "We're all at different stages in life."
This may well be completely innocuous and merely indicative of the fact that the show has always been about moving through stages in life as women (admittedly, white wealthy women in America). That said, it all seems to suggest monumental shifts in their lives more akin to the larger and more meaningful changes that happened throughout the original series and the first film rather than, say, "Sex And The City 2: Poor Judgement Boogaloo."
A Theory Confirmed, Question Mark?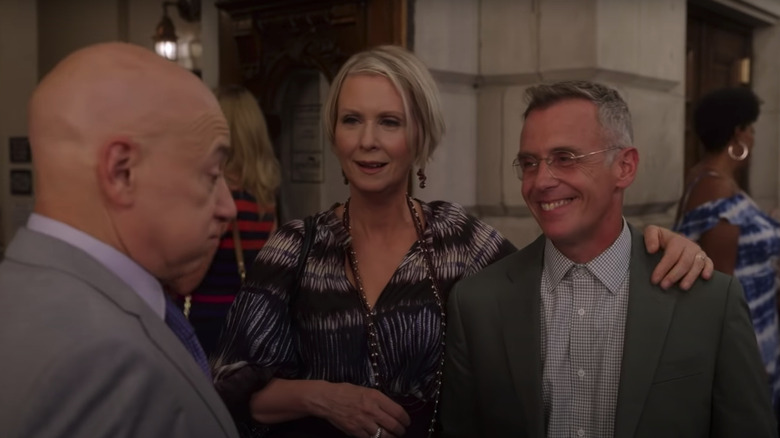 HBO
BJ Colangelo wrote a very insightful piece not long ago (which has also been linked above) about how it looks like gay icon Cynthia Nixon may be making Miranda Hobbes into a gay icon, canonically. Throughout the trailer, we see Miranda with Carrie and Charlotte, naturally, but we often see her with other women, only catching a glimpse of her with her husband, Steve Brady (David Eigenberg), once. There is a ring on her finger, though.
That said, BJ's speculation (that I happen to agree with) that Miranda and Steve's marriage has ended, and she is now exploring life as a lesbian feels ... more solidified. "There are always going to be roads not taken," she says in one bit, across the table from Dr. Nya Wallace (Karen Pittman), who solemnly answers back, "So you can't have it all." "No," Miranda responds, "you can. It's just really hard."
Affirmations, Shmaffirmations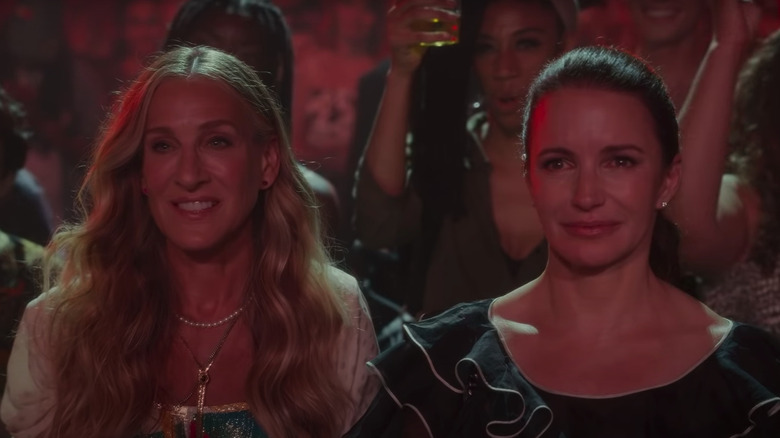 HBO
Remember when Carrie and Charlotte went to that affirmation insanity in "Unoriginal Sin," the second episode of season five? Where the power of belief rather than the impact of active participation in your own life was touted as a magical cure for getting what you want? Yeah, that one always stuck with me. It feels like the revival is taking that and giving it a much-needed do-over by way of Sara Ramirez's Che Diaz.
"You're not happy with who you are?" they boisterously ask a crowded room. "Step out of that box and change!"
Carrie and Charlotte (and Miranda, too, as we later see) are standing in the crowd, smiling, tearful. It's a lot to read into a seemingly small moment, but I gather we'll be seeing a great divide from the now trio.
In place of Samantha (Kim Cattrall) at brunch, we see Anthony Marentino (Mario Cantone). It looks like Charlotte has a new friend, Lisa Todd Wexley (Nicole Ari Parker), she's seeing a lot of. Miranda lovingly waves to someone off-screen who is almost certainly not Steve. Carrie walks alone. A lot.
I couldn't help but wonder, is this new revival going to be the same familiar shenanigans we enjoyed from 1998–2004? Or will we get a glimpse at a more poignant exploration of self?
"And just like that," Bradshaw chimes in as the trailer wraps up, "after all the years and all the changes, you're still you."
I'm hopeful for the latter.
The first two episodes of "And Just Like That..." will premiere on HBO Max on December 9, 2021.