And Just Like That... Producer Clears Peloton Of All Wrongdoing In Surprise Character Death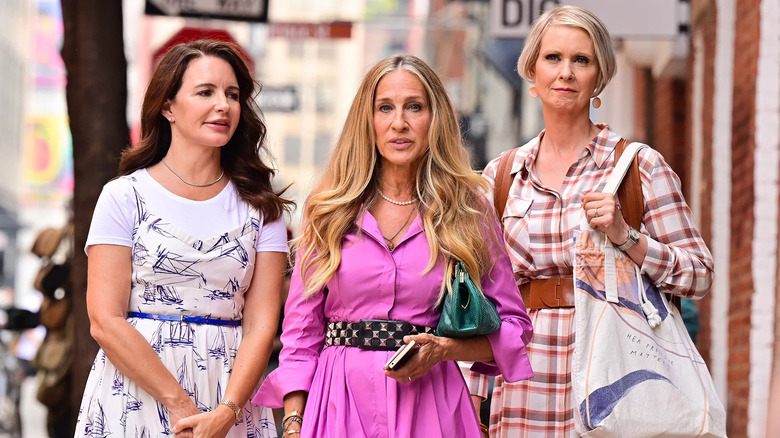 WarnerMedia
At this point, you've probably heard by now, but [REDACTED] from "Sex and the City" died. Yes, the character. Dead. Dunzo. No coming back. And that character seemingly kicked the bucket due to a hardcore Peloton ride — honestly, all of our worst fears when we're cycling hard, or is it just me? — but "And Just Like That..." creator Michael Patrick King revealed that the character's demise had been laid out as a plan all along, and that, ultimately, the death had nothing to do with Peloton.
"First of all, it's true. The Peloton can lengthen your life," King told TheWrap of what happened to Chris Noth's Mr. Big in an interview published on Sunday, December 12. "Riding his Peloton bike may have even helped delay his cardiac event." The "AJLT" showrunner and "Sex and the City" film director also noted that the character had been, up until the time of his death, making it a point to keep up with times — hence his dedication to the exercise bike that seems to kill him.
"Secondly, Big was on a Peloton to prove that he was current and life-affirming. I put Peloton in the show the same way I would put Gucci in the show, because that's what is happening right now in life. I have a Peloton; people have Pelotons. It's just always reflecting where society is now. So that's why it's in. It's true. It's where people are. The death is a fiction; the Peloton is reality."
Big Health Issues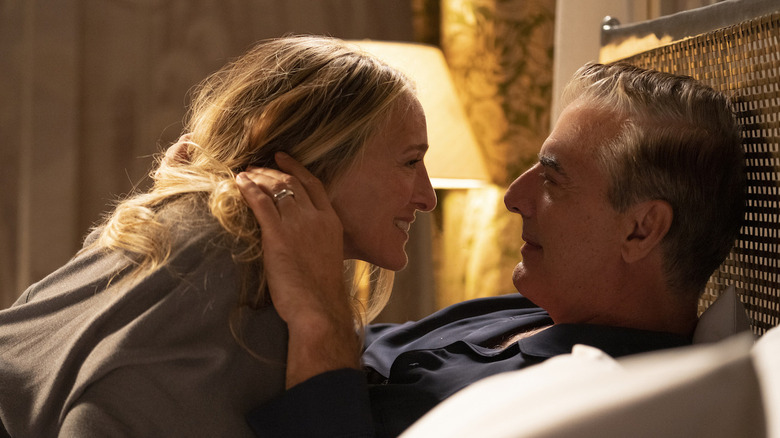 HBO
The groundwork has always been there for Mr. Big to come into potentially fatal heart complications. According to King — and honestly, any self-righteous "SATC" fan — Mr. Big's heart issues have been canon since the early days of the series. In fact, Carrie (Sarah Jessica Parker) even shed tears when she found out about his health. "The heart is the story," King told the outlet. "Not the bike."
It seemed impossible that the update on the franchise would remove Mr. Big from the picture completely — but King had his reasons. "Just the generic thought that Carrie would be alone is sort of the DNA that would have been the third movie, but would never become this, because a movie is so short, in theory, you can't really do the nuance of what we're doing," he explained. "I would have never been able to bring in the journey from the dark to the light that I can in the series, and I wouldn't have any time to bring in the world right now." In short, he wanted to explore a "more nuanced version of the idea of Carrie without" Chris Noth's classic character.
Peloton, Mr. Big, and the Afterlife ... or Wherever He Went
There's no denying the character's death was a major shock to die-hard fans who were hoping to see how Carrie and Big's characters would have resolved — or not resolved — their unfinished issues over the years. But weirdly enough, there's something nearly more gratifying about a minute-long Peloton holiday commercial starring Chris Noth's Mr. Big, or at least an implied version of him.
Along with Peloton instructor Jess King, Noth's Mr. Big toasts to "new beginnings," as good old Ryan Reynolds comes piping in with a voiceover: "He's alive."
Another Maximum Effort classic. Reynolds' marketing firm has been responsible for some really memorable advertising since its creation in 2018 — and it's clear that whoever came up with this masterful idea deserves a raise. Yeah, even if it was Reynolds himself.