Daily Podcast: Spider-Man: No Way Home Box Office & More Spoiler Discussion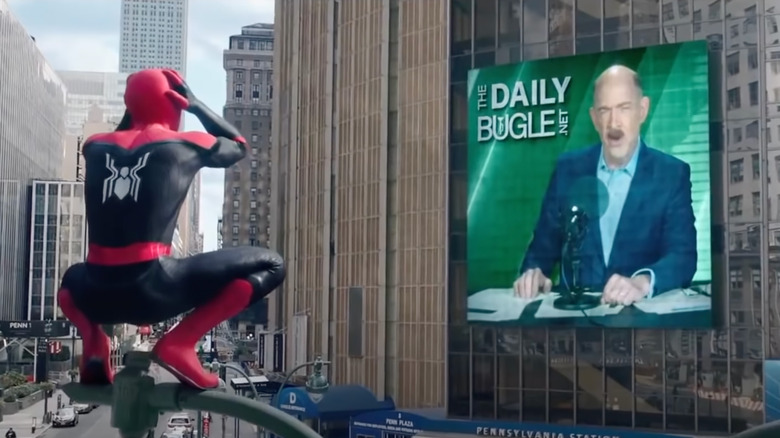 Sony
On the January 3, 2022 episode of /Film Daily, /Film editorial director Peter Sciretta is joined by /Film news writer Ryan Scott to talk about "Spider-Man: No Way Home," including how the film is destroying box office records and some spoiler reveals from the screenwriters.
Opening Banter: Happy New Year!
In The News:
Ryan: Spider-Man: No Way Home Swings Past Black Panther At The Box Office

Spoiler warning for "Spider-Man: No Way Home."

Peter (og Jeremy): Venom Was Nearly In Spider-Man: No Way Home's Final Battle

In an interview with Variety, Chris McKenna and Erik Sommers spilled the details on how, at one point in the process, Hardy's Venom could've played a much more active role in the story — possibly even appearing during the final battle. The pair admit that they "definitely discussed" this possibility, though obviously the creative team didn't pursue this any further.

Are we happy that Venom didn't have a larger role?

Will we ever see him and Holland's Spider-Man face off?

Ryan (og Ben S): Spider-Man: No Way Home Almost Had Another Marvel Character Bring In The Film's Special Guests

Screenwriters Erik Sommers and Chris McKenna revealed that initially another character was meant to bring the other Spider-Men into the Marvel Cinematic Universe. "They are brought by a Marvel character going, 'Here are the saving graces and they're going to help you through this,'" says McKenna. "It was just more of a deus ex machina."

Who was the character?

This change came late in the game of production. The crew was already two months into filming when Sommers and McKenna had to take another stab at the third act. Since this was the most crucial moment in the whole movie, they were afraid that they were going to mess it up.

Doctor Strange

Norman Osborn might've found them around the city when he was cruising around on his Green Goblin glider.

Eddie Brock, AKA Venom.

Wong. The new Sorcerer Supreme

Peter (og Valarie): Spider-Man: No Way Home Writers Address The Logistics Of Doctor Strange's Final Spell

In an interview with Variety, the film's co-writers, Chris McKenna and Erik Sommers,said "Obviously, some sort of magical redaction has occurred," "At the end of all this, we didn't want a lot of people trying to do magical math in their head," McKenna says, explaining that the donut shop scene should leave us thinking first and foremost about the sacrifice Peter made for his friends.

"If people have questions about some of those details that didn't get answered here, we'll answer them hopefully in another movie somewhere down the line," For now, the writer wanted to "just focus on the emotion of it."

So how do you think this spell ultimately works?

Ryan (og Jeremy): Spider-Man: No Way Home Writers Considered Credits Scenes With [REDACTED]

McKenna says about possibly bringing back the previous versions of Spider-Man for future appearances down the line: "I would hope so! I would love to see more of their journey. We even talked about, 'Oh, we could do a [post-credits] tag with this one! We could do a tag with that one!'"
Also mentioned:
All the other stuff you need to know:
You can find more about all the stories we mentioned on today's show at slashfilm.com, and linked inside the show notes.
/Film Daily is published every weekday, bringing you the most exciting news from the world of movies and television as well as deeper dives into the great features from slashfilm.com.

You can subscribe to /Film Daily on Apple Podcasts, Google Podcasts, Overcast, Spotify and all the popular podcast apps (RSS).

Send your feedback, questions, comments and concerns to us at peter@slashfilm.com. Please leave your name and general geographic location in case we mention the e-mail on the air.

Please rate and review the podcast on Apple Podcasts, tell your friends and spread the word!

Thanks to Sam Hume for our logo.