Venom Was Nearly In Spider-Man: No Way Home's Final Battle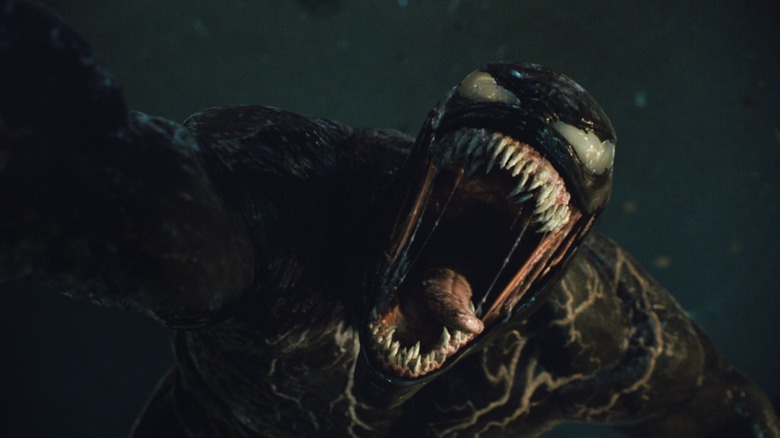 Sony Pictures
You know what "Spider-Man: No Way Home" was missing? That's right, more characters.
In all seriousness, the crossover extravaganza billed as the moviegoing event of 2021 easily lived up to the hype, at least in terms of stuffing the narrative full of villains and heroes from previous "Spider-Man" continuities. Somehow, against all odds, the script mostly kept its focus squarely on Tom Holland's Peter Parker and his toughest, most challenging adventure in the MCU yet. The fact that so many minute details were left somewhat up in the air at the beginning of the process only further complicated matters. Screenwriters Chris McKenna and Erik Sommers took up the responsibility of somehow narrowing down the scope and scale of the film to something much more manageable, meeting the extraordinarily high expectations for this threequel while still crafting a functional, complete story. The writing duo are taking a well-deserved victory lap in the aftermath of the film's breakout success, filling us in on how scheduling delays ended up affecting "No Way Home" and why they waited so long to finally spring one longstanding Spider-Man tradition on us.
But according to McKenna and Sommers, they could've unleashed even more multiversal madness on us in the form of Tom Hardy's Venom suiting up to add to the chaos of the final battle, rather than being relegated to the post-credits scene. Read on for all the details.
Crashing the Party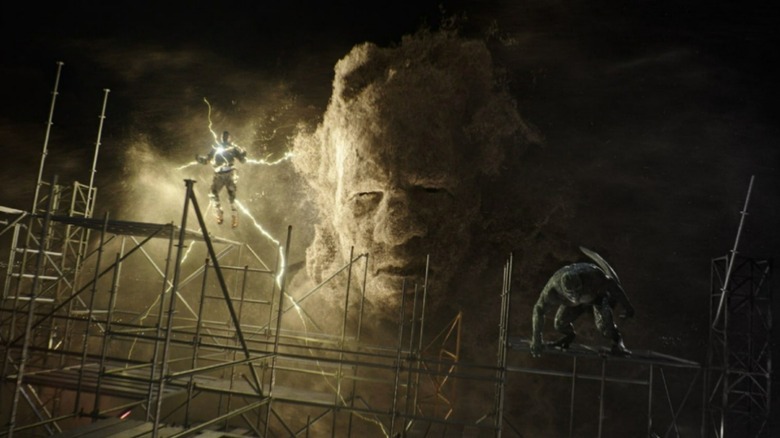 Sony Pictures
Different universes or not, fans have been vocal about seeing Tom Hardy's Eddie Brock/Venom go up against Tom Holland's Peter Parker/Spider-Man, reuniting the two comic book rivals for the first time in live-action since their disappointing (and studio-mandated) brawl in Sam Raimi's "Spider-Man 3." As we know now, Marvel and Sony took one big step closer to making that dream a reality ... sort of. The post-credits scene finally revealed that Hardy's Venom had, in fact, made it into the MCU along with all the other villains, but he is quickly whisked back to his own universe (sans a tiny drop of the symbiote left behind in the MCU, of course) once Doctor Strange casts the spell that sets things right once more.
In an interview with Variety (via Heroic Hollywood), Chris McKenna and Erik Sommers spilled the details on how, at one point in the process, Hardy's Venom could've played a much more active role in the story — possibly even appearing during the final battle. The pair admit that they "definitely discussed" this possibility, though obviously the creative team didn't pursue this any further. Ultimately, Alfred Molina's Doc Ock, Willem Dafoe's Green Goblin, Thomas Haden Church's Sandman, Rhys Ifans' Lizard, and Jamie Foxx's Electro provided more than enough thrills to make the final battle as epic as it could possibly be. Having Hardy's Venom running around in the midst of all this — who doesn't have any real connection with Holland's Spidey — likely would've been overkill.
But speaking of that post-credits scene, some fans had trouble wrapping their minds around the logistics of how Tom Hardy's Eddie Brock ended up in the MCU in the first place. /Film's own Ryan Scott addressed this very question, which McKenna and Sommers are now backing up. As teased in "Venom: Let There Be Carnage," the symbiote hivemind stretches "across universes," meaning that even if Brock never actually met Spider-Man before and discovered his identity as Peter Parker, some form of the Venom symbiote did. According to McKenna:
"The idea is that the symbiote has knowledge of other universes. Buried in his brain is some knowledge of that connection."
Good work, team, mystery solved! "Spider-Man: No Way Home" is playing in theaters worldwide. "Venom 3," meanwhile, is currently in the works.