Cate Blanchett's Theme In Nightmare Alley Was Inspired By Hip Hop Music [Exclusive]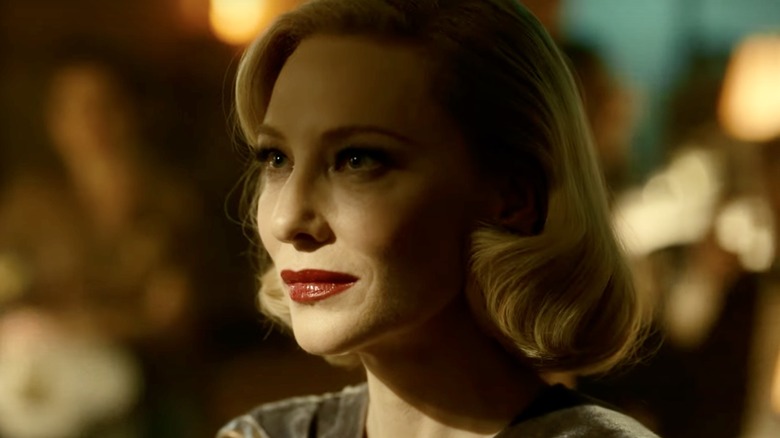 Searchlight Pictures
Cate Blanchett and hip-hop: they go together like lamb and tuna fish. Blanchett has a new movie in theaters, "Nightmare Alley," directed by Guillermo del Toro and co-starring Bradley Cooper, Toni Collette, Willem Dafoe, Richard Jenkins, Rooney Mara, Ron Perlman, Mary Steenburgen, and David Strathairn. You'd think a cast like that and the sure hand of an Oscar-winning filmmaker like del Toro would be enough to attract moviegoers, but "Nightmare Alley" has gotten off to a rough start despite earning rave reviews.
Composer Nathan Johnson got his start on Rian Johnson's directorial debut, "Brick," and since then, he's gone on to score every one of his cousin's films, except "Star Wars: The Last Jedi" (which brought in the legendary John Williams instead). Johnson has continued working with "Brick" star Joseph Gordon-Levitt on projects like "Don Jon" and "Mr. Corman," while "Nightmare Alley" sees him hooking up with del Toro for the first time. It also sees him drawing from an unlikely musical influence for Blanchett's character, Lilith. He explained:
"For [Lilith's] theme, it's this oboe line combined with these sort of open dissonant strings, but there's the spine in her theme that has a rhythmic lurch that's more commonly found in hip hop.

"It's not swung and it's not straight. It's kind of lurching between those and you would never listen to it and think hip hop. What I love about music is the music that exists in the margins or in the spaces between. So there's beauty combined with an ugliness. For her character, she's this calm placid surface with all this dark depth underneath it. And Stan doesn't know that. He doesn't recognize that when he first meets her, but it was so rewarding to get to write for her character because there's so much depth there."
"She's this calm placid surface with all this dark depth"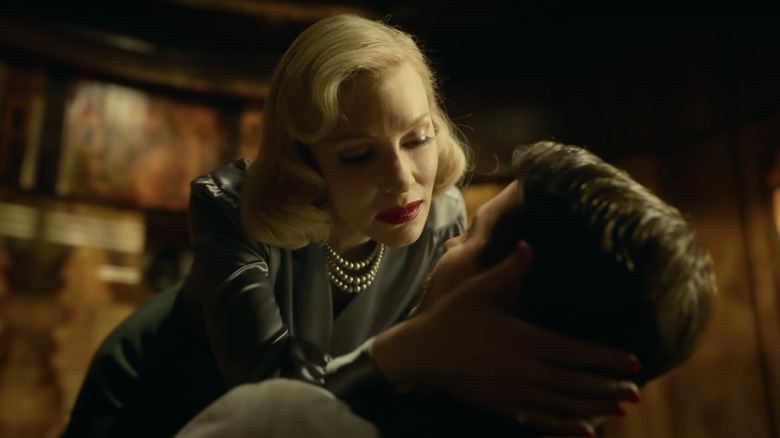 Searchlight Pictures
Johnson continued:
"I love the wonkiness, right? And it's not like I was thinking about hip hop and let's apply this. But as I was playing and finding that groove, it's like, oh, this is a piano orchestral piece. But that groove, a clear place that I see that happens over here in this style of music and to me, that's what I love about music. That's what I love about modern music and classical music is those moments where it's not all dark or all light. It gets to explore those transient areas. This is such a movie that allows for the exploration of these transient moments."
I haven't seen "Nightmare Alley" yet, only because it's not out in my neck of the woods. Apparently, not enough of you have seen it yet, either, because the movie only took home $2.95 million at the box office last weekend, while "Spider-Man: No Way Home" swung away with all the rest of the money. All I can say is, however subtle it might be under the music, what more do you want than a neo-noir Guillermo del Toro film that marries Cate Blanchett with a hip-hop groove? 
My only other question is: why, oh why, wasn't Blanchett involved in the 20th-anniversary "Lord of the Rings" rap? People, "It's the #1 trilly ... worldwide gross of almost $3 billy." Let's just hope that "Nightmare Alley" can up that "[nationwide] gross of almost $3 [milly]."
For more on the film's score, check out Jack Giroux's full /Film interview with Nathan Johnson. "Nightmare Alley" is in theaters now.