'Don Jon' Review And Video Blog: Joseph Gordon-Levitt's Fun, Upbeat Directorial Debut About Porn Addiction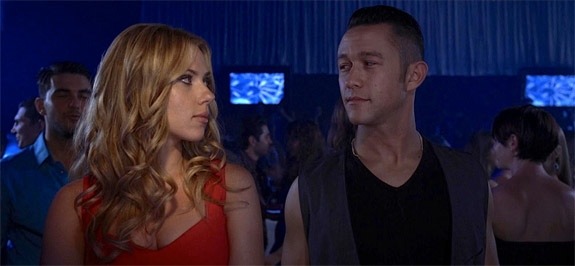 Note: This review was originally published on January 20th 2013 during the Sundance Film Festival. We are reprinting it for the film's theatrical release.
Movie fans have long known that Joseph Gordon-Levitt is a great actor. With Don Jon, the world will now see that he's a talented writer and director too.
The film, his feature debut, focuses on a New Jersey-based ladies man who is hopelessly addicted to online pornography. A heavy and potentially uncomfortable topic for sure, but Gordon-Levitt handles it with an honesty and energy that makes it fun as well as easily digestible. The supporting cast, including Scarlett Johansson as a New Jersey princess-type, Tony Danza, Julianne Moore and Glenne Headly, only helps a film about objectification and media consumption feel so effortless and entertaining.
Don Jon is a high end Hollywood comedy masquerading as a Sundance film. Read the rest of my review, and watch a video blog featuring Peter Sciretta and Russ Fischer, below.
Though Don Jon is primarily a commentary on how media consumption can negatively affect both men and women, it's important to note that the movie is done in a very modern, 21st century style. Gordon-Levitt employs many of the techniques you may see on his online video site, Hit Record, such as rapid montages, repeated sequences, cheesy music and visual gags. These things set the audience at ease, so they can be brought into Jon's world of pornography.
Make no mistake, there's a lot of porn in this movie. Nothing truly X-rated, but plenty of nudity, foul language and images many will find offensive. However it's all essential to craft an accurate portrayal of this modern man. As Jon, Gordon-Levitt not only physically transforms himself into a buffed-up Jersey ladies' man, he completely dissolves into this character. Jon is a person we probably shouldn't like, what with his pseudo-abuse of the Catholic religion, coarse language and objectification of everything from cars to women, but Gordon-Levitt makes him human and interesting.
On a smaller scale, the supporting cast is effective as well. Scarlett Johannson in particular turns in a hilarious yet completely aware performance. Her body is not only physically on display, but ogled and analyzed by every male within eyeline. Rather than seeming uncomfortable, Johansson plays her flighty princess character in a way that makes the attention seem not only commonplace, but welcome. Tony Danza, Glenne Headly and Brie Larson are understated but wonderful as Jon's supportive/slightly stereotypical family and Julianne Moore's character, who pops up out of nowhere, ends up playing an important and transformative role.
It's Johansson's character, though, who is a perfect microcosm for the film itself. She's pretty and aloof but has a very specific purpose, and one that plays directly to the film's core themes. The interaction between she and Jon casts a humiliating light on his pornography addiction, and that addiction brings them to an inevitable conflict. As a couple, they're a Jersey-based, media-warped, ying and yang.
That Don Jon, with its energetic tone, upbeat pace, and important message, comes from a first time director is incredible. That the director is one of our most popular actors is even more impressive.
/Film Rating: 8 out of 10
And here's a video blog with a few different opinions: