Andrew Garfield Reveals His Favorite Spider-Man Actor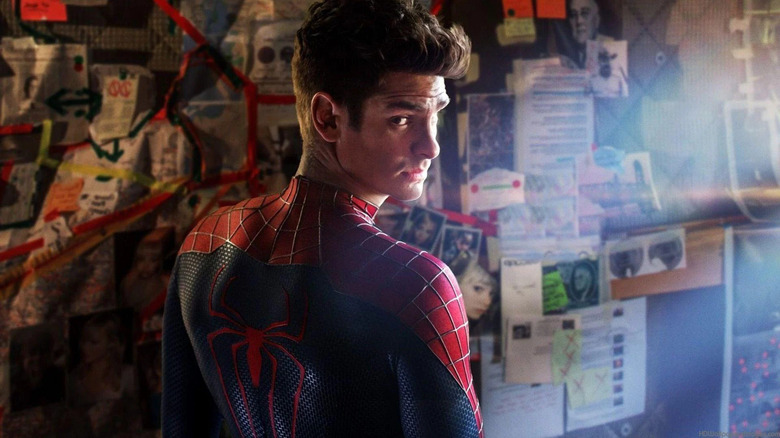 Sony Pictures
Andrew Garfield continues to deny that he is in "Spider-Man: No Way Home," and people continue to pour over every frame of the latest trailer, circling the places where they think Marvel has digitally removed him. To be fair, there's a part in the Brazilian trailer where the Lizard does receive a blow to the face from someone invisible. 
At this point, if and when Garfield does or doesn't show up onscreen in "No Way Home," it won't be the least bit surprising. In the meantime, he's got other movies to promote, like "Tick, Tick... Boom!" which is in theaters now and which hits Netflix this weekend. Yet the current rules of engagement for movie interviews dictate that someone ask a question about Marvel even when the interview does not relate to a Marvel movie. 
During the press junket for "Tick, Tick... Boom!," ET Canada (by way of ComicBook.com) asked Garfield who his favorite Spider-Man was, and he said:
"The great thing about having played that part is you're one in a long line and you get to be a part of this very secret, small club. Obviously for me Tobey Maguire was my original, like fell in love with that film version of that character. For me it was the comic books and the cartoon when I was a kid but then you have Tobey who is just this defining figure in my life.

So then when I got to have the chance to play him it was a childhood dream coming true, but then now you have Tom (Holland), who I just think is the most remarkable actor and he's infused the character with so much heart and soul and humor and charm and sweetness and goodness. It's like a goodness that radiates from him, that is Peter Parker. This undeniable goodness that he inherits from his aunt and his uncle."
"I love everyone who's ever done it"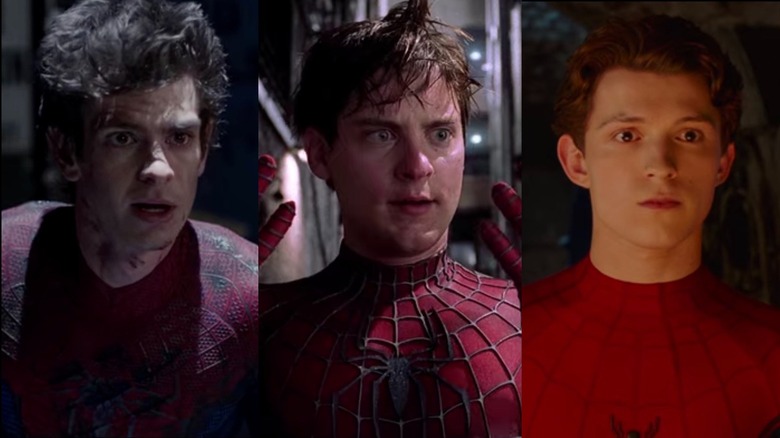 Sony Pictures
Garfield continued:
"And it's just a gorgeous thing to witness what [Holland] has done and what Jon Watts has done and what Amy Pascal and Kevin Feige have done with this character because I feel like they really lead with soul and I really feel like, as a fan, I'm just so thankful that you guys have created this version of the character which I can just be a fan of now. That's a very diplomatic way of saying everyone, I love everyone who's ever done it."
As someone who grew up reading Spidey comics, Holland is my personal favorite Spider-Man. However, of the three live-action Spider-Men, Garfield is probably my favorite actor all-round, and there's definitely a vocal contingent of Sam Raimi fans who like to poo-poo the Holland films in favor of the Maguire ones, now.
Since hanging up his superhero tights, Garfield has carved out an interesting filmography, playing a number of characters in religious films like Martin Scorsese's "Silence" and this year's "The Eyes of Tammy Faye." He's also done offbeat work in films like "Under the Silver Lake," writer-director David Robert Mitchell's neo-noir follow-up to "It Follows."
You may or may not be able to see Garfield in "Spider-Man: No Way Home" this December (again, he insists you won't), but in the meantime, you can catch him in "Tick, Tick... Boom!." "Under the Silver Lake" might be a good Noirvember selection, as well, provided you can go along with the zany conspiracy-thriller plot and Riley Keough barking like a dog.
"Tick, Tick... Boom!" is on Netflix as of November 19, 2021.