Dungeons & Dragons: Honor Among Thieves: Release Date, Cast, And More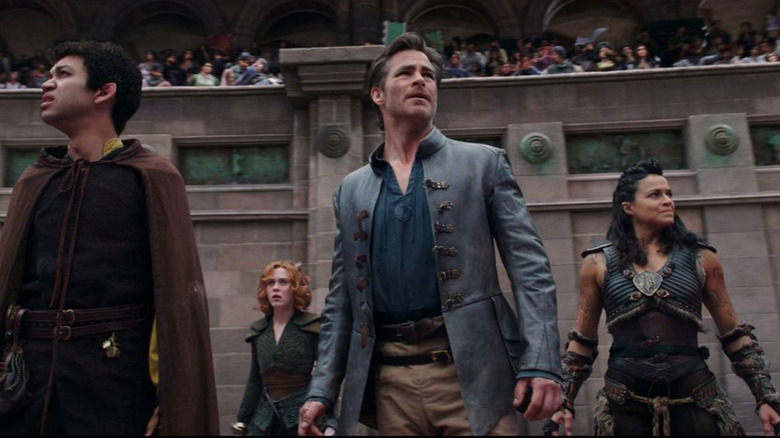 Paramount
(Welcome to ...And More, our no-frills, zero B.S. guide to when and where you can watch upcoming movies and shows, and everything else you could possibly stand to know.)
For a long time, playing "Dungeons & Dragons" meant that you were the nerdiest of nerds. The game has been around since the 1970s, but it's never been more popular than it is today. Thanks to the rise of Twitch gameplay shows like "Critical Role," D&D podcasts, and more references to the game on popular shows like "Stranger Things," "Dungeons & Dragons" has seen a massive rise in popularity over the last few years.
D&D sales increased over 30% in 2020. Impressive numbers, especially considering the impact the pandemic had on many other sectors of the economy. With all of this buzz surrounding the Wizards of the Coast franchise, it's no wonder that there is interest in turning the game into a film (even if it has been attempted, poorly, in the past).
What do we know about the latest attempt to take the always beloved, if once ridiculed, game to the screen? Gather your party, and let's uncover all the secrets we know so far about the upcoming film, "Dungeons & Dragons: Honor Among Thieves."
Dungeons & Dragons release date and where you can watch it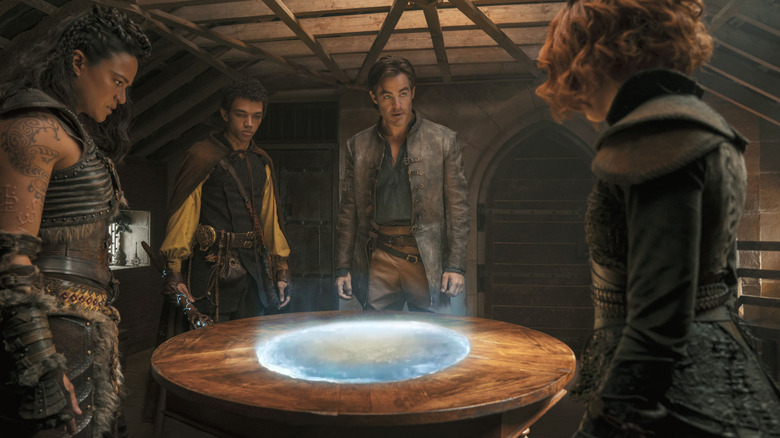 Paramount Pictures
To say that "Dungeons & Dragons: Honor Among Thieves" has been in the works for a while now would be quite the understatement. The long and winding path first began back in 2013, coming on the heels of the (thankfully unconnected) trilogy of films released between 2000 and 2012. Because nothing can ever be easy with live-action adaptations of this beloved property, some behind-the-scenes shenanigans between Warner Bros. and Universal (in partnership with Hasbro) erupted over that pesky little issue of who actually owned the film rights. Out of this chaos emerged a string of productions over the years, from a Rob Letterman-directed project to one written by actor Joe Manganiello (yes, really!), though none of them ever came to fruition. Finally, Paramount officially took the reins and ushered a new version led by "The Lego Batman Movie" director Chris McKay. 
Although McKay would eventually step back from directing duties, this latest attempt finally coalesced into "Dungeons & Dragons: Honor Among Thieves," which is set to be released in theaters on March 31, 2023 after numerous delays to its original release date (which was slated to be July 23, 2021). Incredibly enough, the fantasy film is set to make its debut at the South By Southwest film festival on March 10, 2023.
What is Dungeons & Dragons: Honor Among Thieves?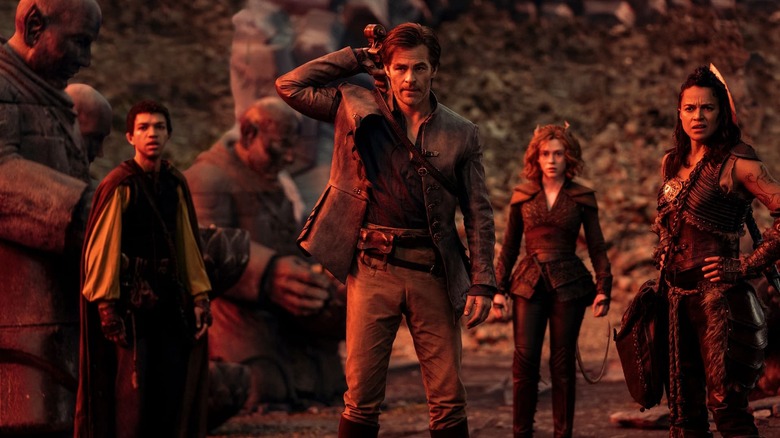 Paramount Pictures
After that little refresher course on the lengthy history behind "Dungeons & Dragons: Honor Among Thieves," it stands to reason that the next question you may have revolves around what exactly this upcoming movie will be. By now, the broad strokes of the classic fantasy game is known to both hardcore fans and casual audiences alike. The film adaptation comes with all sorts of promises ofupholding the adventurous and oh-so-nerdy appeal of the RPG. 
Like the original role-playing game, the movie will feature Harpers, wizards, barbarians, and all the same archetypes that any dungeon master knows like the back of their hand. Thanks to 2022's San Diego Comic-Con panel, we also know that many of the cast and crew come from D&D backgrounds themselves and the story will include every fan's favorite monsters, the fun-loving tone, fantasy action worthy of the genre's much more accepted perception among modern audiences, and plenty more.
Who's in the Dungeons & Dragons: Honor Among Thieves cast?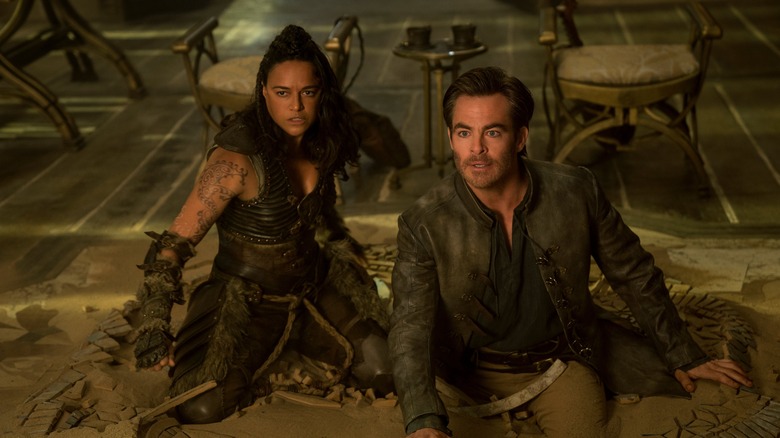 Paramount Pictures
"Dungeons & Dragons" as a film may raise some questions about how well it can be adapted, but if the cast is any indication, we're genuinely excited. The leads include Chris Pine ("Star Trek") and Michelle Rodriguez (the "Fast and the Furious" franchise), with Hugh Grant ("Notting Hill," "Love Actually") locked in as the film's mysterious villain named Forge Fletcher.
Pine is never a bad choice for a genre film that invites audiences into strange new worlds, especially given his ability to be both charming and a believable action lead. Rodriguez is playing a barbarian character named Holga, which seems fitting considering her frequent roles as a certified badass. Grant as the big bad also feels like an inspired choice. He's usually the go-to romantic lead charmer, but we've seen him recently embrace more edge in his role in "The Undoing," and he actively played a very convincing villain in "Paddington 2." Other notable cast members include Justice Smith ("Detective Pokemon"), Sophia Lillis ("IT: Chapter 1" and "Chapter 2"), Regé-Jean Page ("Bridgerton"), Jason Wong ("The Gentlemen," "The 355"), Daisy Head ("Shadow and Bone," "The Sandman"), and Chloe Coleman ("My Spy," "Avatar: The Way of Water").
This cast suggests a film where the camaraderie of the characters is just as fun to watch as the adventure unfolding. That's a positive sign since that's what makes a good D&D game, after all. Good fun, charming characters, with a dash of action and adventure to glue the whole thing together.
Who is directing Dungeons & Dragons: Honor Among Thieves?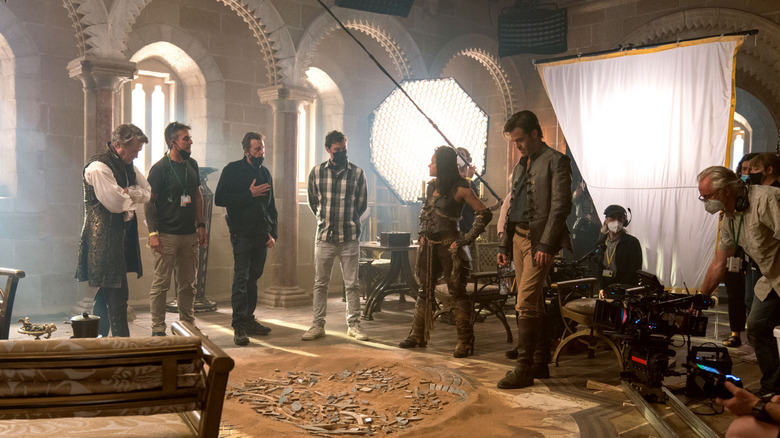 Paramount Pictures
The director-writer team of John Francis Daley and Jonathan Goldstein, who previously blended comedy and action with "Game Night," have stepped up as the Dungeon Masters/directors to helm the story from script credited to writers Michael Gilio, John Francis Daley, Jonathan Goldstein, and Chris McKay. It certainly couldn't have been an easy feat. Games being adapted into movies is not a new thing and usually, the results are mediocre at best. Video game movies and shows have a spotty track record.
However, adapting something like "Dungeons & Dragons," and other tabletop games, is a completely different monster to tackle. With most video games, there's more plot to shape for the screen. "Dungeons & Dragons" relies heavily on players roleplaying out their stories, often in what is called a "theater of the mind" experience. No two games are the same, even if they rely on the same rules.
We have seen tabletop games adapted before. The cult classic film "Clue" embraced the unique challenges of such a task, making something that was both an homage to its source, but also bringing something watchable to the table.
What is Dungeons & Dragons: Honor Among Thieves rated?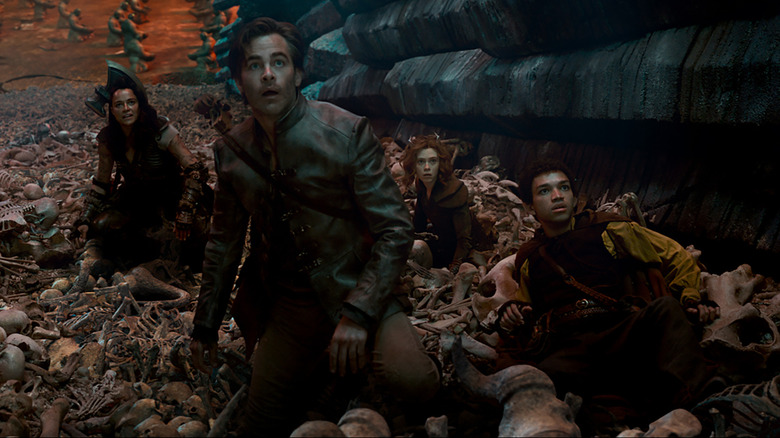 Paramount Pictures
D&D has always been an all-ages affair, open to families and children and everyone in-between. The movie appears set to keep that grand and inclusive tradition going, as "Dungeons & Dragons: Honor Among Thieves" has been rated PG-13 for what the MPAA describes as "fantasy action violence." Of course, the PG-13 rating is broad enough to cover a whole expanse of material ranging from genuinely kid-friendly to potentially pushing uncomfortable boundaries, as far as parents are concerned. 
For instance, other fantasy movies of recent vintage (like Duncan Jones' "Warcraft," for instance) earned PG-13 ratings for similar reasons. Compare that to the carnage and gore unleashed in "Doctor Strange in the Multiverse of Madness," however, and it's easy to understand just how important it is to pay attention to the specifics. 
Luckily, the amount of footage already available points toward the likelihood that "Dungeons & Dragons" will be far more on the softer edge of the violence spectrum. Of course, stay tuned to /Film for more information on that front in our review once the movie comes closer to release.
What is the Dungeons & Dragons owlbear controversy?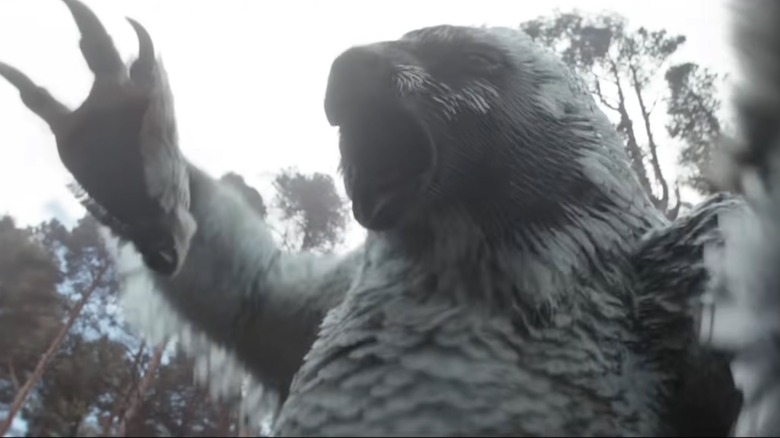 Paramount Pictures
Oh, this wouldn't be a "Dungeons & Dragons" movie if there wasn't some sort of incredibly nerdy complaint making the rounds, would it? Now, the average layperson might not be aware that the owlbear has remained one of the most popular and beloved D&D monsters ever established in the canon. It's a pretty straightforward creature: a bear with an owl's head, naturally. Viewers can see the wild animal wreaking havoc on some unfortunate victims in the main trailer for the film, though with one noticeable twist: Sophia Lillis' druid character Doric transforms into the fearsome beast, despite the fact that the original game rules don't give druids the ability to shapeshift (known as "wildshaping") into owlbears. The horror!
Granted, ScreenRant lays out a scenario explaining away this apparent inconsistency (or dare we even say an outright contradiction) with typical D&D lore. Accordingly, Doric is shown with horns sprouting out of her head, identifying her as a Tiefling Druid. This indicates a sort of human/demon hybrid, which in turn means that this specific class of character boasts abilities that normal ones don't have at their disposal. None of this is spelled out in official canon, of course, but such a rare combination leading to rare abilities shouldn't be entirely unheard-of. In any case, it stands to reason that certain aspects would be treated with a sense of artistic license. If this is the most amount of pushback that the upcoming movie receives, then that's probably representative of a job well done.
Watch the Dungeons and Dragons Honor Among Thieves trailer
Here's the official synopsis for "Dungeons & Dragons: Honor Among Thieves" from Paramount Pictures
A charming thief and a band of unlikely adventurers undertake an epic heist to retrieve a lost relic, but things go dangerously awry when they run afoul of the wrong people. "Dungeons & Dragons: Honor Among Thieves" brings the rich world and playful spirit of the legendary roleplaying game to the big screen in a hilarious and action-packed adventure.