Knock At The Cabin: Everything We Know So Far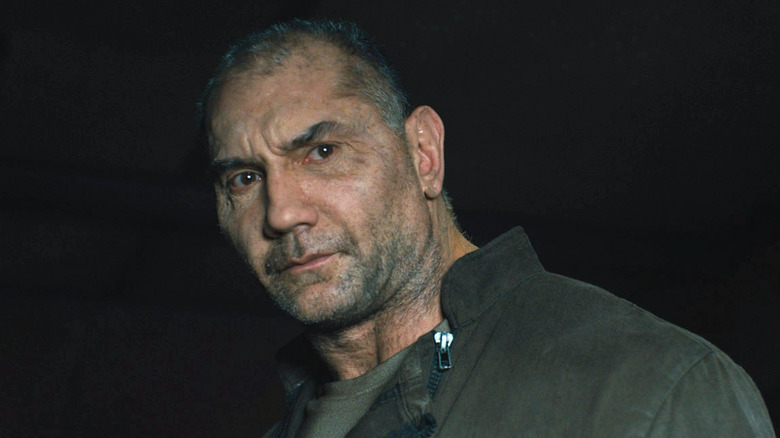 Warner Bros.
Your surprise ending, never know what's going to happen, twisty as hell friend M. Night Shyamalan's next movie has been announced and our boy is going back to the genre that loves him best, horror. While we don't have a ton of information about "Knock at the Cabin," there are some clues scattered around the internet that paint a fuller picture of what we can expect from the famous surprise ending director.
Of course, in classic Shyamalan fashion, nothing is as it seems, so we expect our scope of the movie to change pretty dramatically as more news about it comes out.
When and where to watch Knock at the Cabin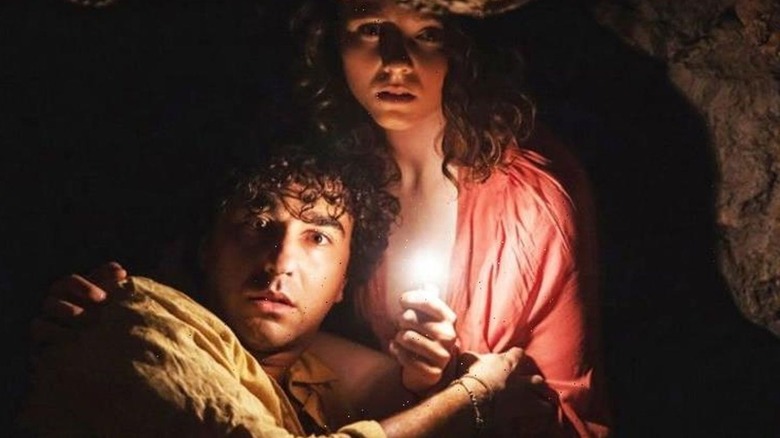 Universal Pictures
One of the things we can definitely confirm about "Knock at the Cabin" is its release date. Shyamalan has been very quiet about everything else, but he's been shouting from the proverbial rooftops that the movie will be released on February 3rd, 2023. Or, in the parlance of Shyamalan, 2.3.23. 
— M. Night Shyamalan ⌛ (@MNightShyamalan) October 14, 2021
While this little teaser trailer doesn't give us a ton of info, it definitely makes us think there's something purposeful going on with the numbers. For just being a short little video about the release date, those echoing knocks are pretty effective. It feels pretty spooky, although, until more information is released, all we have is delicious speculation. I know 2023 feels like it's far away, but time moves faster than you think. I mean, I wake up everyday and still think it's 2020, but we're in 2022. That's just the world we live in.
What Knock at the Cabin is about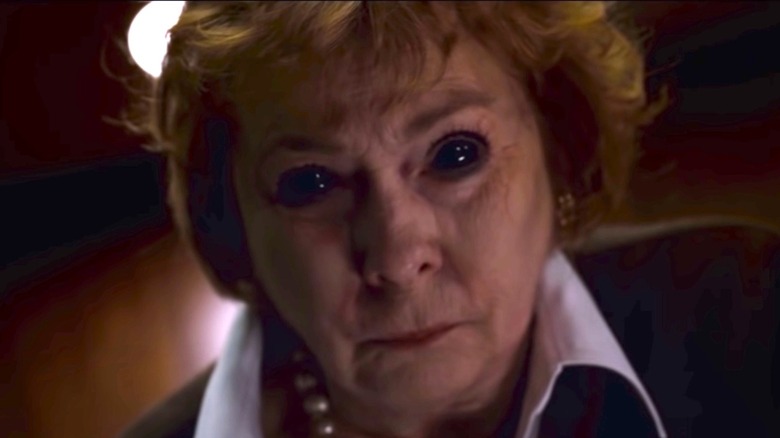 Universal Pictures
Loosely based on Paul Tremblay's 2018 novel "The Cabin at the End of the World," "Knock at the Cabin" will follow a family taking a vacation in a remote cabin in the woods, when they're taken hostage by three strangers claiming to stop the apocalypse.
Bloody Disgusting has reported that they've heard the project will be a "home invasion horror film that takes place during the apocalypse," suggesting some fascinating new ground for the divisive filmmaker that may conjure up some comparisons to the excellent "10 Cloverfield Lane" or even Jordan Peele's "Us."
Because it's Shyamalan, the only thing we can expect is the unexpected, but I'm hoping this film errs closer to the tight scares of "The Visit" rather than the more bombastic feeling of "Split." Even though Shyamalan loves to go hard and throw everything in his movies but the kitchen sink, when he does show restraint, it pays off.
What is the book The Cabin at the End of the World about?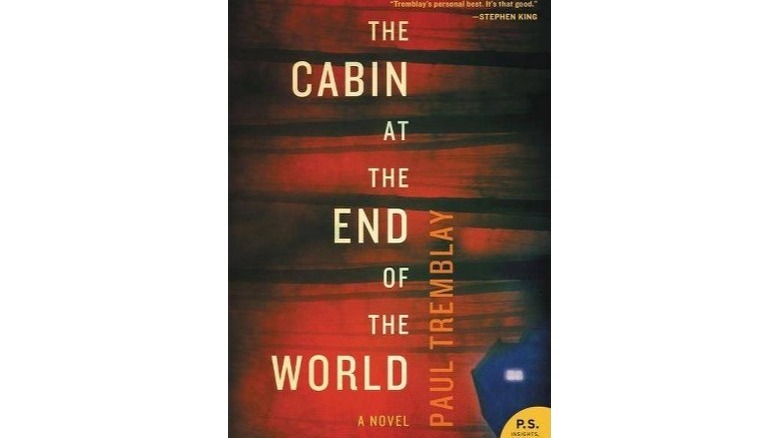 FilmNation
The connection to author Paul Tremblay's 2018 novel has been confirmed by the author himself. In an interview with CNBC (via Bloody Disgusting), Tremblay admitted that all parties had been contractually obligated to keep this news tightly under wraps until now.
The Goodreads synopsis for "The Cabin at the End of the World" could give us a hint at how "Knock at the Cabin" will play out:
Seven-year-old Wen and her parents, Eric and Andrew, are vacationing at a remote cabin on a quiet New Hampshire lake. Their closest neighbors are more than two miles in either direction along a rutted dirt road.

One afternoon, as Wen catches grasshoppers in the front yard, a stranger unexpectedly appears in the driveway. Leonard is the largest man Wen has ever seen but he is young, friendly, and he wins her over almost instantly. Leonard and Wen talk and play until Leonard abruptly apologizes and tells Wen, "None of what's going to happen is your fault". Three more strangers then arrive at the cabin carrying unidentifiable, menacing objects. As Wen sprints inside to warn her parents, Leonard calls out: "Your dads won't want to let us in, Wen. But they have to. We need your help to save the world."
But even Tremblay acknowledges that "I have no contractual say over the screenplay or filming," leaving Shyamalan the freedom to filter the story through his own sensibilities as he sees fit. Though admitting that this will take some adjustments on his part, the author is taking this in stride: "Like the majority of adaptations, there will be story changes and differences compared to the book so my readers will still be surprised by the film."
What we know about the cast of Knock at the Cabin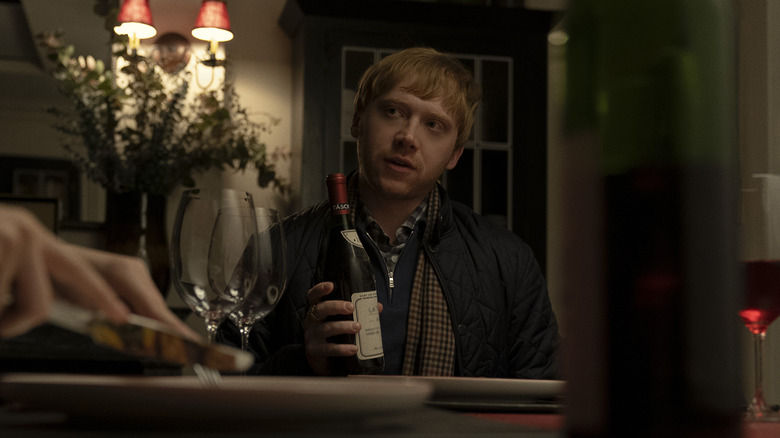 Apple TV+
While plot details remain largely under wraps, we know a bit more regarding the cast of Shyamalan's 15th feature film. Back in December of 2021, character actor Dave Bautista became the first big name to join the film — which came about thanks to his performance in "Blade Runner 2049." A few months later, we found out that Rupert Grint (an alumni of Shyamalan's Apple TV+ series "Servant") and Nikki Amuka-Bird (who played a key role in Shyamalan's "Old") would also join the cast. "Mindhunter" and "The Matrix Resurrections" star Jonathan Groff and Ben Aldridge ("Pennyworth," Fleabag") round out the cast, alongside Kristen Cui as their daughter, Wen.
What we know about the crew of Knock at the Cabin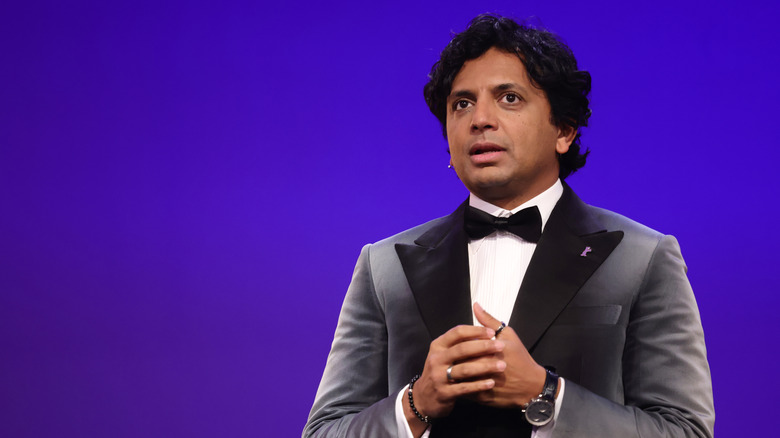 Andreas Rentz/Getty Images
Written, directed, and produced by Shyamalan, "Knock at the Cabin" will also feature Jarin Blaschke ("The Lighthouse," "Servant," "The Northman") as director of photography. In an interview with Collider in 2019, Shyamalan shared a slice of his vision for the next few years, saying:
"I just had two movie ideas I felt very strongly about. For me, there are ideas and they're in journals sometimes and they don't quite have the meat yet or whatever that thing is that makes it so I'm ready to commit two years of my life to making this—to writing and directing this—some of those ideas don't have that yet. They have to gestate a little bit. But there were two ideas where right away I was thinking about making them. And, interesting enough, there might be a third thing that came to me that might end up going in between these two. So there might be three."
The screenplay is by M. Night Shyamalan and Steve Desmond & Michael Sherman based on the national bestseller "The Cabin at the End of the World" by Paul Tremblay. The film is produced by M. Night Shyamalan, Marc Bienstock (Split, Glass) and Ashwin Rajan (Servant, Glass). The executive producers are Steven Schneider, Christos V. Konstantakopoulos and Ashley Fox.
Where did Knock at the Cabin film?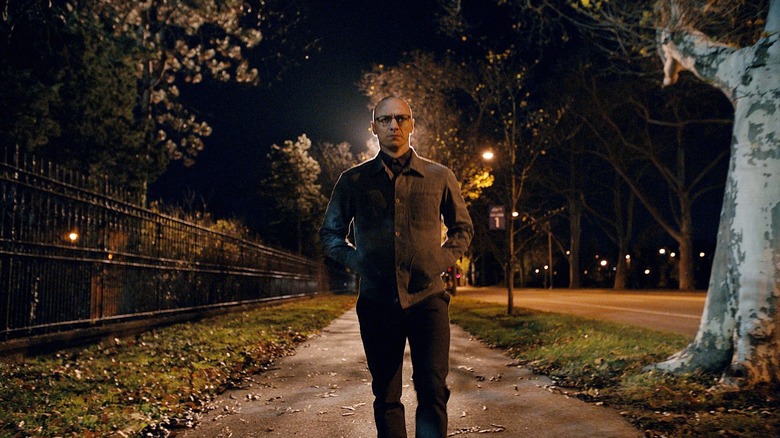 Universal Pictures
M. Night Shyamalan has famously filmed and set many of his movies in Philadelphia, close to where he was raised as a child. From his "Eastrail 177" trilogy (which comprises "Unbreakable," "Split," and "Glass") to his ongoing streaming series "Servant" to even something as fantastical (and woefully misguided) as "The Last Airbender," the director has come back to the state of Pennsylvania, often and repeatedly, for various productions. Does that hold true for "Knock at the Cabin," his latest feature? Reader, you will be completely unsurprised to know that the answer to that question is a resounding yes.
Local outlet PhillyVoice reported that casting was underway in April of 2022 for extras located in the suburbs of Philadelphia. In addition, the New Jersey Department of State announced that "[much] of the movie" had been filmed on location in Tabernacle and Southampton, no doubt providing another evocative setting for a director who has made a career out of moody and atmospheric thrillers.
Knock at the Cabin will have an 'old school' look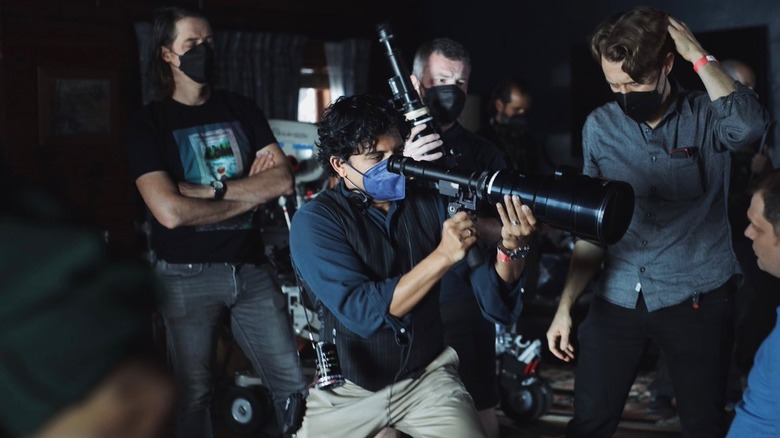 Twitter/M. Night Shyamalan
M. Night Shyamalan may continue to be associated first and foremost with plot twists, but the director's attention to detail when it comes to the technical matters of filmmaking might be an even bigger obsession of his. While "Knock at the Cabin" will keep its secrets bottled up until the very date of its theatrical release, Shyamalan himself has remained happy to provide his social media followers with plenty of fascinating and nerdy nuggets about the production.
For instance, he tweeted in May of 2022 that he was "[using] lenses from the nineties to get the old school thriller look," accompanied by an on-set photo of him and his creative team going above and beyond to capture the desired look and feel for this film. Does this mean we can use his own classic '90s thriller, "The Sixth Sense," as a guidepost for what "Knock at the Cabin" may ultimately end up looking like? Maybe, maybe not. Something tells me that a filmmaker of Shyamalan's pedigree will probably steer clear of retreading even the aesthetics of his own filmography. As a well-known lover of movies, Shyamalan undoubtedly knows that even the '90s featured a wide spectrum of visuals — will this be more along the lines of "The Fugitive," "Se7en," any number of Tony Scott thrillers, or something else entirely? We'll have to wait and see for ourselves.
Filming for Knock at the Cabin wrapped in July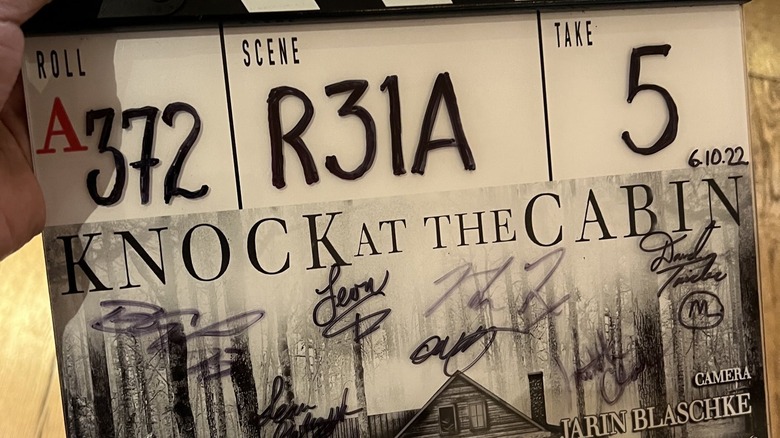 Twitter/M. Night Shyamalan
Principal photography for "Knock at the Cabin" began on April 19, 2022, with the completion of filming officially occurring on June 11, 2022. Firmly in the post-production process now, it's likely that a new trailer for the film will release sometime in the coming weeks or months as the edit comes further and further into focus. If that seems incredibly quick, keep in mind that this is simply par for the course with this particular project. In an interview with ComicBook.com, Shyamalan has previously mentioned that this was "the fastest script I've ever written," supplanting the previous record-holder: his alien invasion thriller, "Signs."
More to the point, however, Shyamalan went even further to set "Knock at the Cabin" apart from his past productions. In his tweet announcing that filming had wrapped, the director had this to say: "This one really changed me as a person and an artist." Having worked immensely hard to dig himself out of "director's jail," even going so far as to self-fund movies to get himself back into the good graces of the studio system, it says a lot that Shyamalan would place such importance on this latest movie. Will it turn out to be worth all the hype? We'll have to wait and see.
Is there a trailer for Knock at the Cabin?
Here is the synopsis for "Knock at the Cabin."
While vacationing at a remote cabin, a young girl and her parents are taken hostage by four armed strangers who demand that the family make an unthinkable choice to avert the apocalypse. With limited access to the outside world, the family must decide what they believe before all is lost.