The Best Netflix Original Horror Movies Of 2021 (So Far)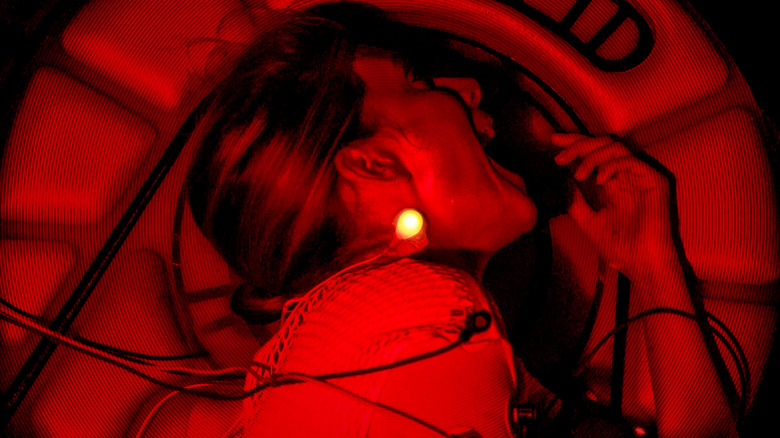 Netflix
Netflix has an extensive lineup of movies and TV shows, but head to the site for some creepy content and you'll find the offerings slim. Those looking for a wide variety of spooky classics will be dismayed to go to the horror section, sort by year released, and only find the catalogue to go back as far as 1990's "The Exorcist III" (which is nonetheless outstanding, go watch it). 
Where the streaming service shines is in its original content, bringing fresh films from a variety of storytellers around the world to Netflix's 209 million subscribers. On the TV side, Mike Flanagan has wowed audiences once again with "Midnight Mass," his third series for the streaming giant after "The Haunting of Hill House" and its follow-up "The Haunting of Bly Manor." Netflix was impressed enough with the viewing numbers to order another series from the "Hush" director, "The Fall of the House of Usher."
This year, Netflix has put forth a modest assortment of original feature films in the horror section, including Leigh Janiak's teen slasher trilogy "Fear Street," and Kim Tae-hyoung's Korean Buddhist horror-fable "The 8th Night." We rounded up the cream of the crop for your viewing pleasure, and hopefully Netflix will beef up the rest of the horror section soon. Would it kill them to showcase "Don't Look Now" every once in a while?
Without further ado, here are ten of the best Netflix original horror films of the year (so far).
10. The Swarm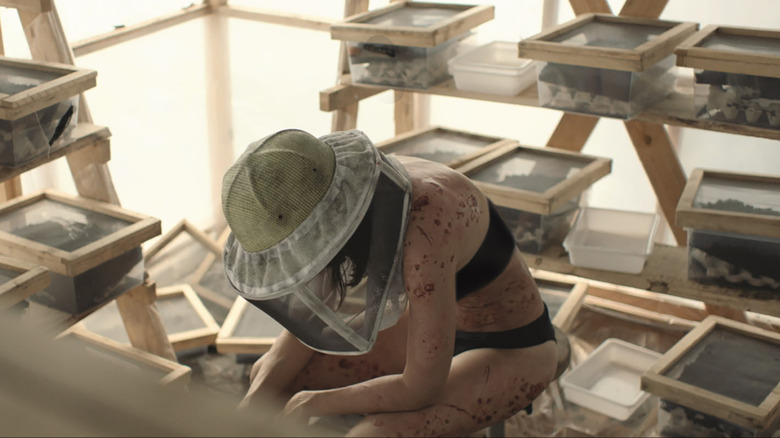 Netflix
Here's the thing about "The Swarm" ... you're not going to get all that scared. Maybe a little creeped out by all the bugs, but this brand of French eco-horror does what so many effective horror movies do: it uses gnarly elements (in this case, blood-drinking locusts) as a shell for what the filmmaker really wants to talk about. 
The story centers on recently widowed single mom Virginie, a farmer who raises locusts to grind into a high-protein flour. Struggling to keep the lights on, getting abysmally compensated by vendors, and borrowing money from her neighbor to make ends meet, her locusts just aren't reproducing — until they inadvertently get a taste for fresh blood. 
The film is a slow-burn that relies on its lead performances, a task dutifully handled by Suliane Brahim and Laura Hébrard in the respective mother-daughter roles. "The Swarm" is a particularly sweet treat for those who got a chance to catch director Just Philippot's short film "Acid," in 2018 — the film also stars Sofian Khammes from the same short. /Film's own Danielle Ryan speculated from the trailer that the movie has "an A24 feel," and that's not far off base. Provoking socio-economic thought rather than shocks, "The Swarm" creeps more than it thrills and leaves you ready to be more supportive of your local farmer's market once the credits roll.
9. A Classic Horror Story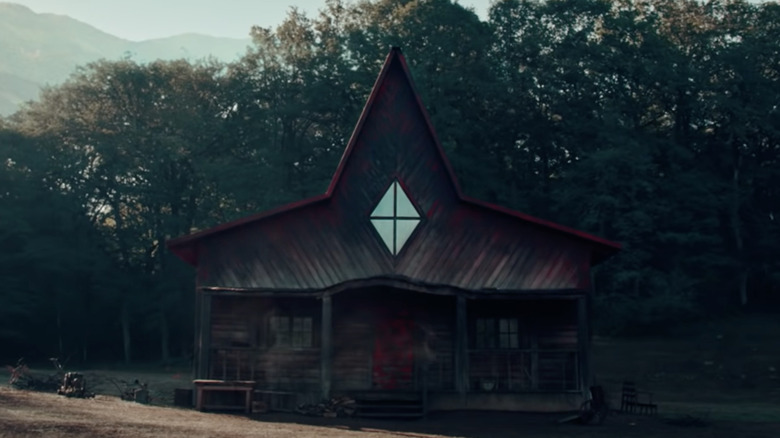 Netflix
Don't let the fair eyes fool you; Matilda Lutz is up to the challenges of exploitation horror. After blowing away festival audiences in Coralie Fargeat's 2017 rape-revenge thriller "Revenge," it's wonderful to see her finger on the trigger once again in Italian bloodbath "A Classic Horror Story," directed by Roberto De Feo and Paolo Strippoli. 
Released on Netflix mid-July, the story tags along with Lutz as Elisa, who is traveling to Calabria. She boards Fabrizio's (Francesco Russo) trailer along with Dr. Riccardo (Peppino Mazzotta) and couple Sofia (Yuliia Sobol) and Mark (Will Merrick), and a vehicle accident along the way strands the travelers in the deep woods. They find ritualistic offerings, a creepy cabin, and eventually, its inhabitants as they try to survive the night. 
Lutz shines brightest in the lead role, clenching her jaw and marching right up to the edge of that adrenaline-soaked delirium that would put her right at home in any upcoming "Texas Chain Saw Massacre" entry. The film delivers buckets of blood and torture sequences with fun practical effects, so old school fans of stay-out-of-the-woods cinema have their next watch taken care of with "A Classic Horror Story" (at least, until Shyamalan's new thriller drops)
8. Homunculus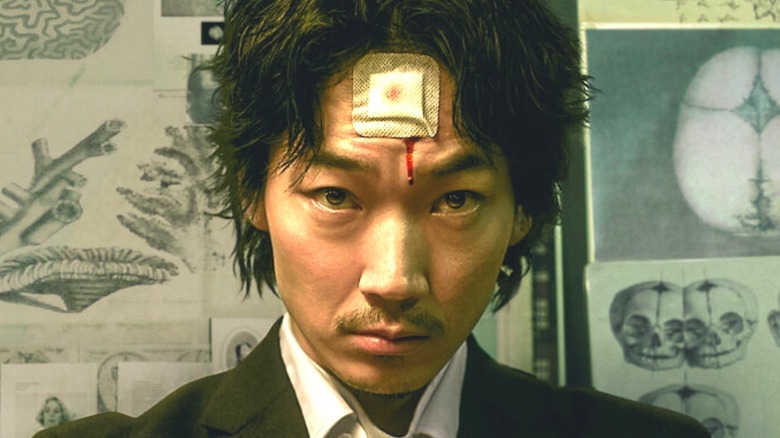 Booster Project
"Homunculi show you everything you want to see; everything else is just imagination."
Takashi Shimizu's "Homunculus" unpacks the ways that we connect with each other, wrapped in the genre safety of sci-fi and horror. Nakoshi (Gô Ayano) is a homeless amnesiac, struggling to relate to anyone. His apathy is such that he consents to an experimental medical procedure, telling the student Ito (Ryô Narita) that he doesn't care if it makes him "a vegetable." 
The procedure, called trepanation, bores a nickel-sized hole in the patient's skull with "Driller Killer" levels of intensity and results in the emergence of the homunculus, a part of the brain that can reveal people's innermost pain when Nakoshi covers his right eye and peers at them through his left (this results in poor Ayano spending half the movie acting out of one half of his face, but his expressiveness more than compensates). Similar stories have been executed before — The Pang Brothers' 2002 "The Eye" has a blind musician given a corneal transplant with the nasty side effect of seeing dead people — but this live-action adaptation of Hideo Yamamoto's manga of the same title is a stellar execution of an ambitious concept. 
Bonus: Yamamoto also wrote the "Ichi the Killer" seinen manga that Takashi Miike would later adapt into the infamous cult hit, so with "Homunculus" you'll see similar recurring themes on the human mind, deviant behavior, and criminal subcultures. Straddling genres but leaning hard into science fiction, "Homunculus" is writer-director Takashi Shimizu's surreal and soulful meditation on what it means to reach out to someone.
7. There's Someone Inside Your House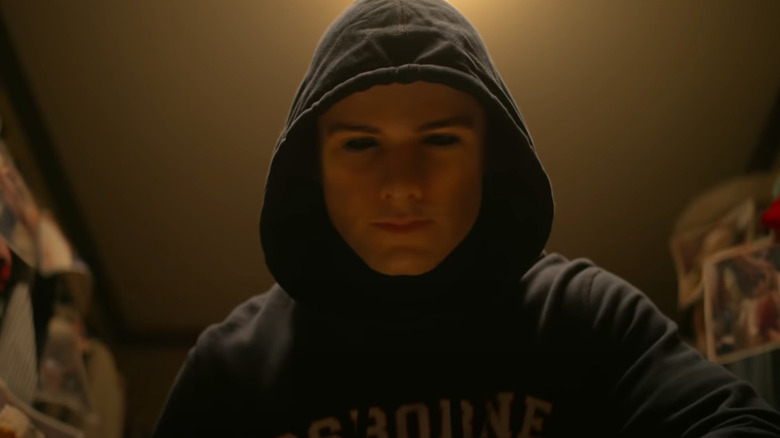 Atomic Monster Productions
Teen slashers are the hot ticket these days, so much so that critic and slice-n-dice expert BJ Colangelo has noticed a pattern. This one boasts a YA story at its core, and the director of "Creep" as the cherry on top. 
Patrick Brice helms "There's Someone Inside Your House," the big-screen adaptation of Stephanie Perkins' 2017 novel of the same name. In both, Makani Young (played in the film by Sydney Park) has just moved to Nebraska following a vaguely-referenced incident that she regrets. Now, someone has been killing the students of Osborne High School and putting their secrets on display for the whole town to see. 
Working with an expanded cadre of high school character tropes, "There's Someone Inside Your House" updates the "I Know What You Did Last Summer" template for today's youth and includes more tangible iterations of the cynical slasher teens of yesteryear. While the killer's premise gets muddled (one victim's only crime is addiction), the ride is nonetheless effective and thrilling, with biting dialogue and a solid lead performance from Park that does right by the source material and brings a beating, guilty heart to the film's center.
6. Fear Street Part One: 1994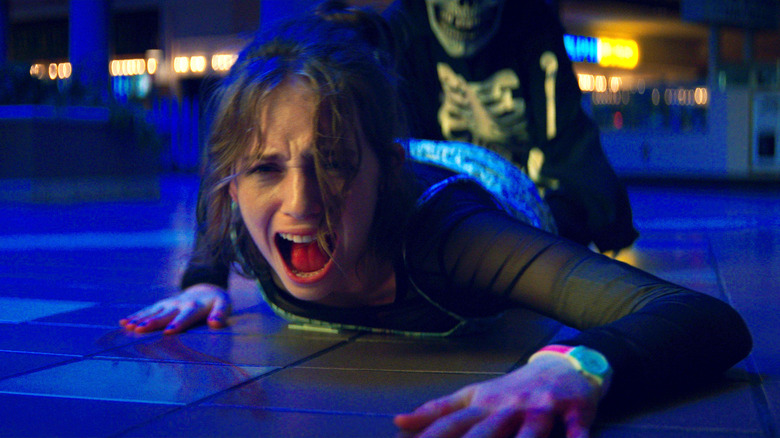 Chernin Entertainment
It's probably cheating to list each film of a trilogy as its own entry, but I don't want folks sleeping on these hip, fun slashers. The "Fear Street" films enjoy an expanded stable of archetypes in the same way that "There's Someone Inside Your House" does; rather than settle for mere visibility for its queer and gender-challenging characters, writer-director Leigh Janiak infuses them with depth and flaws (and not in the damaging crossdresser Norman Bates sense). 
First up is the '94 feature, which has teenager Deena Johnson (Kiana Madeira) joining with her friends to take on an evil force that's been pissed at their notorious town of Shadyside (a fictional town as used to cyclical violence as Derry, Maine in Stephen King's books) ever since 1666. With director Leigh Janiak ("Honeymoon") at the helm of openly gay screenwriter Phil Graziadei's interpretation of R.L. Stine's "Fear Street" books for young readers, a queer couple at the forefront of the narrative, and some notably shocking kills, "Fear Street Part One: 1994" is a lively update to the '90s slasher cycle that we're all used to.
5. Fear Street Part Two: 1978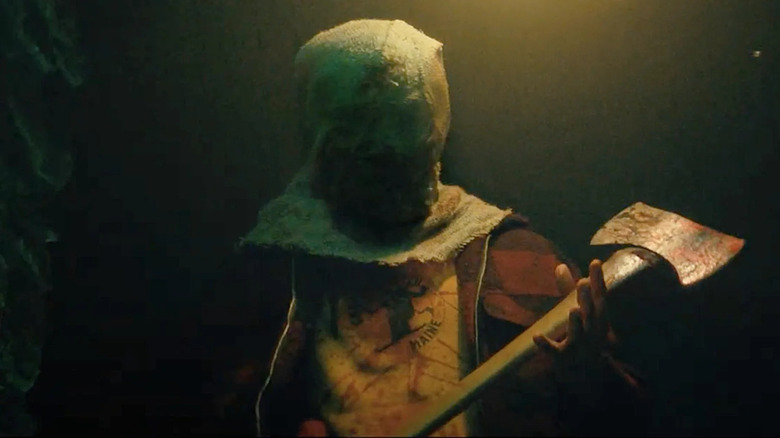 Chernin Entertainment
The saga continues in Janiak's follow-up to "Fear Street Part One: 1994." The previous film ends with Deena Johnson and her brother Josh struggling to restrain Deena's possessed girlfriend, Sam. The trio trek to the house of C. Berman, who survived an encounter with the witch that preys upon Shadyside. Berman recounts the Camp Nightwing massacre of 1978, with the same possession-fueled slayings and attributed to the same witch's curse. 
The power in this story lies less in its slicing and dicing and more in its array of impressive performances, particularly from Ryan Simpkins as the Joan Jett-esque Alice and Emily Rudd as Cindy Berman. Sadie Sink, too, brings her A-game to the movie, proving that her phenomenal turn in "Stranger Things" was no fluke (the last we heard, she was in talks to join Darren Aronofsky's latest project) But don't worry — amid all of the teen drama, heads still roll.
4. Fear Street Part Three: 1666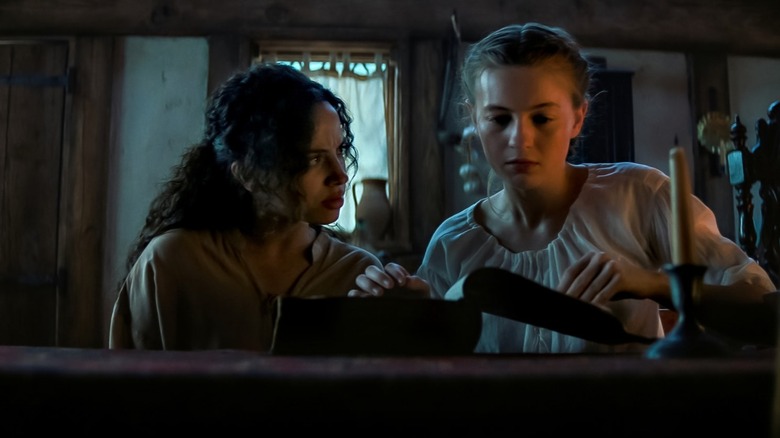 Chernin Entertainment
The terminus of the "Fear Street Trilogy" recasts its queer teen couple as ... a queer teen couple in the 17th century. It's kind of like "Back to the Future Part III," but the town is run by Biff "Mad Dog" Tannen and his entire clan. Straddling two timelines (1994 and 1666), Leigh Janiak's final entry of the Shadyside saga turns her lens to Deena and Sam from the previous two films, now living in a Puritanical festival of repression as Sarah Fier and Hannah Miller. Together, the pair try to stop a witch's curse once and for all. 
With her previous (feature debut) film "Honeymoon," Janiak focuses less on the supernatural elements of her story and more on the disintegration of a relationship. "1666" and the "Fear Street" adaptations at large signal that Janiak's concentration on players over genre trappings is a deliberate choice, one that she makes as the project necessitates. The kids and couples of the "Fear Street" collection matter — to us and to each other — but the buckets of blood don't hurt, either.
Side note: Janiak is set to helm an adaptation of one of Netflix's strongest true crime documentaries, "The Staircase," on the strange death of Kathleen Pearson and the ensuing scrutiny on her husband, novelist Michael Pearson.
3. Things Heard & Seen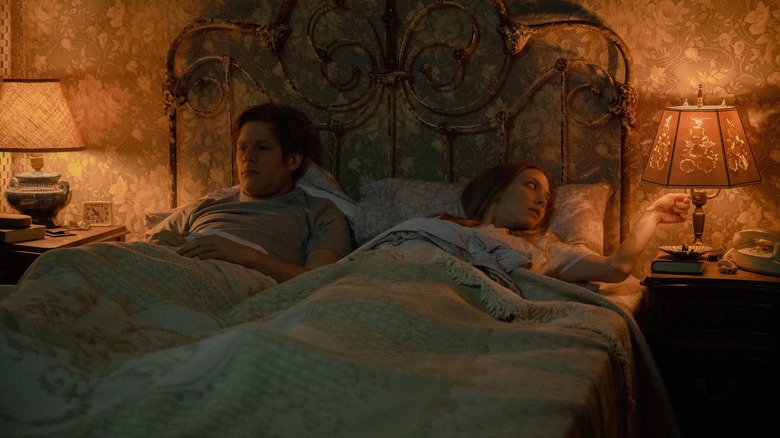 Likely Story
"Things Heard and Seen" concerns itself more with a disintegrating marriage than with bumps in the night — or maybe it's just more comfortable with them. As with Alfred Hitchcock's "Rebecca," a healthy infusion of good ol' Gothic horror leavens the he said she-said. Directed by Shari Springer Berman and Robert Pulcini and adapted by the pair from Elizabeth Brundage's novel "All Things Cease to Appear," the story follows artist Catherine (Amanda Seyfried) and art instructor George Claire (James Norton), a couple relocating to the Hudson Valley for work. 
As Catherine gets cozy in the new home, lights flicker and a shimmering presence makes itself known to her. With the help of a book and a seance conducted by a magnificent F. Murray Abraham, she suspects a supernatural source in the home, something George vehemently dismisses. What's explored over the two-hour runtime is what sort of vibe that spirit is bringing with them. Running parallel with that is George's ghastly mediocrity and his increasingly pathetic attempts to cosplay as a successful man. Norton turns in a taut performance as a walking red flag. His ability to evade accountability simply by flipping a persona switch echoes Dylan McDermott's career-peak turn in "The Clovehitch Killer." 
While George is an awful husband and all-around bad egg, Catherine spends a good chunk of the story at ease with the ghost in her home, comforted by it ("Evil only interacts with evil-doers," says a seance attendee). Outright frights are sparse, replaced instead with the slow dread of anticipating an explosive "Amityville Horror" climax from George Claire. As such, it can't quite be deemed the scariest Netflix original of the year, but it's certainly one of the strongest.
2. Blood Red Sky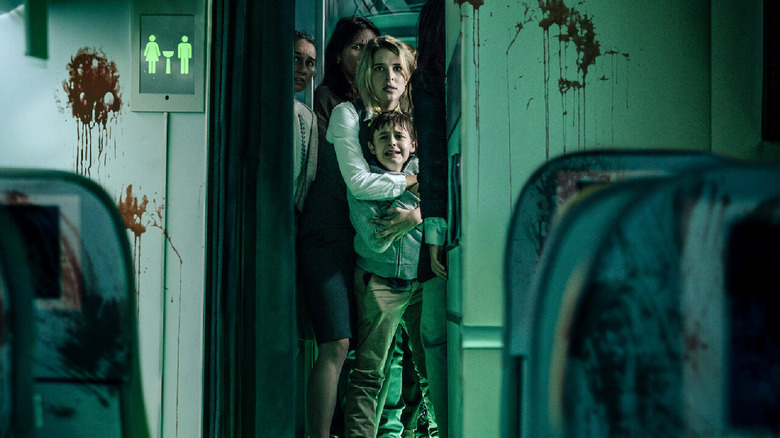 Rat Pack Filmproduktion
Bram Stoker's classic novel "Dracula" sees its bloodthirsty villain making his way to England aboard the doomed Russian vessel, the Demeter. What Peter Thowarth's "Blood Red Sky" presupposes is: what if the Demeter was a plane? And Dracula was a single mom? And there are armed white terrorists aboard? It sounds just bonkers enough to make for an action-horror feature as fun as "Con Air" and as well-contained as "Air Force One," and it is. 
While the sunlight-phobic Nadja (Peri Baumeister) faces off against her own bloodlust (she, like so many vampires, was not bitten consensually), Alexander Scheer carries the frame with zeal as psychotic terrorist Eightball (what a name), chewing on every bit of scenery that the fuselage allows. Thowarth doesn't consider a movie about a sky battle between vampires and terrorists to be a true horror movie (to be fair, the relationship between mother and son is strong and dramatically centered in the narrative), but we'll pull the "art doesn't belong to the artist once it's unleashed" card here. "Blood Red Sky" is high-concept, low-drag fun horror with plenty of fangs to go around.
1. O2 (Oxygen)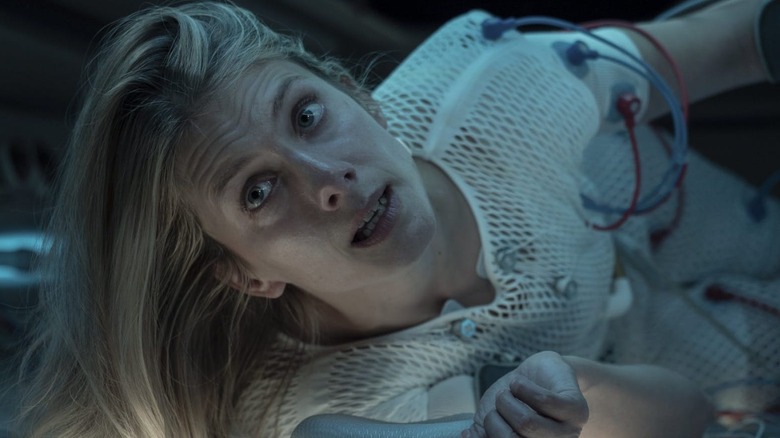 Echo Lake Productions
The most efficient film to grace Netflix's original lineup this year is, hands down, Alexandre Aja's sci-fi thriller "Oxygen." Seemingly unsatisfied with the tight corners and low ceilings of his 2019 thriller "Crawl," the French director has ditched the Florida floodwaters for a cryogenic pod, though the level of mercy he extends to his protagonists is just as intentionally thin. Mélanie Laurent stars as an unnamed woman who wakes up in said pod with no clue as to where she is or who she is, and her air is running out with every passing minute. 
Over a 101 minute runtime, Aja keeps things taut alongside writer Christie LeBlanc (who wrote the screenplay back in pre-COVID year of 2016 so let's be forgiving of the global pandemic angle, shall we?) Aja and cinematographer Maxime Alexandre exhaust the tiny space to find every good angle in existence, and the star has a memorable frenemy in the frustratingly advanced A.I. program M.I.L.O. (Medical Interface Liaison Officer), voiced by Mathieu Amalric. Laurent is game to carry the weight of the film on her shoulders, and duly squirms her way to the story's conclusion as she fights her own self-contained prison cell.