It Feels Like The 2000s Again Because YA Horror Adaptations Are Thriving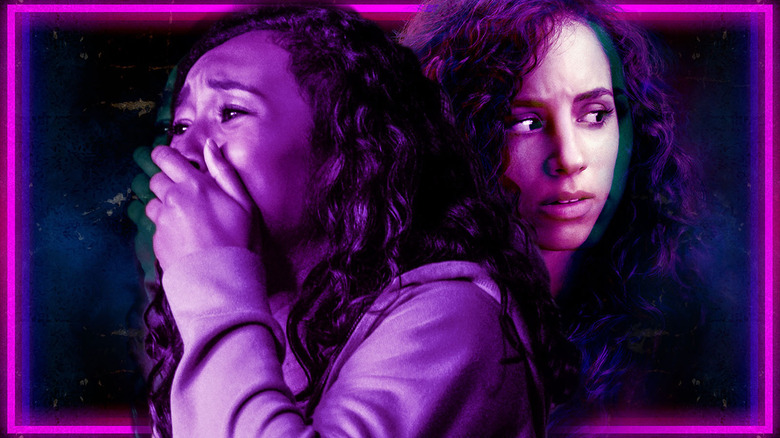 Netflix
One of the most beautiful things about the horror genre is its ability to amass fans from all different walks of life. From kid-friendly fare like "Paranorman" all the way to New French Extremity gore like "Martyrs," horror is the one genre that can meet anyone and everyone at their level. 
The coveted target audience for horror are those between the ages of 15-25. A study by Movio (via No Film School) found that audiences under the age of 25 are twice as likely to see a horror movie as those over the age of 30. Teenagers and young adults tend to be the ones willing to bust out the pocket change for an evening of thrills, but despite teenagers being the target demographic for horror's continued success, the last few years haven't really given back to the teen community.
Actual teenager Cory McCullough wrote a piece for Shudder back in 2020 about how today's audiences weren't connecting as much with horror because teens "aren't seeing ourselves represented in modern horror films, and watching reboots of '80s movies doesn't give us the same sense of nostalgia that appeals to Millennials and Gen-Xers." 
Well, it sounds like Hollywood is listening to this criticism because the spooky season of 2021 is chock full of horror for teenagers. Netflix kicked things off with the "Fear Street" trilogy, and more recently with the film "There's Someone Inside Your House" that has remained one of the streaming service's most-watched films since its release. Peacock recently debuted the murder-mystery thriller "One of Us is Lying," and Amazon is soon releasing a TV adaptation of "I Know What You Did Last Summer."
Halloween 2021 is the season of teen horror, witches.
The Fear Street Trilogy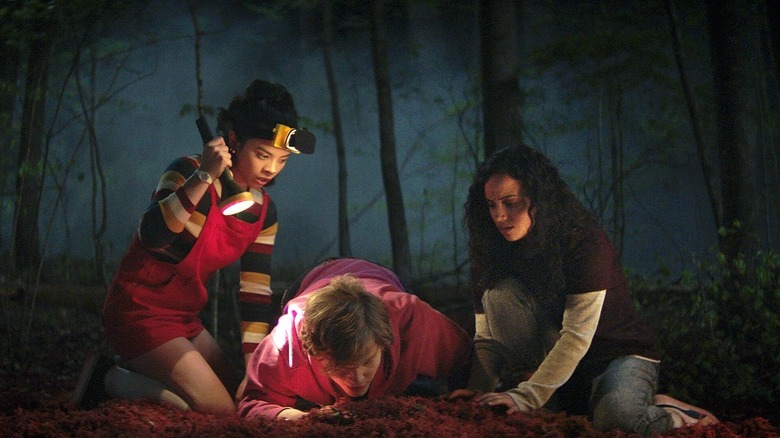 Netflix
At the end of June, Netflix released the "Fear Street" trilogy from Leigh Janiak ("Honeymoon") to near-universal praise from both teen audiences and adults. Based on the R.L. Stine book series, the trilogy focused on a teen girl, her girlfriend, and their friends as they attempt to put to rest the evil that has been plaguing their town for centuries, and reveal the truth behind the curse of Shadyside. "Fear Street" combined witchcraft, slasher films, and good ol' fashioned paranormal creepiness to create what so /Film's own Chris Evangelista called, "a bloody love letter to horror fans who grew up in the era of 'Scream.'" 
A return to slashers was a welcome one from horror fans, but the real success of "Fear Street" lay in the hearts of the film's characters, and the relatability they provided to so many audiences. These teens are far less concerned with formulaic character tropes and fitting into archetypes, but instead navigating the very real issues that impact teenage life. Sure, the "Fear Street" films are set in 1994, 1978, and 1666, respectively, but the throughline of the series resonated even today. This isn't a film that focuses on an individualistic approach to survival, like the Final Girl-driven slashers of the past, but instead one that prioritizes working together and breaking down the systems that got us in the horror show in the first place. It's a very Gen-Z approach to change and it's incredibly refreshing. 
There's Someone Inside Your House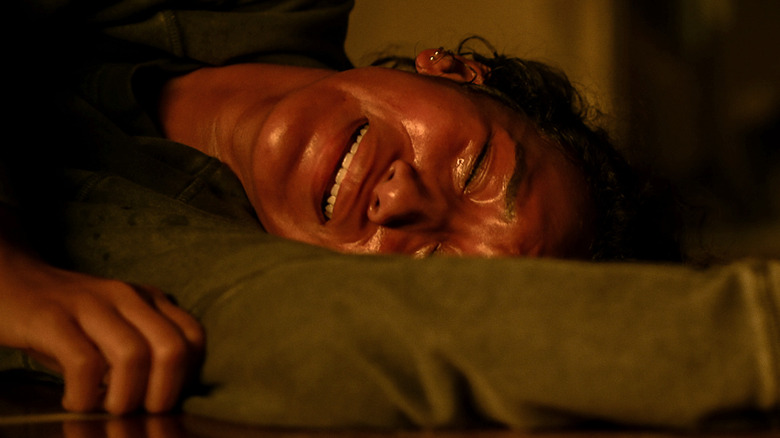 Netflix
Last week Netflix dropped "There's Someone Inside Your House," a slasher film adapted from Stephanie Perkins' novel of the same name. From my own review, "There's Someone Inside Your House" doesn't break slasher rules; it simply chooses to act like Common Core math and get to the same outcome from a process that older generations might find frustrating or ineffective. It feels like a perfect allegory for the generational shift currently happening between Millennials and Gen Z and a welcome addition to the new wave of horror. 
Upon the film's release, there were plenty of critics making baseless comparisons to "Riverdale" — a show that is so wildly different in tone, the comparison just proves they don't actually consume any teen media. In actuality, this is a film that just refuses to follow by the golden rules of slasher films. We can't just keep rebooting franchises like "Halloween," no matter how much we love them, or we'll never move the genre forward. It's exciting because it feels like a shift in the way we make slasher films is on the horizon, and films like "There's Someone Inside Your House" is on the front lines of making that change. Younger audiences were praising the film's representation of diverse friend groups, something that genuinely reflects the high school experiences of today's teens, and something that slasher films in the past have severely struggled to understand is the new reality.
One Of Us is Lying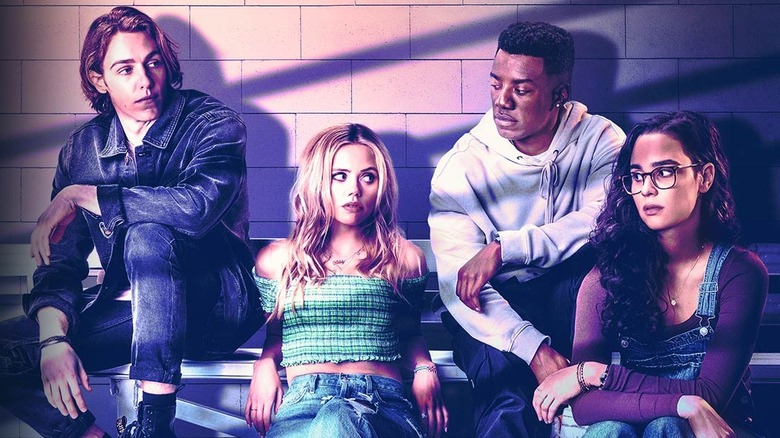 Peacock
Similarly to "There's Someone Inside Your House," the new Peacock series "One of Us is Lying" is a murder mystery subverting the John Hughes-esque cliques of "The Breakfast Club" and mashing it with the melodramatic suspense of "Pretty Little Liars." A group of five students from varying social groups show up for detention one day, but only four of them leave alive. Now, the four main murder suspects must try to clear their names — all the while the gossip account run by the deceased student continues to air their dirty laundry for all of the school to read. 
It's interesting because on the surface it seems like the students are reflective of a bygone era, but while they differ in aesthetic, their lives were interwoven long before detention. While plenty could argue that this series is not "really horror," that gatekeeping attitude is as archaic as those that think the only nostalgic movies worth watching are those from pre-1985. With only three episodes currently available to stream, I've found myself counting down until I can prove out if I've figured out the identity of the killer. Damn you, Peacock, for getting me invested in the lives of these mysterious teens!
I Know What You Did Last Summer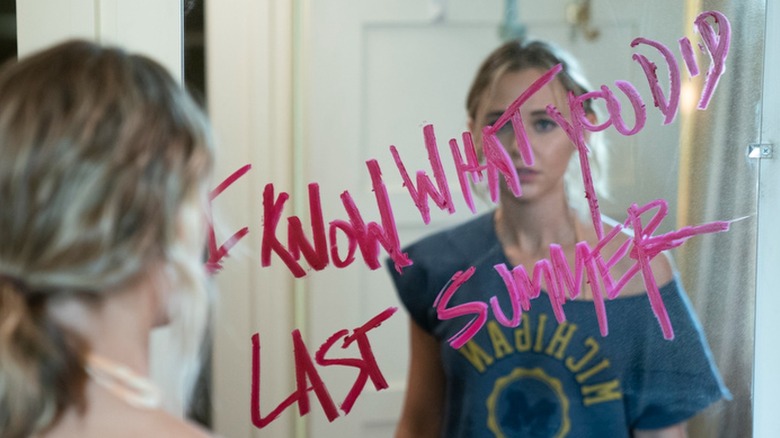 Amazon Prime
Based on everyone's favorite seventh grade summer reading assignment by Lois Duncan, Amazon is releasing a TV series version of the popular film "I Know What You Did Last Summer." An extension of the franchise, the new series is a modernized retelling of the story about teens who accidentally kill someone and hold the secret only for someone to begin coming after them a year later. As revealed  at New York Comic Con 2021, the film focuses on all new characters and, more than likely, an entirely different killer. The original film played heavily into archetypes, but at NYCC (via Polygon) the cast described their characters according to their unique personalities and interests, rather than easily digestible stereotypes.
It may sound like I'm being hard on some of the slasher films of yesteryear (I'm not, I love them, I promise) but the reality is that horror has had a really hard time in recent years resonating with teen audiences ... and yes, that does mean that some of these films and series are not going to land with audiences outside of that target demo, and that's okay! Teens of today have lost half of their high school experiences to a pandemic, and the high school moments we romanticize are ones many of them have had taken from them. The absolute bare minimum we can do is be excited that production companies aren't completely forgetting about them, and that this spooky season, there are brand new offerings made with their age group completely in mind. 
If we want to foster a new generation of horror fans, we have to get them in by meeting them at their level. And if 2021's Halloween season has anything to do with it, the kids will be alright.