Rust Assistant Director Has A History With Unsafe Situations On Set, According To Former Crew Members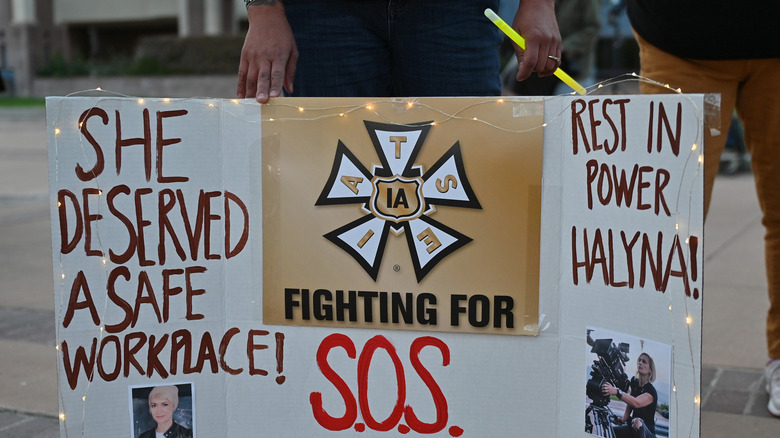 Sam Wasson/Getty Images
Assistant director Dave Halls, who was involved in the fatal shooting accident that caused the death of cinematographer Halyna Hutchins last Thursday during the production of "Rust," had a history of contributing to unsafe conditions on the set of films, according to three crew members who worked with him in the past.
It was Halls who unknowingly handed actor and producer Alec Baldwin a prop gun with live ammunition, which Baldwin pointed and fired at the camera while rehearsing a scene. The bullet passed through Hutchins, who later died in the hospital, and it also struck and injured director Joel Souza. A sheriff's affidavit revealed that Halls yelled, "Cold gun," when he gave Baldwin the weapon, thereby indicating that it contained no ammo and was safe to use.
The anonymous crew members spoke about Halls and his reputation with CNN, where one of them is quoted as saying:
"[Halls] was a person with enough red flags that his career should have been done with already. Yet he was still out there, putting crew into outrageous situations. It's tough to think that Halyna [Hutchins] could have just as well been one of our crews. It was just too close for comfort."
A Similar Incident on the Set of Freedom's Path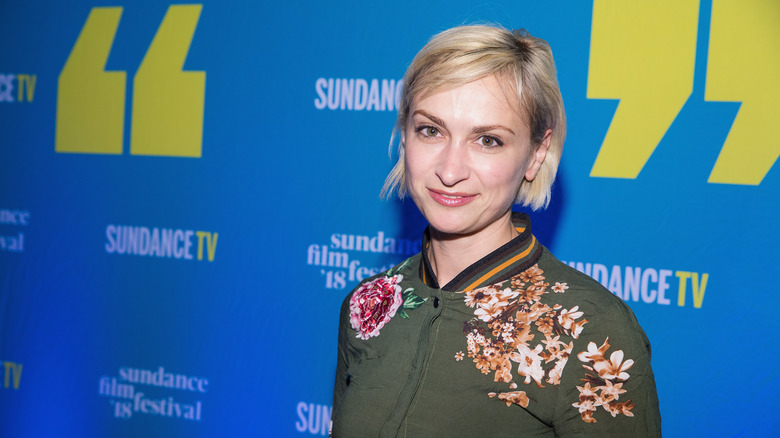 Mat Hayward/Getty Images
As more details have come to light about the circumstances surrounding the death of Hutchins, it's become apparent that there were other red flags leading up to this incident on the "Rust" set. In 2019, Hall was reportedly let go from the production of the as-yet-unreleased film, "Freedom's Path," when "an 1800s-style muzzle-loading rifle unexpectedly fired during a scene, resulting in a boom operator suffering inner ear injuries due to the sound of the explosion."
Then, as now, someone had identified the rifle as a "cold weapon," so it wasn't the first time something like this happened on a set where Halls served as AD. All three crew members, "who did not wish to be identified for fear of industry reprisal," told CNN that "Freedom's Path" did not hold regular safety meetings, which goes against the industry norm. One said that people made multiple queries about whether the rifle was safe to use "without ever receiving a clear answer."
Variety also has a statement from one of the producers of "Freedom's Path," who said:
"I can confirm that Dave Halls was fired from the set of 'Freedom's Path' in 2019 after a crew member incurred a minor and temporary injury when a gun was unexpectedly discharged. Halls was removed from set immediately after the prop gun discharged. Production did not resume filming until Dave was off-site. An incident report was taken and filed at that time."
A Call for Change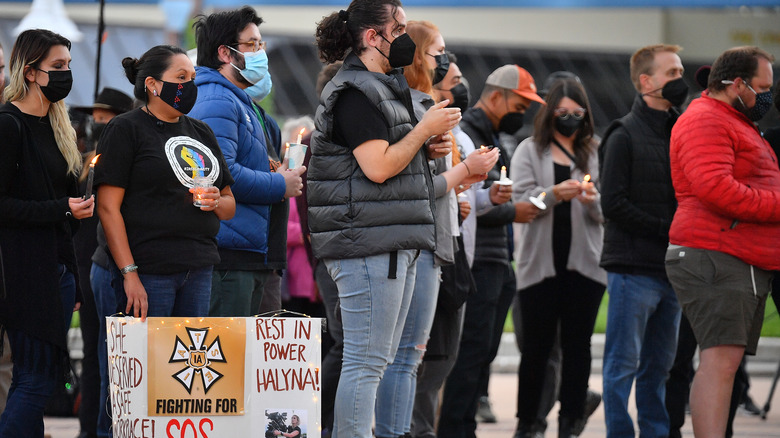 Sam Wasson/Getty Images
We learned previously that crew members had walked off the "Rust" set before the shooting of Hutchins and that there were three other gun misfires reported on the same film. Crew members had been using the guns for target practice on beer cans hours before the shooting occurred.
Details like these add up to paint an alarming picture of the safety negligence that could have led to a crew member's death while filming a movie. It's a stark reminder of the industry-wide changes that are needed to ensure the safety of all cast and crew members during film productions. One television series, the ABC police drama, "The Rookie," has already tried to lead the way by banning live guns on set.