Cinematographer From Alec Baldwin's Rust Has Died After An On-Set Accident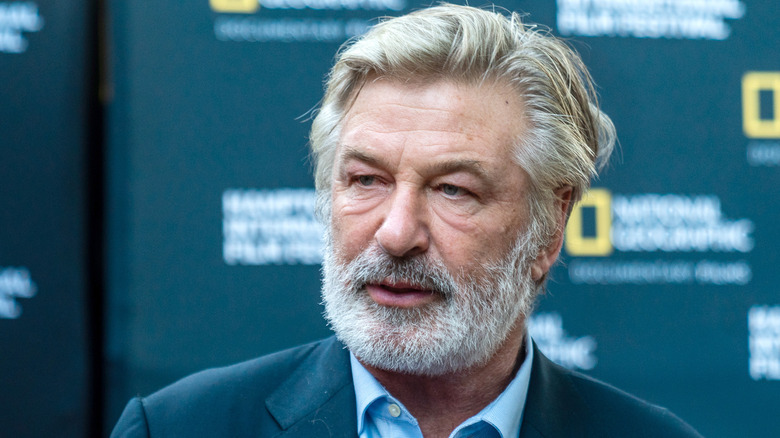 Mark Sagliocco/Getty Images
Cinematographer Halyna Hutchins died and director Joel Souza was injured on Thursday after a prop gun misfire on the set of the new Alec Baldwin Western, "Rust." Multiple sources indicate that Baldwin himself discharged the gun leading to the fatal accident.
Details are still pouring in, but Variety and IndieWire both report that the incident occurred in New Mexico at Bonanza Creek Ranch, south of Santa Fe. Deadline first reported that "a principal castmember cocked a gun during a rehearsal, unaware that there were live rounds in it, hitting two people, a man and a woman." Its early bulletin stated that the man was wounded in the shoulder, while the woman "was airlifted to the hospital for stomach surgery."
Later reports named Hutchins and Souza as the unidentified woman and man. The Santa Fe County Sheriff's Department issued the following statement:
"Ms. Hutchins was transported, via helicopter, to University of New Mexico Hospital where she was pronounced dead by medical personnel. Mr. Souza was transported by ambulance to Christus St. Vincent Regional Medical center where he is undergoing treatment for his injuries. This investigation remains open and active. No charges have been filed in regard to this incident. Witnesses continue to be interviewed by detectives."
Cinematographers Guild on Halyna Hutchins' Death
Hutchins' second to last Instagram post shows the cast and crew of "Rust," with a message of solidarity for the IATSE (International Alliance of Theatrical Stage Employees). Her final post shows her on horseback, with the caption, "One of the perks of shooting a western is you get to ride horses on your day off."
She was born in the Ukraine and graduated from the American Film Institute in 2015. American Cinematographer named her one of its Rising Stars in 2019. Her previous credits include the 2019 horror film "Darlin'," directed by Pollyanna McIntosh, and the 2020 superhero thriller, "Archenemy," starring Joe Manganiello.
John Lindley and Rebecca Rhine, respectively the president and executive director of the International Cinematographers Guild Local 600, also issued this statement on behalf of the guild Thursday night:
"We received the devastating news this evening, that one of our members, Halyna Hutchins, the Director of Photography on a production called 'Rust' in New Mexico died from injuries sustained on the set. The details are unclear at this moment, but we are working to learn more, and we support a full investigation into this tragic event. This is a terrible loss, and we mourn the passing of a member of our Guild's family."
Baldwin was released after questioning and photographed in the parking lot outside the sheriff's office, looking visibly distraught. According to the Santa Fe New Mexican, authorities are still investigating "what type of projectile was discharged" in the accident.