Avatar: The Way Of Water: Release Date, Cast, And More For James Cameron's Long-Awaited Sequel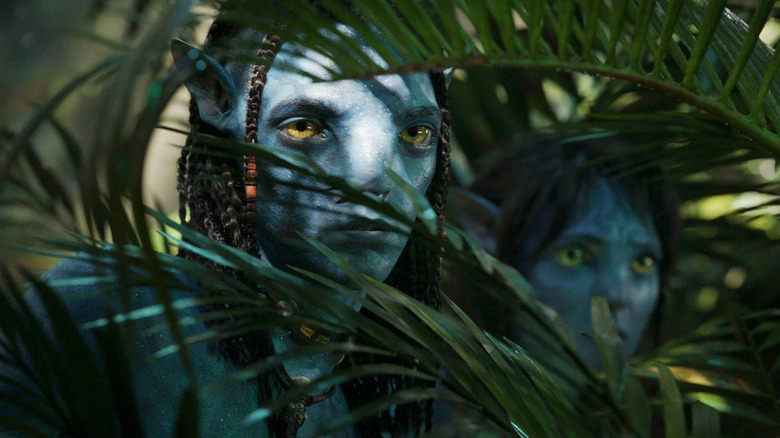 20th Century Studios
(Welcome to ...And More, our no-frills, zero B.S. guide to when and where you can watch upcoming movies and shows, and everything else you could possibly stand to know.)
Joke all you want about the cultural relevance of James Cameron's "Avatar," but there is no denying that movie was an actual juggernaut, both in terms of enormous box office success, cinematic eye candy, and technological advancement. The movie not only broke every box office record out there, but it brought along the 3D revolution and proved to be a precursor to the VFX-heavy era of blockbusters we're now used to — remember, this movie came out before "Rise of the Planet of the Apes" and "The Avengers," back at a time when the MCU still used some practical suits.
As monumental a cinematic event as the movie was, the wait for a sequel has been interminable, with delay after delay, after studio acquisition, after pandemic, after delay.
But thank Eywa, because we are finally going to return to Pandora! "Avatar: The Way of Water" is almost upon us, so ahead of its release, it's time to recap everything we know about James Cameron's latest blockbuster.
When and where can I see Avatar: The Way of Water?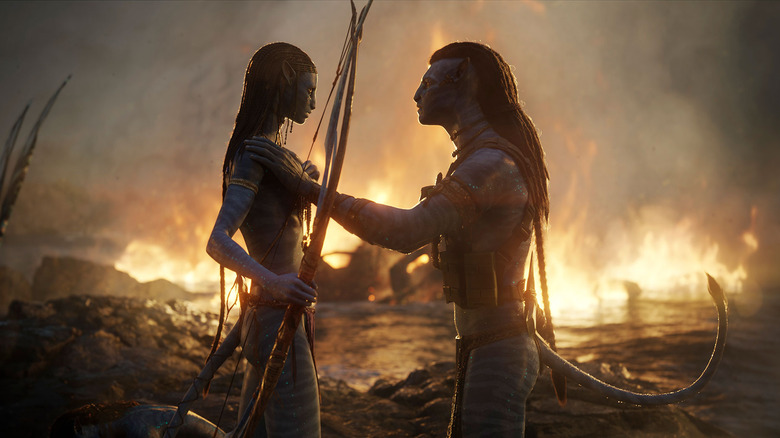 20th Century Studios
Originally set to be released all the way back in December 2014, "Avatar: The Way of Water" has seen seven delays throughout production. This is a movie that has seen the death of a studio, a total change in the filmmaking landscape and distribution industry, the rise of streaming, a global pandemic, presidencies both great and world-ending, and much more. 
Yet, none of that matters now, because "Avatar: The Way of Water" is finally about to be unleashed in theaters on December 16, 2022.
As for where, do you really need to ask? Are you expecting James Cameron himself to send this most highly anticipated motion picture straight to streaming? Do you think he'd allow you to first experience the titular way of water on your phone while you do laundry? Of course not, you skxawng! This is the type of movie cinemas and movie palaces and cinemas are made for, so head to your closest IMAX, get ready for the return of 3D, and experience "Avatar: The Way of Water" on the biggest screen possible.
What is Avatar: The Way of Water about?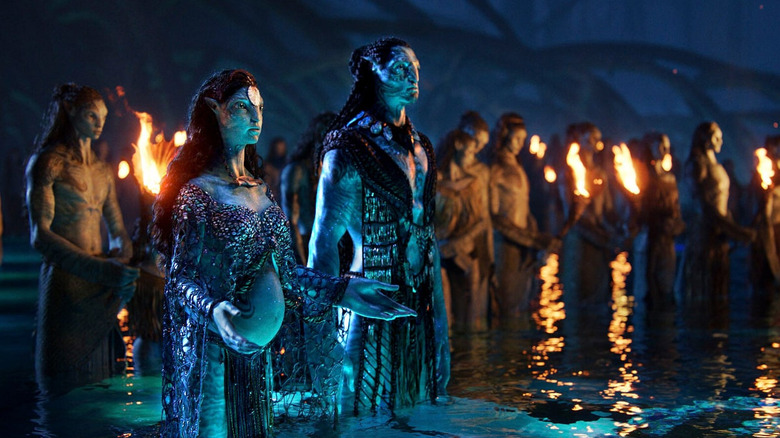 20th Century Studios
"The Way of Water" is set more than a decade after the events of the first film, and it catches up with Jake Sully and Neytiri as grown-ups taking care of an entire clan, not to mention a bunch of their own little rascals. Indeed, everyone's favorite white savior/blue Kwisatz Haderach is now a dad to five kids!
Though we don't know much about the plot, we know that Jake and his family end up in the care of a new clan, the Metkayina, who live by the ocean and have fin-like tails that are better suited for their aquatic lifestyle. We also know that there will be a "Romeo and Juliet" style story involving Jake's son Lo'ak and the daughter of the Metkayina chief. Of course, humans are also back, and they're here to ruin things for everyone by way of fire and guns.
How can I catch up on the original Avatar?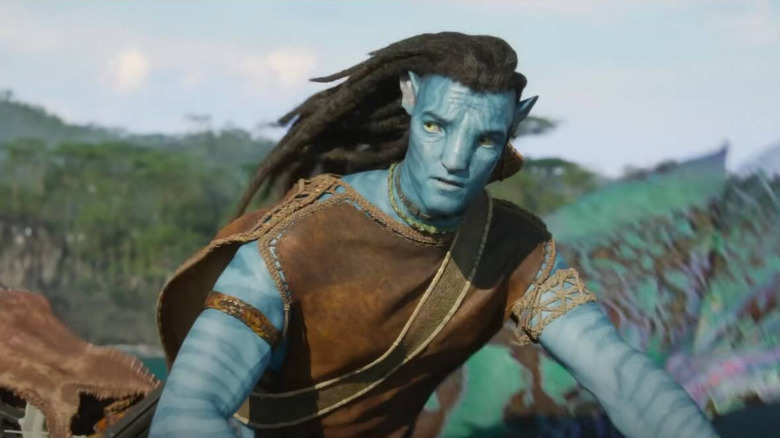 20th Century Studios
Update 11/21/2022: As of today, "Avatar" is once again streaming on Disney+. Our original article continues below.
Funny you ask, because we have a recap of everything you need to remember right here. 
If you prefer a visual medium, we have bad news. "Avatar" is no longer streaming on Disney+, as the company removed it to make way for the theatrical re-release earlier this year. Still, it is expected that the film will return to the streaming platform sometime before the sequel hits theaters, so you can do a most excellent double feature.
How long is Avatar: The Way of Water?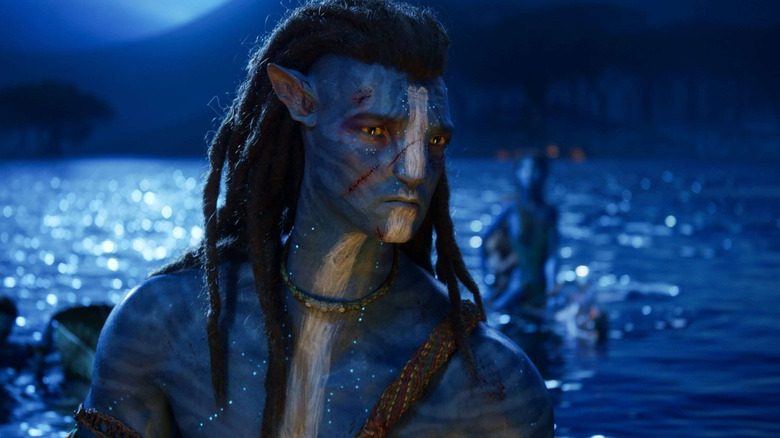 20th Century Studios
Get ready, because this movie, which is mostly set in water, and around water, and especially near running water, is three hours and 12 minutes long. This is longer than "Avangers: Endgame," and almost as long as "Titanic."
Before you start complaining about an intermission, or about Cameron being out of his mind or whatever, stop, because he's not listening. Earlier this year, Cameron anticipated the reaction to "The Way of Water" being kind of long, and said he will not hear any complaining about time when he knows we all sit around the TV for hours at a time watching Netflix. "It's like, give me a f—— break. I've watched my kids sit and do five one-hour episodes in a row," he said.
Cameron's suggestion? Just go to the bathroom! In the words of JC himself, "it's okay to get up and go pee."
What's next after Avatar: The Way of Water?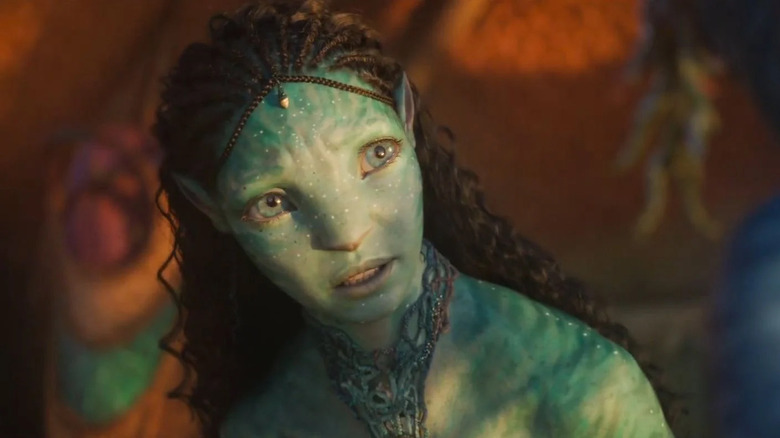 20th Century Studios
One thing about "Avatar" that makes both its success and the many delays for "The Way of Water" funny is the fact that, in addition to how crazy successful the first one was, James Cameron immediately signed on to do not just one sequel, but four of them. At this pace, we won't see the end of the story until after half the continents sink to the bottom of the ocean.
Of course, it's been a long time since the first "Avatar," and even if you should never bet against JC, it is not a guarantee that a long-delayed sequel will be as successful as the 3 billion-dollar first film. While "Avatar 3" is already well underway, the future is less than certain, so Cameron is prepared to pull the plug and end it all with the third "Avatar" if the sequels aren't profitable.
Tell me, who held their breath the longest?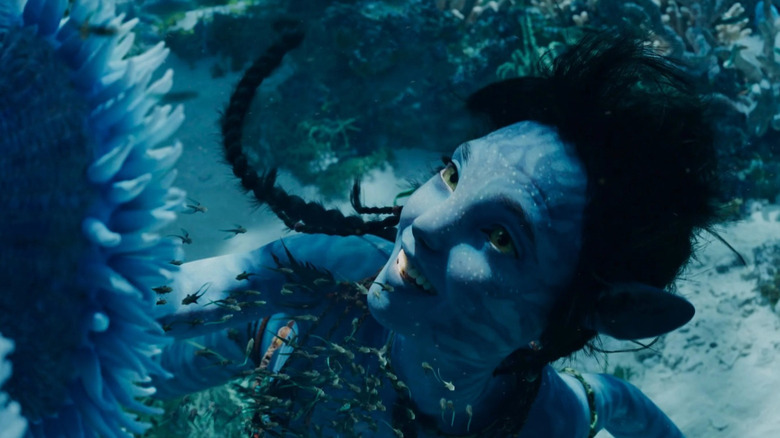 20th Century Studios
A film with water in the title is bound to have several scenes in and around water. For his "Avatar" sequel, James Cameron mixed his two loves — the ocean and making everyone drop their jaws as he pushes technology forward — and decided to film a large portion of the film underwater. This meant creating tools to shoot motion capture underwater without it reflecting the light, but it also meant having the actors train their lungs.
Indeed, National Geographic sea explorer James Cameron pushed his cast to great depths in order to shoot "The Way of Water." According to producer Jon Landau, the cast was able to hold their breath for several minutes at a time, with Sirgourney Weaver managing to stay underwater for six-and-a-half minutes. But it was Kate Winslet who took first prize, and even beat Tom Cruise's record from "Mission: Impossible – Rogue Nation" by holding her breath for seven minutes and 14 seconds.
Watch the Avatar: The Way of Water trailer
Here's the official synopsis for "Avatar: The Way of Water" from 20th Century Studios:
Set more than a decade after the events of the first film, "Avatar: The Way of Water" begins to tell the story of the Sully family (Jake, Neytiri, and their kids), the trouble that follows them, the lengths they go to keep each other safe, the battles they fight to stay alive, and the tragedies they endure.