Gird Your Loins: Avatar: The Way Of Water Runtime Exceeds Three Hours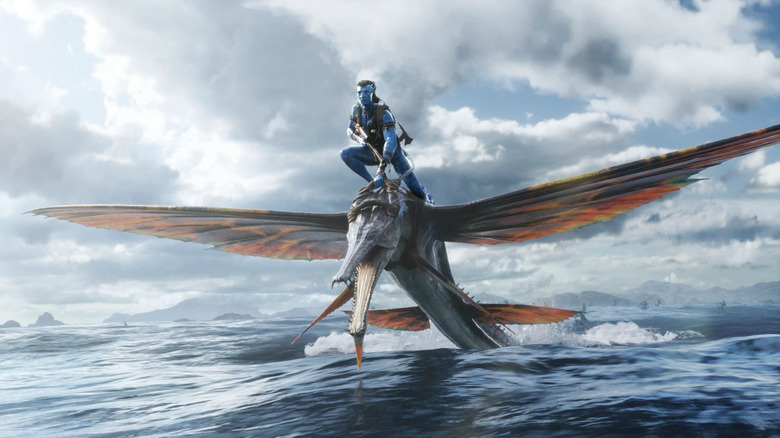 20th Century Studios
Update: The "Avatar: The Way of Water" runtime is now listed on AMC Theatres' website as three hours and twelve minutes. Our original article follows.
It's official: You're going to be in Pandora for a while watching "Avatar: The Way of Water." The film, which is a sequel to the 2009 smash action-drama, is confirmed to be over three hours long, coming in at a whopping 190 minutes — which means you probably are going to need an extra-large popcorn (but maybe skip the soda).
Sources confirmed the film's approximate three-hour and ten-minute runtime to The Hollywood Reporter on Saturday, October 28. However, it wouldn't be the first major blockbuster to push past the three-hour mark. "Avatar" director James Cameron's most cherished film, 1997's "Titanic" ran just a little longer than this new sequel at three hours and twelve minutes, while 2019's Marvel epic "Avengers: Endgame" clocked in at three hours and two minutes.
According to Comscore, "Endgame" and "Titanic" rank number two and three respectively on the list of top-grossing movies of all time based on international box office numbers. Cameron's first "Avatar" film, which he both wrote and directed, still has a claim on the number one spot, even after 13 years — but interestingly enough, the original picture was actually about 30 minutes shorter than its sequel at two hours and 41 minutes.
20th Century (and Disney by extension) have yet to release an official runtime for the sequel. That said, the movie's length leaked after it received an official PG-13 rating in the United States due to theaters listing the runtime alongside the rating prior to official confirmation by the studio.
The era of the long movie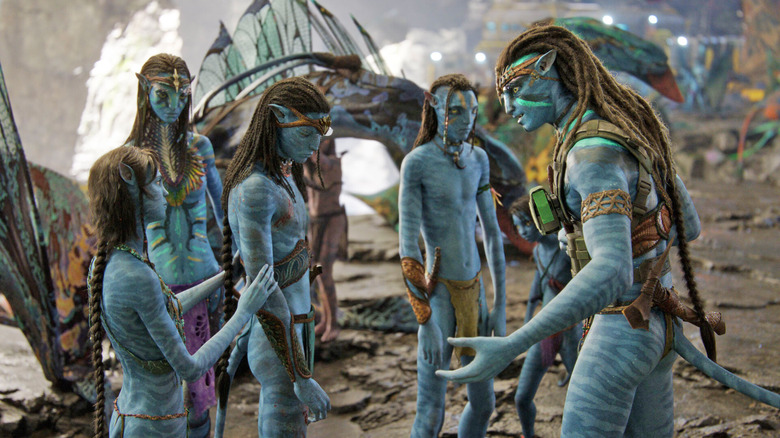 20th Century Studios
Let's be fair here: Just because a film is long doesn't mean it will actually feel like it is. I'll never forget seeing Christopher Nolan's "Inception" for the first time in the theater in 2010, a year after the release of "Avatar." I had no idea what I was getting myself into, and frankly, I didn't even realize I was hooked — until I peered down at my phone for a random glance at one point in the action-packed film and realized two hours had already gone by in what felt like all of five minutes. It immersed me that deeply and engaged me that intensely. Not every film can do it, but almost every person will have that experience with at least one film in their lives. For a lot of folks, that might be "Avatar: Way of Water." 
That said, the long film seems to be generally en vogue at the moment. While attending the Venice Film Festival in September, the majority of the movies I saw ran into the two-and-a-half hour range, which is lengthy in comparison to the tight 75-minute boom we had a few years ago at the breakout of films like Shudder's found-footage gem "Host," which barely runs an hour. Only a few of those Venice films clocked in anywhere near an hour and a half, with one film at only about an hour (which was a shock and delight with how tiring a film festival can ultimately be). Considering "Way of Water" plans to go for broke with its runtime, we can only hope that fans will be excited to immerse themselves in Cameron's world again for nearly three and a half hours. 
"Avatar: The Way of Water" will arrive in theaters in the United States on December 18, 2022.