/Filmcast Ep. 39 - Frozen River (GUESTS: Laremy Legel From Film.com, Myles McNutt From Cultural Learnings)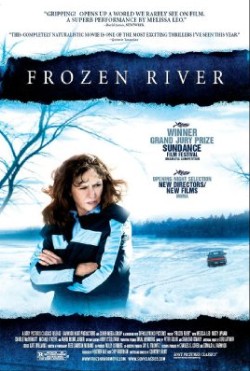 In this episode of the /Filmcast, Dave Chen, Devindra Hardawar and Adam Quigley discuss their interpretations of the ending of Contact, lament the length of the Funny People trailer, ponder the greatness of Chris Klein's career, and discuss their Oscar reflections. Special guest Laremy Legel joins us from Film.com, and Myles McNutt drops by from Cultural Learnings to share his thoughts on the Oscars.
Join us next Tuesday night at 9 PM EST / 6 PM PST on Slashfilm's live page as we review Rachel Getting Married.
Download or Play Now:
Subscribe to the /Filmcast:
Shownotes
Introduction
For some great T-shirts, check out our sponsor, Bonaroo.co.uk. Use coupon code "filmcast" for free shipping on all U.S. orders!
(00:44) Laremy Legel, Senior Producer and Editor at Film.com
(01:38) Thanks for your responses re: interviews and commentaries!
What Have We Watched
David Chen (03:55): The Pig, Peter and the Wolf, 24
Devindra (07:49): Dollhouse, Point Break
Adam (14:52): Timecrimes, Dead Like Me: Life After Death, Contact
News Discussion
Featured Review
Credits
Contact us at our new voicemail number: 781-583-1993
You can donate and support the /Filmcast by going to www.slashfilmcast.com and clicking on the right-hand side "Donate" links!