John Wick Will Never Die Because John Wick 5 Is In Development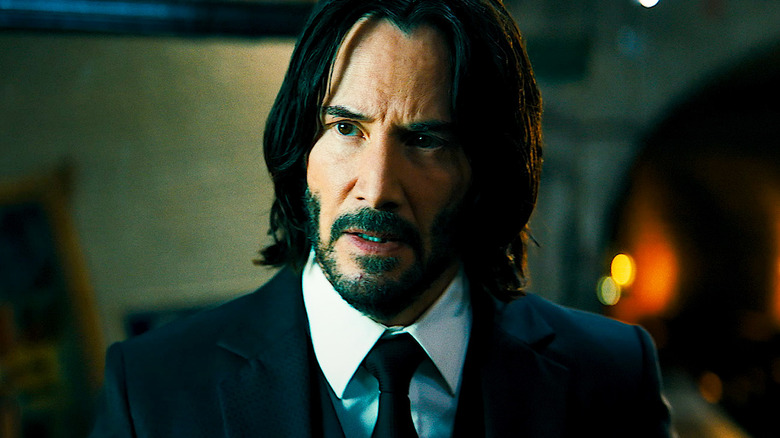 Lionsgate
This post contains spoilers for "John Wick: Chapter 4"
"John Wick: Chapter 4" exploded into theaters back in March and almost immediately headshot a new franchise record with a $73.5 million debut. And Keanu Reeves' deadly hitman continued his assault on the box office over the next couple of months, eventually pushing the "John Wick" series into $1 billion territory and cementing its status as a blockbuster franchise to be reckoned with. So it shouldn't be all that surprising that Lionsgate is developing a fifth "John Wick" movie.
"What's that?" I hear you ask. "Didn't our beloved assassin perish at the end of 'Chapter 4'?" Well, technically, yes. But this is Hollywood, where no one is ever truly dead — especially if they make you a hell of a lot of money. Which is why it's no shock that during a Q4 2023 earnings call, Lionsgate Motion Picture Group chairman Joseph Drake confirmed that "John Wick 5" is in early development. Asked about a potential sequel, Drake pointed to the upcoming Ana de Armas spinoff "Ballerina," before adding:
"We're in development on 3 others, including [John Wick 5] and including a television series, 'The Continental,' will be airing soon. And so we're building out the world and when that 5 movie comes, will be an organic — will be organically grown out of how we're starting to tell those stories. But you can rely on regular cadence with John Wick."
And for those of you (rightly) bewildered by the phrase "regular cadence," that just means that aside from a fifth movie, you can expect a never-ending cavalcade of "John Wick"-related media over the coming months and years, including that all-important fifth sequel.
They'll have enough chapters for an actual book soon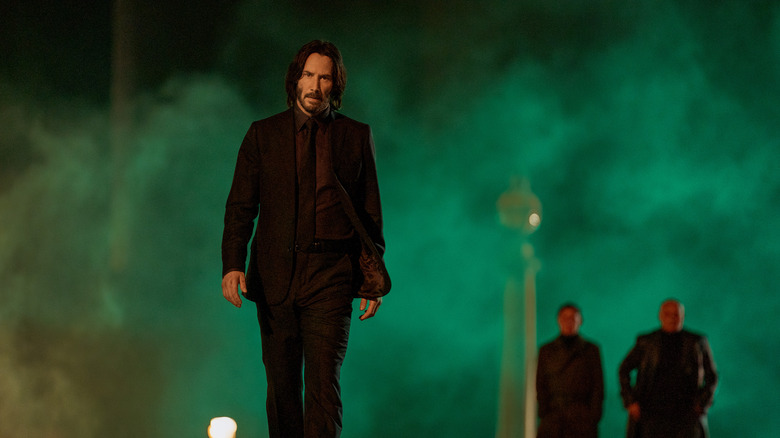 Lionsgate
While this is undoubtedly big news, rumors of a fifth "John Wick" movie had been circulating even before the fourth movie debuted. Since "John Wick" released back in 2014, each successive film has steadily built on the fan base and box office returns, evolving the B-movie tale of an aggrieved assassin coming out of retirement into a colorful action franchise with its own multi-layered lore and an ever-increasing cast of characters. And with "John Wick: Chapter 4" making almost half a billion dollars worldwide ($100 million more than "Chapter 3") there's every reason to keep the saga of Baba Yaga going — at least from a financial perspective.
Thus far, franchise director Chad Stahelski has suggested he's open to making a fifth movie, while producer Erica Lee also intimated there will be yet another sequel, once the cast and crew recover from this latest installment. And considering Joseph Drake confirmed the movie is only in early development, that should give Stahelski and co. a chance to rest and get excited about "Chapter 5" — which was originally supposed to shoot back to back with "Chapter 4."
Just what a fifth "John Wick" movie will entail remains unclear. The fourth ended by suggesting we'll be seeing a lot more of Donnie Yen's Caine and bow and arrow-wielding hotel concierge Akira (Rina Sawayama). But that particular storyline seems primed for yet another spin-off, which should fit nicely into that "regular cadence" of Wick-related media to come. On which you can also rely to satiate your appetite for finely-constructed gun-fu action until "Chapter 5" does arrive, with prequel series "The Continental" set to hit Peacock in September 2023.