Chad Stahelski Is Still Open To Making John Wick 5, But We May Have To Wait A While [Exclusive]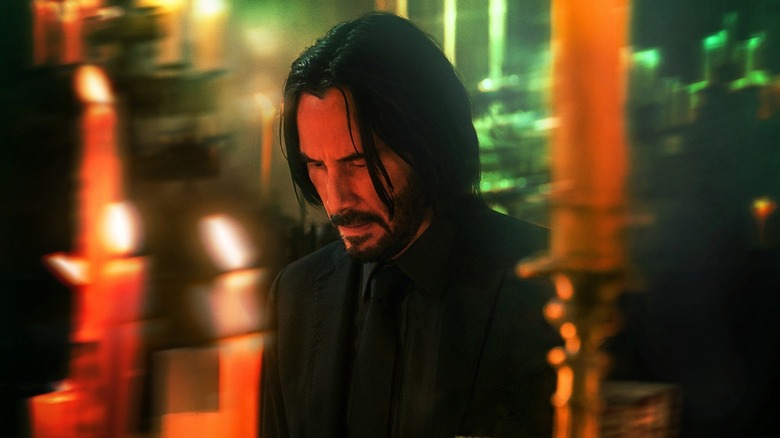 Lionsgate
In a little under a decade, the "John Wick" franchise has managed to establish itself as one of the all-time greats in the action pantheon. Keanu Reeves is owed a lot of credit for his skills on screen as the deadly assassin, and if the early buzz is to be believed about the upcoming "John Wick: Chapter 4," it's clear the series is in no danger of getting stale. With presumed box office success coming, one must wonder: Is "John Wick: Chapter 5" all but guaranteed? Probably. But will director Chad Stahelski return? That's another question entirely.
/Film's Vanessa Armstrong recently spoke with Stahelski in anticipation of the fourth entry in the series. Stahelski has been at the helm for each and every movie thus far, so, naturally, the subject of "Chapter 5" came up. The filmmaker was by no means committal in regards to his involvement, saying, "Somewhere, maybe somebody will do it." The filmmaker also added, "I'm always saying, 'This is my last one, this will never happen again.' And I'll say that now: This is my last one." But does he really mean it? At the very least, he knows he would need a long break before coming back.
"Every time I come back to a 'Wick,' there's been two or three years in between. That's a lot of time for a human. You know how many pieces of art or music or museums or locations I've gone to in three years? Huge. I mean, think of what you do in a year. What would you do in three? Don't you think all that would influence you? I just don't think I'd be very good jumping right into something. I need a little bit of time to get better. I've got to go practice."
Not just doing it for a paycheck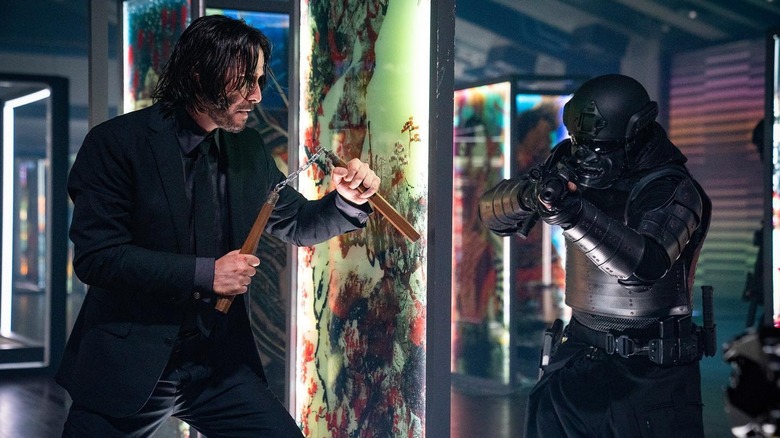 Lionsgate
In 2020, Lionsgate revealed plans to film both "John Wick 4" and "John Wick 5" back to back, but the pandemic ultimately changed all of that. One has to assume Lionsgate still wants that fifth movie, and the filmmakers may have at least a rough idea of where they want the story to go. So what would prevent Stahelski from coming back? It's hard to say. Though, as it so often does, this could come down to money. It's also worth noting that Stahelski has many other projects on his to-do list, including a "Highlander" reboot and the "Ghosts of Tsushima" movie. Still, so far as he's willing to say right now, it's all about him wanting to improve as a filmmaker:
"I tried to get better as a storyteller in this one, but I'd be the same guy jumping back into the next one. I've got to get better. Keanu's out there every day getting better — he's acting, he's trying new projects. I've got to sit in a room and go, 'Okay, how do I get better as a director?' I don't have the same choices. I can't just direct, direct, direct. I'd have no time to expand. I just think I'd get s***tier and s***tier. I just think, in loyalty to the franchise, I need to get a hell of a lot better before I try to find [another story]. Because otherwise, if you're not going to get better, if you're not going to do something different, if you're not going to try to expand and be artistically better, that's kind of lame just to do it for a paycheck."
Exactly how long will Stahelski want to be inspired by living life off set, and will his plans jibe with Lionsgate's acceptable timeline for cranking out a fifth film? Time will tell.
In addition to Reeves, the cast for the fourth installment also includes Donnie Yen, Bill Skarsgard, Laurence Fishburne, Hiroyuki Sanada, Shamier Anderson, Lance Reddick, Rina Sawayama, Scott Adkins, Clancy Brown, Natalia Tena, Marko Zaror, and Ian McShane.
"John Wick: Chapter 4" hits theaters on March 24, 2023.