Chad Stahelski Shares An Update On His Ghost Of Tsushima Movie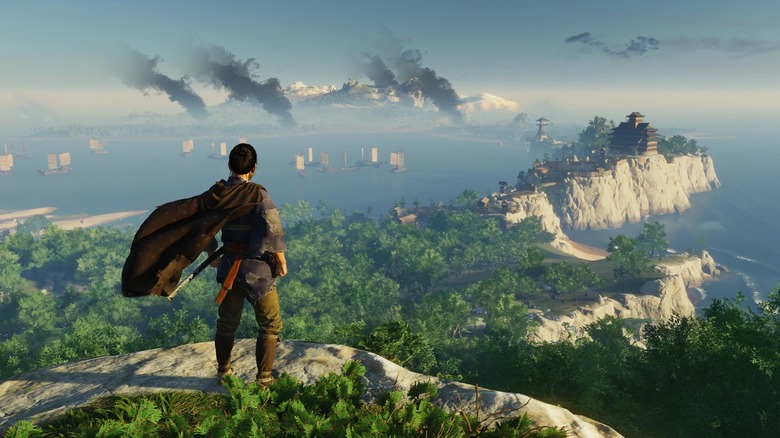 Sony Interactive Entertainment
While fans of Sucker Punch's "Ghost of Tsushima" can still expect to see a film adaptation of PS4's fastest-selling first-party video game, they may want to slightly temper their expectations. When Head of Playstation Productions, Asad Qizilbash, announced the project and its director Chad Stahelski in March 2021, his statement — "We're excited to be partnering with Chad and 87Eleven Entertainment, to bring their vision of Jin's story to the big screen" — left us hoping production would begin soon. Stahelski further fueled intrigue in the film when he told Collider in August 2021 that he planned to make "Ghost of Tsushima" as a Japanese language film with an all-Japanese cast, and Deadline broke more promising news last April that the studio had hired writer and director Takashi Doscher to develop the script.
Though production for "Ghost of Tsushima" largely appeared to have gotten off the ground, it's sobering to remember Stahelski — as the shepherd of four highly successful "John Wick" films — has a full plate of commitments. In addition to wrapping up "John Wick: Chapter Four" for its release on March 24, Stahleski has been developing a "Highlander" reboot since 2016 that last made news when it cast Henry Cavill in May 2021. On deck, Stahelski has about seven other TV or film projects, including one more samurai film, "Black Samurai," with a storyline similar enough to Tom Cruise's "The Last Samurai" that he should probably put it on the back-burner for now.
In short, "Ghost of Tsushima" has competing priorities, and in a recent interview with Total Film, the director sounded a little less sure about how soon we can expect it than past announcements led us to believe.
Jin Sakai vs. John Wick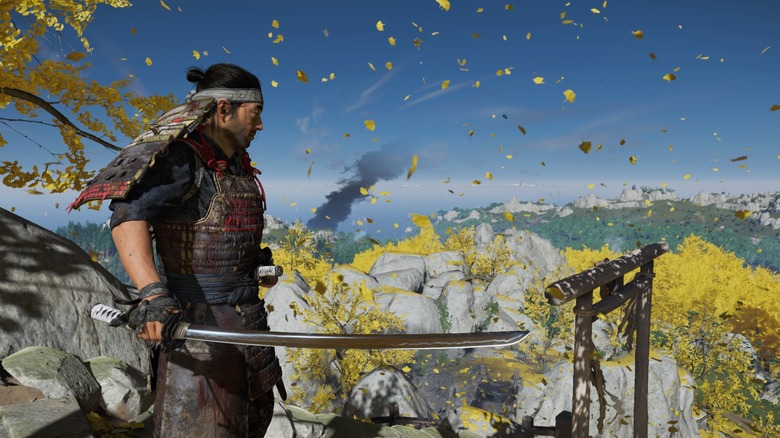 Sony Interactive Entertainment
When Total Film asked Stahelski for a status check on "Ghost of Tsushima," his response suggested production is not yet in full force, and while he wants to make it his next directing focus, he hasn't fully made up his mind for what to prioritize in his pile of work. As Stahelski described it:
"['Ghost of Tsushima'] would be my favorite to do next. Without going into crazy detail, it's something I'm super-interested in. We have a really great script. We have a really good creative team behind it. It's just about getting all the business end of things locked in. It's kind of in that little bit of flux where everybody is trying to tighten up the deal to get everything going, and to make sure we do the best with it. It's a simple thing: getting a great script, and starting to put together a cast. It just takes a lot of moving parts."
For as much negativity as we can read into Stahelski's comments, there's plenty of good news to take away. Doscher's script sounds to be coming along, and it's more casting and resourcing that needs to be settled. Stahelski ultimately came off as reassuring:
"Obviously, 'Ghost' is a special project. Everybody realises it. Everybody wants to do it, with the introduction of new technologies and a new way to do the epic samurai vibe [...] There's just a lot of things to put together before we really pull the trigger on making it, mostly from my side creatively. And we're in that process right now, trying to pull everything together so we knock it out of the park."
For a better sense of what is capturing Stahelski's attention, we'll have to look out for news on "John Wick 5" and "Highlander." The March 2023 issue of Total Film will hit newsstands on February 2.