'Highlander' Reboot Scoops Up 'John Wick' Director Chad Stahelski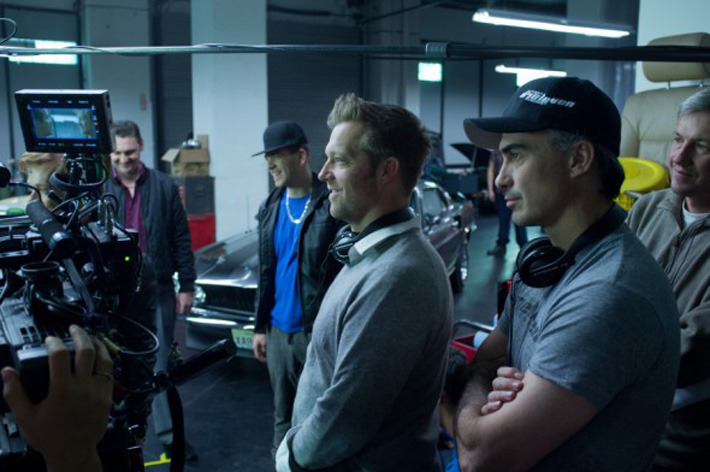 The Highlander reboot has been kicking around for many years now. We've seen all sorts of talent come and go with this project, including directors Justin Lin (Star Trek Beyond) and Juan Carlos Fresnadillo (28 Weeks Later). The last director attached to the Highlander reboot was Cedric Nicolas-Troyan (The Huntsman: Winter's War), but he's no longer involved. John Wick and John Wick: Chapter Two director Chad Stahelski (on the right side of the picture above) is now sitting in the Highlander reboot's director's chair.
Below, learn more about the Highlander reboot.
The Hollywood Reporter learned Stahelski, who made the first John Wick with the uncredited David Leitch, is directing the reboot based on the 1986 fantasy film. The story follows an immortal warrior, Connor MacLeod (a role that once had Ryan Reynolds attached), who must defeat Kurgan to win The Prize, the power of all the immortals that have ever lived.
Leitch may board the reboot along with Stahelski and their 87eleven production team, but that's currently unconfirmed. Stahelski shared his love for the original with THR:
I've been a huge fan of the original property since I saw it in high school. Such great themes of immortality, love, and identity are all wrapped up in such colorful mythology. I can't think of a better property that gives the opportunity to create interesting characters, mythic themes, and action set pieces.
Again, he's stepping in for Nicolas-Troyan, who was still attached to the reboot back in April when he told us a bit about his plans for it. The idea was to follow some of the film's original characters:
I've been working on this movie for quite a while. I'm still involved in it, very much so. In fact, I just talked about it yesterday with Lionsgate. You know, there are going to be some surprises there, for sure. I'm going to say that it's very close to the original story, but there will be surprises. The characters you love in the first movie are back. There are definitely some changes, for sure.
Whether Stahelski has also signed on to stay close to the original story is unclear, but Lionsgate is already searching for a new screenwriter to collaborate with the director. Art Marcum and Matt Holloway (Iron Man), Melissa Rosenberg (Twilight), and Noah Oppenheim (The Maze Runner) have all worked on Highlander scripts at one point or another. Summit, which is now owned by Lionsgate, has been trying to get this franchise started since they secured the Highlander rights in 2008. Maybe Stahelski will be the one to finally get the ball rolling on this long-awaited reboot for them.