Knock At The Cabin (And Tom Brady) Dethrone Avatar: The Way Of Water At The Box Office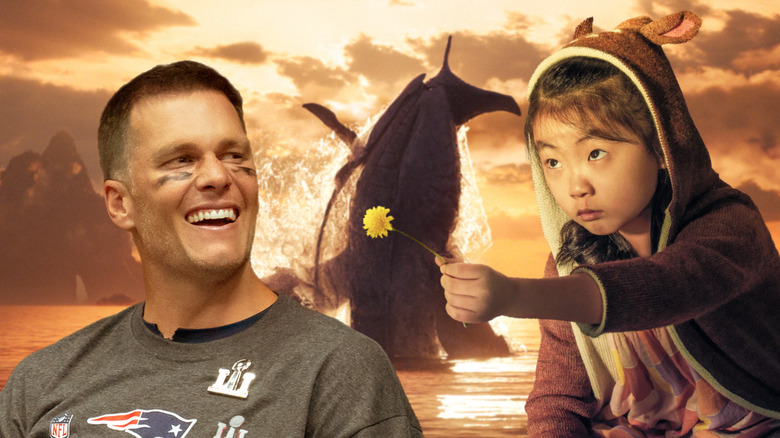 20th Century Studios/Universal Pictures/Paramount
James Cameron's "Avatar: The Way of Water" has had a pretty impressive run, holding the top spot at the box office for seven consecutive weekends, but that reign looks like it's finally coming to an end. According to Variety, "The Way of Water" is set to be dethroned by either M. Night Shyamalan's "Knock at the Cabin" or the Tom Brady road-trip lovefest "80 for Brady." There's still probably plenty of time to catch James Cameron's latest adventure of the Na'vi in theaters, but that top spot is going to go to someone else. 
Most likely, that's looking like "Knock at the Cabin," a terrifying home invasion thriller based on the novel "The Cabin at the End of the World" by Paul G. Tremblay, but I've never been one to doubt football fans and "80 for Brady" could end up being a surprise hit!
"Avatar: The Way of Water" recently became the fourth highest-grossing movie of all time with its box office returns, but as we head into February (and Super Bowl season), football is on more Americans' minds than space whales, and Shyamalan directing Dave Bautista is must-see cinema in 2023. So, who will end the weekend victorious? Will it be the Na'vi? Bautista and his creepy home invaders? A handful of awesome octogenarians? We'll have to wait and see, but we have some pretty good guesses. 
The Way of Water is on the way out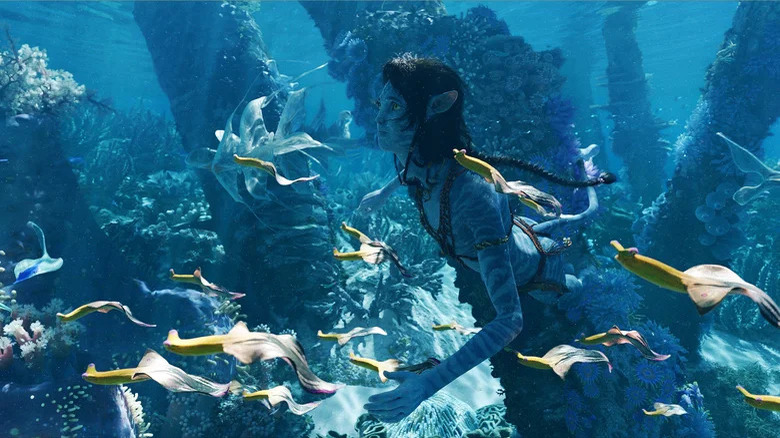 20th Century Studios
So what do the numbers look like? "Knock at the Cabin" brought in $5.4 million on Friday, which includes Thursday previews as well. M. Night Shyamalan's latest is an apocalyptic thriller about a young family whose cabin is invaded by four doomsday cultists, led by Dave Bautista, who are preparing for the end of the world. It's currently on track to take the top spot with a box office estimate of $14.5 million or so. The movie has earned mixed reviews from fans and critics alike, (read ours here!) but it could prove to be just the shake-up the box office needs to get the long-awaited "Avatar" sequel off of the top. Jonathan Groff and Ben Aldridge star as the parents of a little girl just trying to enjoy a trip to a cabin in the woods that will, unfortunately, be the opposite of a relaxing vacation.
Meanwhile, the Paramount film "80 for Brady" follows doubly-retired quarterback Tom Brady with Lily Tomlin, Jane Fonda, Rita Moreno, and Sally Field playing some of his biggest fans. The movie earned $4.7 million during opening day and preview screenings, putting it just behind "Knock at the Cabin." Our review from critic Jeff Ewing praised the performers and the film's heartfelt tone, though if you're not a Patriots fan, I imagine it could get a little grating. "The Way of Water" is set to take the third spot, with "The Chosen," a crowdfunded Christian TV series finale, behind that. "Puss in Boots: The Last Wish" also continues to draw a consistent audience, with Variety projecting another $7.9 million in its seventh weekend.
February is a weird time for the box office, but it'll be interesting to see what can take the top spot. What if we all pulled a "Minions: Rise of Gru" kind of thing but for "Puss in Boots" and wearing boots? I'll see you at the theater!