Knock At The Cabin Proves Once Again Dave Bautista Is Our Best Wrestler Turned Actor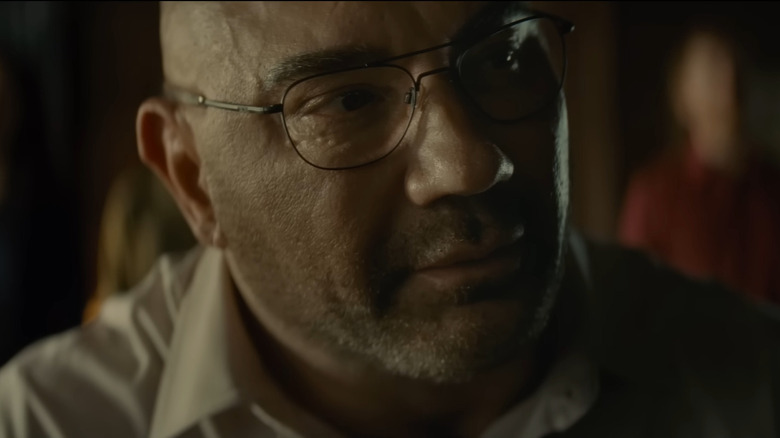 Universal Pictures
This article contains mild spoilers for "Knock at the Cabin."
In the realm of wrestlers turned actors, there are three that continue to dominate the conversation in recent memory. There's John Cena, whose comedic chops have proven useful in more than just one genre, with "Peacemaker" showing a level of vulnerability not seen by him before. Then there's Dwayne "The Rock" Johnson, who has shown a steady decline in the quality of his performances, which have grown as stale as the jokes that say he plays the same character in every movie. But the third current, major wrestler-turned-actor has had one of the more exciting paths as a performer, and his latest performance in "Knock at the Cabin," directed by M. Night Shyamalan, only cements him as the best.
I'm, of course, talking about Dave Bautista, a man who constantly says he aspires to become a more "dramatic" actor. The role that earned him worldwide recognition was that of Drax the Destroyer in 2014's "Guardians of the Galaxy," and also began his working relationship with James Gunn. While starring as Drax across several "Guardians" and "Avengers" movies, Bautista also found himself another collaborator in the form of director Denis Villeneuve. In Villeneuve's films (most recently in "Dune"), Bautista positioned himself as a talented actor with his scene-stealing performance in "Blade Runner 2049." His physically imposing nature paired with moving dialogue as he told Gosling's replicant that he's "never seen a miracle" was only a tiny sampling of his acting prowess that's put on full display in "Knock at the Cabin."
A subdued performance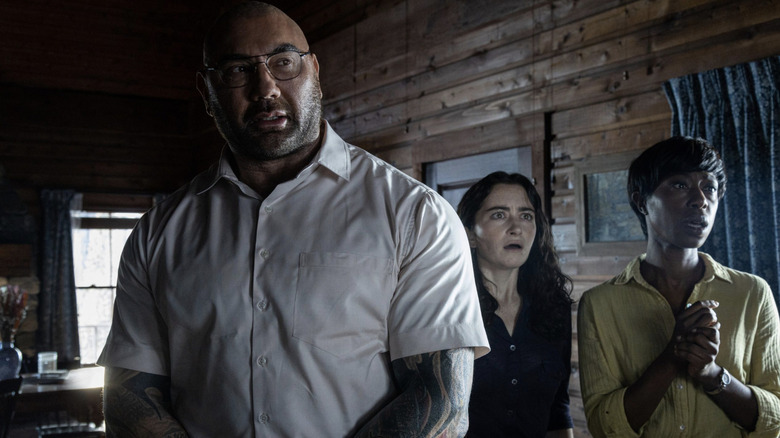 Universal Pictures
"Knock at the Cabin" follows a simple but terrifying premise. A young girl named Wen (Kristen Cui) and her parents, Eric (Jonathan Groff) and Andrew (Ben Aldridge), are all taken hostage in the cabin they are vacationing in by four mysterious individuals, who are supposedly doing so to stop the apocalypse from happening. This group's de facto "leader" is Leonard, played by Dave Bautista. The film is mainly set in the cabin, with intermittent flashbacks, so this single-location film relies heavily on the performances of its actors. In the role of Leonard, Bautista is given more to do than many of the other actors in the film, and he doesn't disappoint.
Compared to Bautista's latest role as Duke in "Glass Onion," the actor plays a much more subdued and reserved character. Still, he manages to be frightening despite doing very little physically. In a delicate balance of his physicality and line delivery, Bautista makes Leonard a tragic figure in the film that viewers empathize with but are nonetheless terrified of. Despite the grave circumstances that bring Leonard to Eric and Andrew's cabin, Bautista plays the character with a demeanor that's almost a little too calm. Moreover, how the actor manages to provide exposition and move the plot forward without feeling contrived is also especially impressive
Brilliant and unnerving work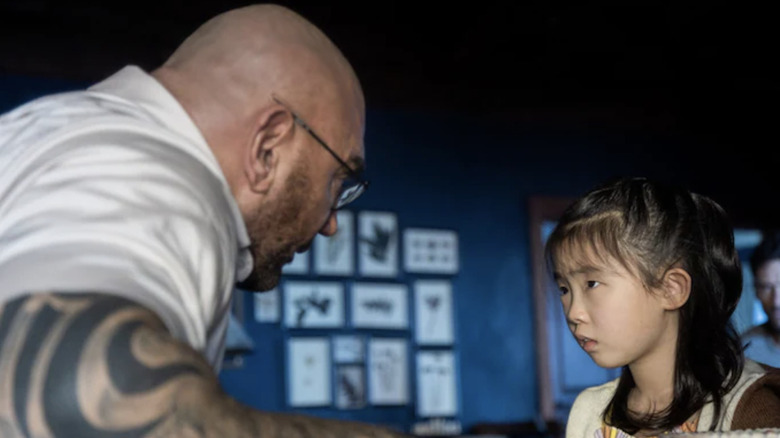 Universal Pictures
Leonard's unassuming nature shines more in the opening scene than in any other. What starts as Wen just playing by herself collecting grasshoppers turns into something with sinister undertones with the arrival of Dave Bautista's character. While we don't know it until later in the film, Leonard's profession has given him a good handle on communicating with children. Bautista shows hints of his character's backstory with how quickly he befriends Wen. While getting to know her, Bautista as Leonard delivers ominous and foreboding dialogue in a vulnerable way that makes everything so much more unnerving. Whenever Leonard starts speaking prophetic words, you can't take your eyes off him. It's truly incredible and layered work that Dave Bautista puts into his acting.
The restraint Leonard shows in the film in the face of the overbearing weight of the circumstances is also portrayed brilliantly by Bautista. Every scene in which the character desperately shows sincerity while committing brutal acts of violence only sold me more and more on the talents of the former wrestler as an actor. Bautista becomes a wall personified to the distressed and upset Eric and Andrew as the couple attempt to reason with Leonard, who remains firm in his belief in the terrible circumstances, heightening the film's story. "Knock at the Cabin" has again proved, like many of Bautista's other roles, that wrestler-turned-actor has incredible versatility that I can't wait to see more of as his career continues to grow.