Dave Bautista Liked Playing Drax, But Doesn't Want Guardians Of The Galaxy To Be His Legacy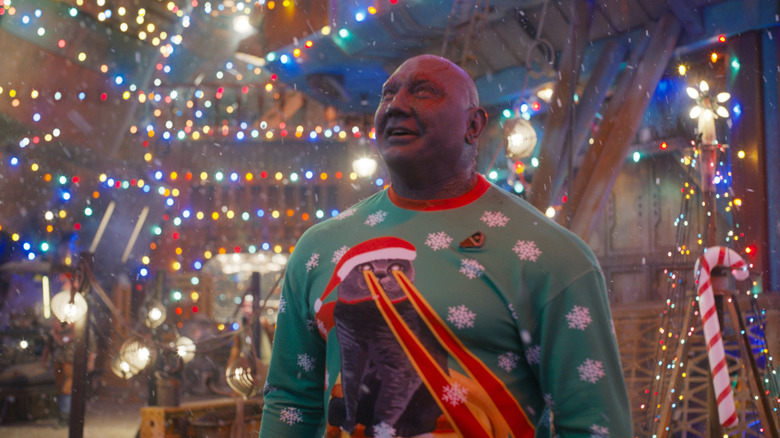 Marvel Studios
For general audiences and especially hardcore fans, it might be tempting to think that actors achieving a high-profile Marvel Cinematic Universe gig simply must be the pinnacle of their career.
Chris Evans is undoubtedly a successful actor outside of Captain America, of course, but who is ever going to think of his chilling turn in "Snowpiercer," his hilarious performance in "Scott Pilgrim vs the World," or even his delightful take on the hateful Ransom Drysdale in "Knives Out" (besides weirdos like me, at least) instead of immediately associating him with the big ol' boy scout, Steve Rogers? Similarly, for all his charisma and comedic chops, Chris Hemsworth would've had a much harder time becoming a leading man without Thor. Even Robert Downey, Jr. found a safe space in Iron Man, propelling him to a dramatic career rehabilitation in the minds of a once-skeptical public.
Yet while Dave Bautista might seem like a shoe-in to fit within the same acting mold, the performer has much different and more ambitious ideas in mind.
'I want to do more dramatic stuff'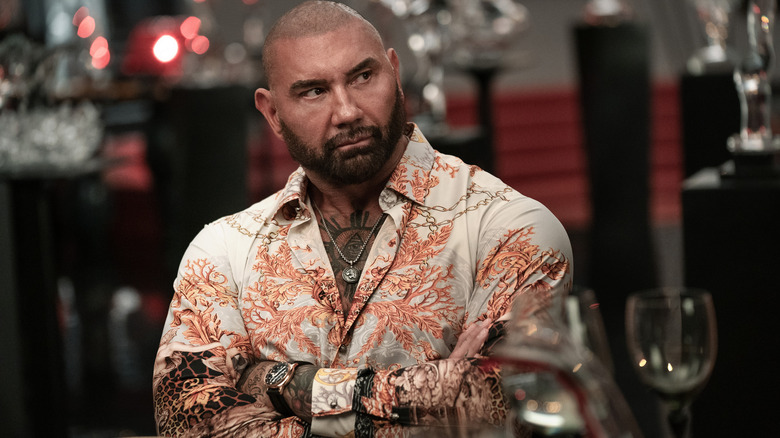 Netflix
To refer to Dave Bautista's casting as Drax in "Guardians of the Galaxy" as a pivotal moment in his adult life would be a massive understatement, as it singlehandedly transformed the WWE wrestler-turned-actor from a largely unknown quantity to an in-demand talent who could safely rely on plenty of appearance in the Marvel Cinematic Universe for a steady paycheck and even more exposure. So, naturally, Bautista immediately went off and starred in various roles for filmmakers like Denis Villeneuve, Sam Mendes, Zack Snyder, Rian Johnson, and M. Night Shyamalan.
With each and every role, he continued to establish himself as a shockingly capable character actor who gets just as much mileage out of a pair of tiny glasses as he can with his imposing physicality. Drax would seem to provide the best of both worlds, allowing the actor to make full use of his broad comedic timing while bringing a genuine heart and pathos to what could've been a paper-thin character.
But in a new profile with GQ, Bautista has revealed that, as much as he loves the character (who'll soon come to the end of his journey in "Guardians of the Galaxy Vol. 3"), he's setting his sights higher than merely being known for his Marvel role:
"I'm so grateful for Drax. I love him. But there's a relief [that it's over]. It wasn't all pleasant. It was hard playing that role. The makeup process was beating me down. And I just don't know if I want Drax to be my legacy — it's a silly performance, and I want to do more dramatic stuff."
Bigger and better things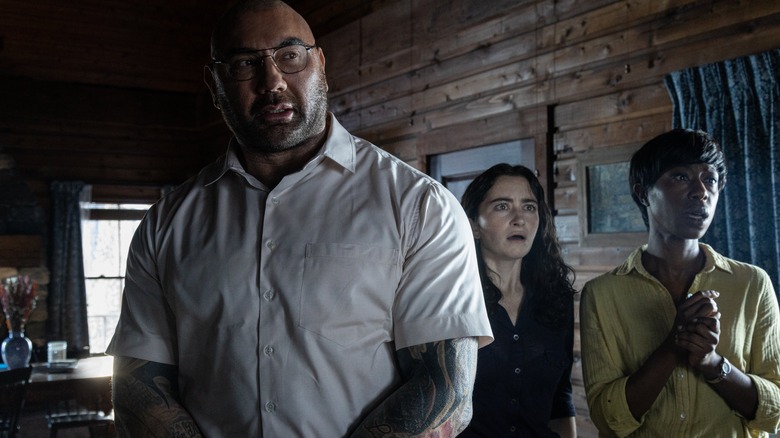 Universal Pictures
While it may be easy to interpret Dave Bautista's comment as an ungrateful shot fired directly at his most well-known and beloved role, there's something much more interesting going on underneath. You can count me among the many who believe that his performance as Drax throughout the years (but especially in a movie like "Guardians of the Galaxy Vol. 2") is far more nuanced, subtle, and modulated than it might seem at first glance. But for someone who clearly and genuinely loves the art of performing, it makes all the sense in the world that he'd want to keep expanding his horizons and find an even more defining role that truly showcases everything he's capable of.
His "Glass Onion" director, Rian Johnson, is certainly among the high-profile names who agree. He previously sang Bautista's praises for embodying the film's toxic vlogger, going so far as to say that, "[...] I think somebody like [Paul Thomas Anderson] is going to give him a real part and is gonna look like a genius." As part of Bautista's GQ profile, M. Night Shyamalan also mentioned just how much he enjoyed the experience of working with the actor during production on "Knock at the Cabin.," explaining, "It's a revelatory thing. This anomaly of a person that looks like that and can perform at that level."
With so much mounting evidence backing up his dramatic abilities and talent, who wouldn't want to challenge themselves and work to get out from under the shadow of the Marvel machine? Now that he's freed from the constraints of the MCU, we can look forward to even more fascinating choices from Bautista in the years ahead. I, for one, can't wait to see where he goes next.