The Summer Of Cena: What Three Movies Reveal About An Increasingly Interesting Actor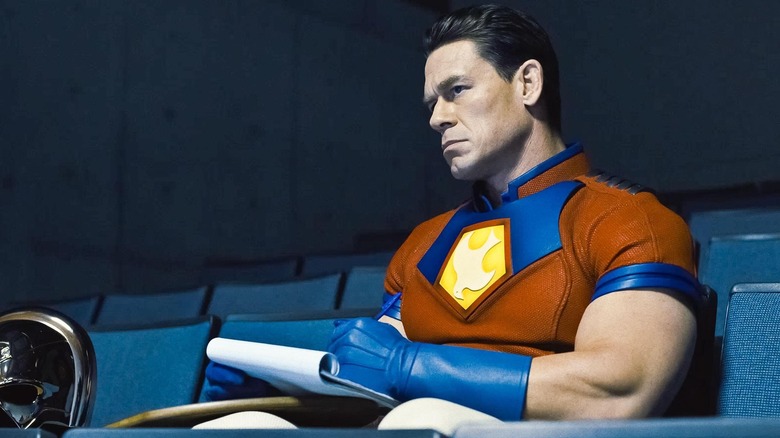 Warner Brothers
In the summer of 2002, a walking slab of meat clad in metallic red spandex trunks showed up on an episode of WWE Smackdown to answer an open challenge from future WWE Hall of Fame inductee and legitimate Olympic gold medalist, Kurt Angle. Donning an over-oiled buzzcut and armed with an endless amount of unteachable charisma, this muscular young stud debuted in front of the world, and sparked what would become an absolutely untouchable career both in ring and out. John Felix Anthony Cena Jr. had arrived.
Just two years after John Cena's debut, the "jabroni-beating, la-la-la-la pie eating, trailblazing, eyebrow raising, step off the break, put your foot on the gas, always ready to whoop some ass, people's champ," The Rock, left the world of full time sports entertainment to pursue a career in Hollywood. The Rock had single-handedly been keeping the company afloat after the end of what is commonly known as The Attitude Era and losing The Rock meant losing his audience.
Chances are, this is likely the last time a lot of people reading this article had any public consciousness about the world of professional wrestling too. There was only one person who could take over the reins from someone as dominant as The Rock, the top spot to be WWE's "main guy" was now wide open, and it would take a certifiable superstar to fill the void left behind ... and his name is John Cena.
Somewhere, a chorus of horns is playing in the distance. And he had three movies this year that helped further define him as a performer. 
Why is John Cena such a big deal?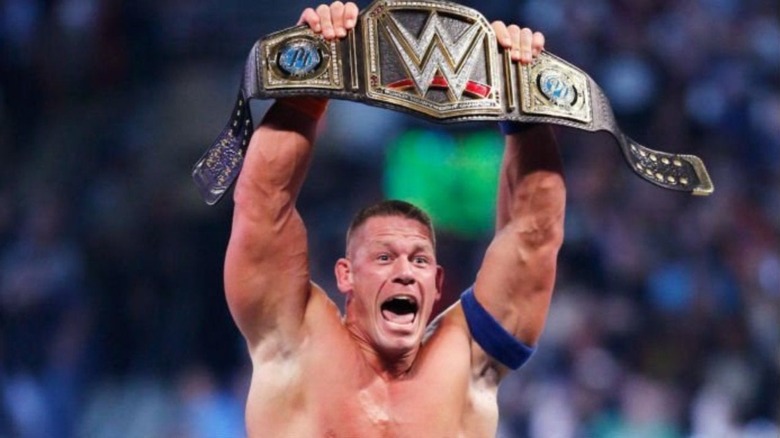 WWE
Despite the fact that as Cena himself admits, he's not the most technically proficient performer, he had the undeniable "It Factor." His character work was unmatched, but there's a genuine likability that resonates whenever Cena picks up the mic. Cena filled the void left by The Rock and he became the most decorated WWE Superstar of all time. He's currently tied with wrestling's abusive pervy uncle Ric Flair with the most World Championship reigns at 16 in total. Due to his massive popularity with children as the ultimate good guy, he's currently granted the most wishes with the Make-A-Wish charity than any other individual and has personally donated over six million airline miles for wishes involving travel. He became the face of the WWE, his all-American charm advertised non-stop on the USA network for years.
Even if you didn't watch WWE, you knew who John Cena was by pure cultural osmosis. He was this huge, muscular presence, and there was no way WWE wasn't going to push him toward becoming an even bigger crossover star by making movies.
Unfortunately, one of John Cena's first roles is playing the father of the titular character in "Fred: The Movie." Yes, those movies with the kid who electronically piped up his voice to sound like he had sucked down a tube of helium. The film currently boasts a whopping 0% on Rotten Tomatoes and even that seems too kind. Pair this with his starring roles in less than stellar WWE produced films like "The Marine" and "12 Rounds," and Cena was quickly written off as nothing more than a schtick or a joke cameo.
Now, just shy of two decades later, "The Prototype," "The Doctor of Thuganomics," "The Leader of the Cenation," "The Face that Runs the Place," big match John Cena is following in the footsteps of Dwayne "The Rock" Johnson and has broken out of the wrestler-as-actor gimmick and solidified himself as a legitimate Hollywood presence. Starring in three major releases this year, his talent is finally being appreciated, and the world at large is finally able to see what wrestling fans have always known ... John Cena is the man.
But Can He Act?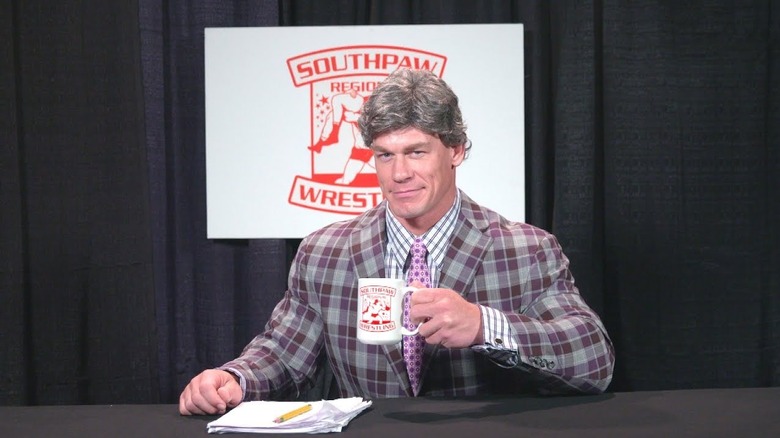 WWE
With a physical presence like that of John Cena, becoming an action star seems like the most logical transition from the squared circle to the big screen. Cena tried his hands at action movies in the past, but somewhere around 2011 he had all but given up. He felt less like an actor and more like a pawn in WWE's attempt to make themselves a presence in Hollywood. He took a major step back and all but accepted that acting just wasn't in the cards for him.
At the same time, he was winning over the hearts of millions every week by just being John Cena on the WWE reality show, "Total Divas." Formerly engaged to fellow wrestler Nikki Bella, "Total Divas" was a way for people to learn more about John Cena the person and get to know him outside of his wrestling persona. People quickly realized that John Cena is hilarious. Yeah, he's a total beefcake hunk, but he's also got fantastic comedic timing.
In one of WWE's genuinely good ventures into non-sports entertainment original programming, Cena was able to flex his comedic chops on the short lived "Southpaw Regional Wrestling." A parody of Southern American wrestling shows from the 1980s, Cena donned a cheap gray wig and played fictional wrestling host, Lance Catamaran, and he crushed it.
Vacation Friends and the Comedy of Cena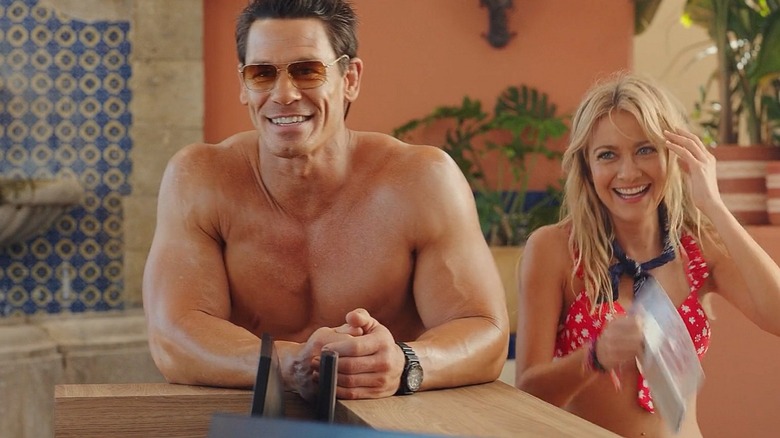 Hulu
It wasn't long after that Hollywood came knocking and Cena appeared in some memorable supporting roles in the films "Trainwreck" "Daddy's Home 2," and "Sisters." Critics loved him! Plenty of "John Cena is good, actually" lines were uttered in reviews, proving that Cena was a guy you could successfully put in front of a camera. The issue wasn't that John Cena couldn't act, it was that he wasn't given material that plays to his strengths. Cena more than proved his worth and was given a breakout role as an emotional and overprotective dad in "Blockers." The juxtaposition of his threatening frame with his emotional anxiety brought a lot of laughs, but also a weird sense of comfort knowing that even someone as physically dominant as John Cena can express vulnerability.
This all culminates in Hulu's "Vacation Friends," where John Cena plays the free-spirited Ron, the human embodiment of that one guy at the fraternity house who grows up to actually be a good dude. The entire world has such a positive image in their heads when it comes to Cena, that a large part of the comedy in the film comes from the pure unhinged madness of watching John Cena say curse words or trip out on mushrooms with Lil Rel Howery in the forest. But there's a gooey, sweet center to his character that serves as a reminder that yeah, this guy absolutely grants Make-A-Wish requests any chance he gets. Everything about his character should be unlikable, but it's impossible not to get caught up in his wacky shenanigans and wish he was the best man at your own wedding. Macho posturing comes easy for him in this role, a definite holdover from his prolific wrestling career, but it's the earnest kindness that puts him over the edge and keeps Ron from becoming a one-note stereotype. Even with a cocaine rimmed martini in hand, you can't help but love him.
Hustle, Loyalty, and Respect in F9: The Fast Saga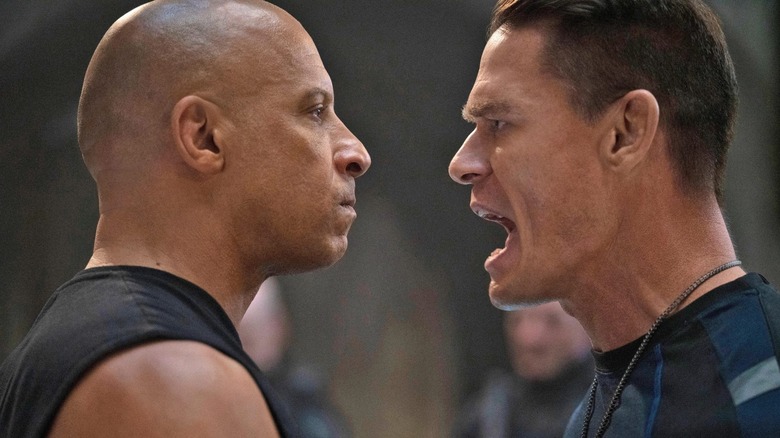 Universal Pictures
As a lifelong wrestling fan, sometimes I forget that not everyone is aware of some of the most identifiably batsh*t things WWE made happen. John Cena is universally known and accepted as the ultimate babyface (the wrestling world's word for "good guy") but he's also known for some questionable gimmick choices ... namely, the Doctor of Thuganomics. For the uninitiated, John Cena loves hip-hop and rap, like, a lot. So much so that the reason he got into wrestling and being strong is because he used to get his ass kicked on the playground growing up in the very white streets of West Newbury, Massachusetts because he loved hip-hop music and fashion. His iconic "You Can't See Me" hand wave that would lead to endless memes of John Cena being invisible? That's an homage to Tony Yayo of G-Unit, filtered through a bet Cena made with his little brother that he wouldn't do the dance on television. Cena shook his hand more dramatically than Yayo in the hopes that it would show up better on television, and the rest is history. So what does this have to do with "F9: The Fast Saga"?
The "Fast & Furious" franchise is an immeasurably important film series for its high action and diverse representation, but at the heart of the series is a message about your friends and community becoming your family. Both hip-hop culture and the world of wrestling does something very similar, and John Cena understands and respects that fact. With Dwayne Johnson out of the series, the character of Jakob, the previously never mentioned ne'er-do-well brother of Dom (Vin Diesel) and Mia (Jordana Brewster) was created for John Cena to step in. He didn't take the role lightly, either. He understood the gravity of taking on this character, and gave it the respect it deserved. He spoke on the BINGE podcast about the casting and said the following:
"It's a dream come true, and it's such a life-changing opportunity. I've never had anything like this, to be invited into a legacy body of work that is already successful and the world already anticipates. I really put my heart and soul into this, and I'm very proud of what's going to show up on screen. The cast and crew that have spent 20 years forging this legacy, and I don't take that lightly; the invite has weight and tremendous perspective. I really hope everyone sees the movie and thinks my contribution did justice to the legacy that is 'Fast.'"
After Cena intelligently retired his hip-hop gimmick, recognizing it wasn't his place to play the role, he quickly became the John Cena that most are familiar with, and with that came the Cena mantra of "hustle, loyalty, and respect." Not just a clever slogan for merchandise, the motto would come to be synonymous with Cena. "Hustle, loyalty, and respect' is the way he lives ... and the motto reads an awful lot like something out of the "Fast & Furious" franchise. This era is when Cena finally found his footing and became a certifiable wrestling superstar, and while plenty hold love and nostalgia for his early career persona, we're able to recognize that early days of Cena didn't fully understand what he was truly capable of achieving. The same could be said about the "Fast & Furious" franchise, which really came into its own around "Fast Five." (For what it's worth, I'm also a staunch defender of "The Fast and the Furious: Tokyo Drift" but that's like the "Halloween III" of the Fast franchise.)
The Perfect Cocktail of Cena's Strengths in The Suicide Squad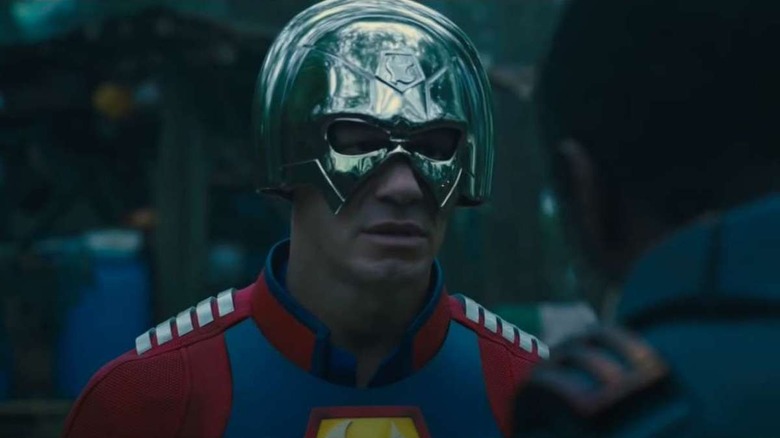 Warner Brothers
John Cena has proved he can do both comedy and action, but he is definitely at his best when he is able to flex both muscles. Combining his magnetic charm with his brick house frame is a recipe for perfection, much like the genre bending work of "The Suicide Squad" writer and director, James Gunn. Like Cena, Gunn is a creator who loves to subvert expectations and bring a wide array of influences into his work. Casting John Cena as Peacemaker felt like a brilliant form of meta-casting, considering the character of Peacemaker and the character of John Cena feel like opposite sides of the same coin.
Peacemaker as a character is a pacifist diplomat so committed to peace that he is willing to use brute superhero force to keep it. He's like a hall monitor that would body check a kid for walking the halls between class periods without a pass. On the surface, Peacemaker thinks he's the ultimate good guy, but he's a sociopath. In the wrestling world, Peacemaker would make a perfect heel. Despite John Cena's history of playing a babyface in WWE, he absolutely thrives as the heel-ish Peacemaker. Why? Because he's lived it.
After the Attitude Era that made figures like Stone Cold Steve Austin and The Rock irrevocable powerhouses came to a close, WWE was a sinking ship. Real life supervillain Vince McMahon knew he had something special with John Cena, and basically bet the success of the entire company on his shoulders. John Cena had to be the greatest performer of all time or else the world of mainstream professional wrestling would die. Cena being the motivated professional that he is, took the task. He kept WWE alive, and became the most decorated professional wrestler in the process. This sort of dedication is just like that of the Peacemaker but thankfully, John Cena is an ultra-empath. His credo of "Never Give Up" is inspiring, but in the hands of someone like Peacemaker, it sounds more like a threat. Peacemaker is the bizarro world/opposite day version of John Cena, so it's no wonder he's getting a spin-off series centered on the character.
Good Guy John Cena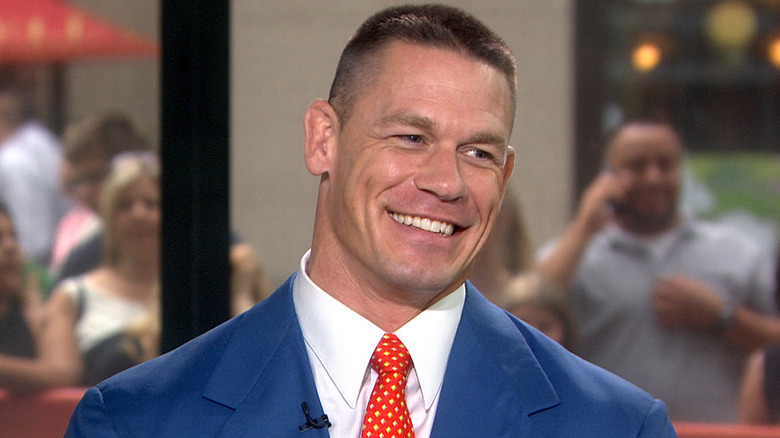 NBC
When Cena's entrance music hits and an entire stadium of wrestling fans sing "John Cena Sucks" to the beat, we're not doing it because we believe it, we're doing it because Cena is self-aware enough to be in on the joke, and revels in it. He knows how to handle a friendly ribbing, and he's just proud of us for expressing how we feel.
I sat long and hard trying to figure out just what it is about John Cena that makes us all love him so much, and I have a theory. John Cena is the Hollywood version of everyone's super cool brother-in-law. In every movie, to varying degrees of intellect, John Cena is playing our favorite brother-in-law. Even as a villain, you can't help but want to give him a firm pat on the back for being effortlessly charismatic, which is total brother-in-law energy. He's not our big brother, he's the guy who married our sister that we can't wait to see every holiday. He can probably grill a mean steak and will teach our kids how to stay true to themselves. He's the guy who elicits a group "HEYYY!" when arriving at a family get together, and whenever some insecure family member expresses their jealousy over how loved he is, Cena will take them to the side and give them a monologue about learning to appreciate their own greatness.
There have been rumors floating around that this year will likely be the last of John Cena's professional wrestling career. In an interview with "Good Morning America," he talked about the possibility of retirement stating:
You know, I think... and I've made this comment before, I think I will try to do the best I can until I feel as if I'm offending the consumer. A lot of times you want to kinda hold onto that lightning bolt. There is nothing like the energy of being in that ring with the audience around you. There's nothing like it. I've had the fortune and opportunity to do a whole lot of stuff.... that energy is indescribable, that place is my home, I wouldn't be who I am without it. The audience is my family, so I love the environment, but I also want to be kind to them and I don't want to do it selfishly just to do it. I still feel good, even though I finished second, I still feel pretty good. So, I still feel as if I have something to contribute, so time will tell.
At 44-years-old and with a growing Hollywood schedule, that time is likely coming sooner rather than later. But if this summer has shown us anything, it's that when that day finally comes, Cena will have a new audience to welcome him in.
You don't have friends, John, you've got family.