Starz Picks Up Canceled HBO Max Series Minx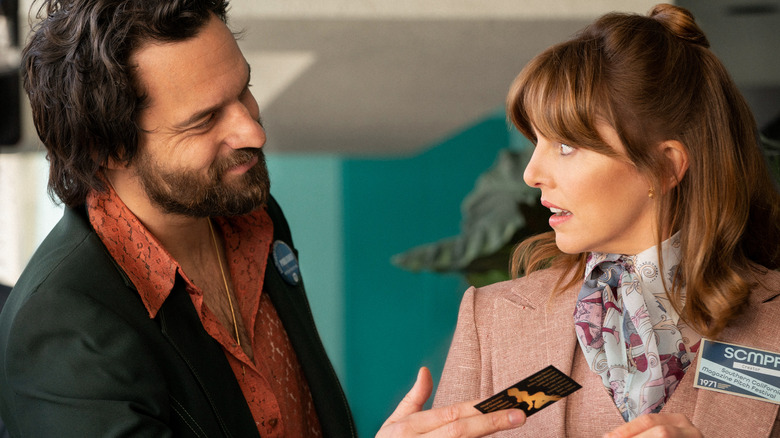 Lionsgate
You didn't think Joyce Prigger (Ophelia Lovibond) would give up so easily, did you? The woman spent 10 episodes doing everything in her power to make sure that her feminist agenda could make its way to the people of the world — even when it meant working with a sleazy yet surprisingly charming porn publisher. Needless to say, some flimsy network cancellation was never gonna stand in the way of "Minx."
After being unceremoniously canceled by HBO Max, "Minx" is officially back in print. Starz has rescued the half-hour comedy and will now air the recently completed second season, along with the previously streaming first season (which has already been pulled from HBO Max). Bringing "Minx" to the premium cable network is a natural move for Lionsgate, the producer of the series and parent company of Starz.
At the time of cancellation in early December, the sophomore season was in its final week of production, having been renewed immediately after debuting in March 2022. But as part of the Warner Media Discovery purge (in which many titles were canceled or pulled from the streamer for the sake of cost-cutting), the series was still scrapped. Like so many of the company's recent decisions, this news was immediately met with outrage: canceling the critically-acclaimed show would be one thing and, unfortunately, un-renewing shows has become a common trend. But killing the second season when it was a week away from wrapping production? That's a new kind of cruelty. Luckily, "Minx" has found a path forward.
"We've found the perfect home," said Ellen Rapoport, the series creator, showrunner, and executive producer. "Our writers, cast and crew have created something truly special in Season 2, and I can't wait for everyone to see it."
A new home for Minx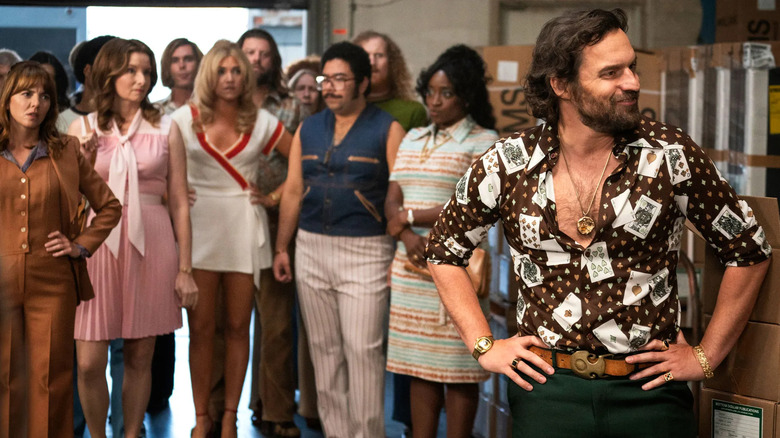 Lionsgate
In case you haven't yet had the pleasure, look forward to both seasons of "Minx" becoming available on Starz. The 1970s-set series centers around ambitious writer Joyce Prigger, who dreams of sharing her feminist writing with the world, but has yet to find the proper forum. When her dream finally does come true, it's in a way she never could have imagined: rather unexpectedly, she joins forces with low-rent porn publisher Doug Renetti (Jake Johnson) to create the first erotic magazine for women.
"We have always felt this show would be a perfect fit for our brand with our dedication to narratives by, about and for women," said Jeffrey Hirsch, President and CEO for STARZ. "STARZ is proud to be the new home for this incredible show that has drawn in well-deserved critical acclaim. We're excited to welcome Ellen and the talented 'Minx' team to the network and can't wait to bring its passionate fans the second season."
When /Film spoke to series creator Ellen Rapoport last year, she had high hopes for the future of "Minx." As she sees it, the premise could continue well into the 80's to explore the conservative shift of the Reagan era and how the feminist movement splintered off into those who were pro- and anti-pornography. "12 seasons," Rappaport proposed. Clearly, HBO Max didn't share in that vision but as someone who had a lot of fun with the debut season, I hope Starz gives the series a chance to keep growing.
The cast of "Minx" also includes Idara Victor, Jessica Lowe, Lennon Parham, Michael Angarano, Oscar Montoya, and season 2 addition, Elizabeth Perkins.