Minx Scores A Season 2 Renewal From HBO Max, Blessing Us With More Jake Johnson In '70s Shirts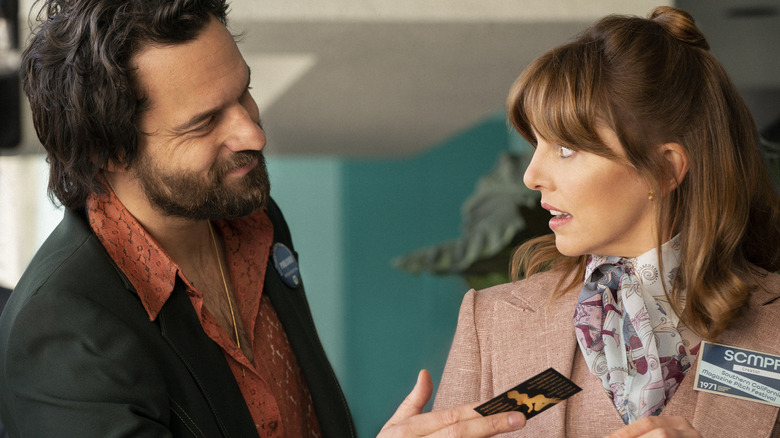 HBO
HBO Max's half-hour comedy about an erotic magazine is charming its way back onto our screens for round 2. "Minx" has received a second-season renewal, which is great news for absolutely anyone with eyes because it guarantees 10 more episodes of Jake Johnson nailing 1970s fashion as the vaguely sleazy but mostly lovable porn publisher, Doug Renetti. When he's not exposing his chest hair with ridiculously deep V-necks and unbuttoned shirts, Doug is helping Ophelia Lovibond's feminist writer, Joyce Prigger, launch a "Playgirl"-esque erotic magazine that she hopes will spur a movement among women.
That's right — just when you thought HBO Max couldn't possibly develop a show with more full-frontal nudity than the anxiety-inducing glitter explosion that is "Euphoria," they create a show that revolves around the concept of naked men in magazines. Ironically, despite the sausage party that the premise implies, "Minx" is a female-forward experience, tracing Joyce's earnest attempts to spur interest in feminist issues while learning a thing or two about society's treatment of female sexuality. With her smarts and Doug's bright ideas about nudity comes a show that has audiences clamoring for more. Sarah Aubrey, the head of originals at HBO Max, expressed the streamer's excitement over following up the season, saying:
"We are thrilled that the world of Minx has resonated in the way that it has. Showrunner and creator Ellen Rapoport, alongside the rest of our gifted creative team, masterfully deliver nuanced humor, with the cast executing her vision seamlessly. We can't wait for fans to see what medicine Doug and Joyce hide in peanut butter for season two!"
Hot off the presses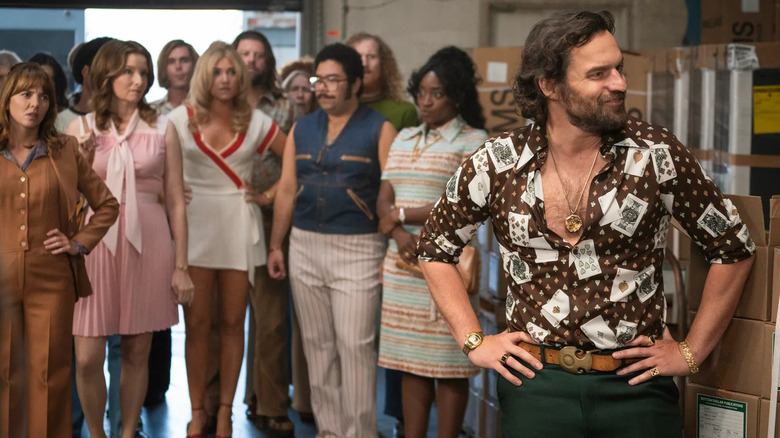 HBO
There's no reasonable explanation for why sleazebags are in right now, but they are. Doug Renetti is without a doubt a big part of the hype for this series because Johnson's bringing Nick Miller level-fun, which makes him a blast to watch onscreen. It's especially magnetic when he's paired with Joyce: The magic of the show is seeing them clash and connect as they build something together. Not to mention the fun ensemble bringing out the best in them both, including Idara Victor as Tina and Jessica Lowe as Bambi. Series creator Ellen Rapoport pointed out that the thriving fanbase was no small part of the renewal decision, in a statement that said:
"All of us at Minx have been blown away by the passionate response from audiences across the world, who have mashed-up, TikTok-ed and fanfic-ed us into a renewal. We are so grateful to our partners at HBO Max and Lionsgate for being true champions of the show, and for the opportunity to continue on this journey. Here's to more chest hair, pussy bow blouses, and tasteful nudes in season two."
When /Film spoke to Rapoport earlier in the year, she joked that twelve seasons would be ideal and outlined her hope for future seasons.
"I would love for it to go into the '80s. I think what happened was so interesting, how the whole country took a real conservative shift with Reagan being elected president and how the feminist movement really splintered in two with the pro-pornography and the anti-porn feminists. I'd also love for them to go corporate and move to New York, sell "Minx" to a big conglomerate. See Doug in that position. I think it could go all the way there. So what is it, '72? So, I don't know. 12 seasons."
Just picture that: "Minx" making the transition from '70s fashion to '80s. Spandex! Legwarmers! Power suits! Doug in neons and pastels, becoming even more confident in his abilities and sticking it to the bigwigs in New York while raking in the cash! Viewers can only dream. Until then, the second season of "Minx" still has plenty of '70s fashion trends to unload as the magazine continues to shock the world, and Joyce becomes a publishing powerhouse in her own right.