Will There Be An Inside Job Season 2?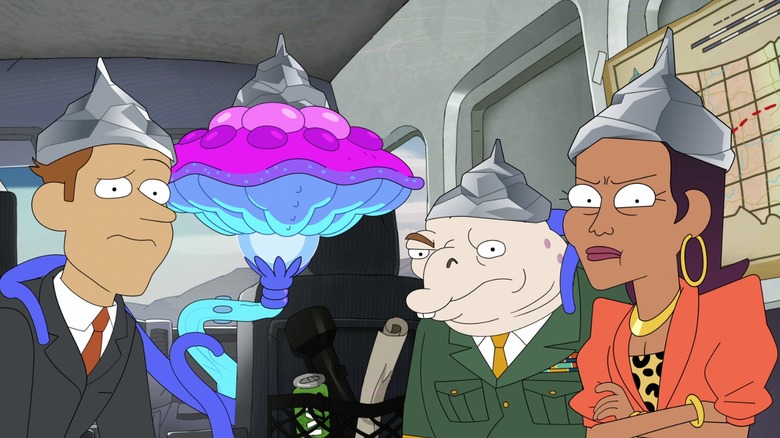 Netflix
The new streaming strategy of canceling shows that have already been renewed is here to stay. It's a heartless cost-cutting tactic, but it's one that's been employed more than once now by both Warner Bros. Discovery and Netflix. While the former canceled HBO Max's "Minx" after giving season 2 the greenlight and pulled TBS' "Chad" from the lineup right before it aired, the latter may have started the trend when it axed "GLOW" in a stunning reversal of a previously announced renewal.
Now, Netflix is at it again with "Inside Job." The animated comedy about a company that manufactures global conspiracies aired a two-part, 18-episode first season across 2021 and 2022, and then it earned a second season renewal last June. But now series creator Shion Takeuchi has confirmed on Twitter that "Inside Job" is joining the great big cancelled shows pasture in the sky, as its second season isn't happening after all. It's unfortunate news for fans of the show, but it should also be worrisome for anyone who cares about television as a whole, as the reversal furthers an alarming precedent in which the word "renewed" doesn't actually mean much of anything anymore.
Takeuchi, who wrote for shows like "Gravity Falls" and "Disenchantment" before creating "Inside Job," posted the news with a broken heart emoji and a brief message about the disappointing development. "I'm heartbroken to confirm that Netflix has decided to cancel season 2 of Inside Job," she wrote. "Over the years, these characters have become real people to me, and I am devastated not to be able to watch them grow up."
The show's renewal was frustratingly reversed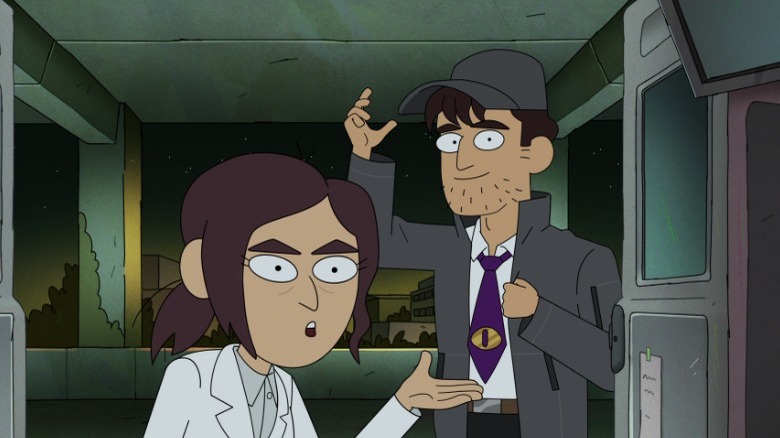 Netflix
The first season of "Inside Job" followed robotics engineer Reagan (Lizzy Caplan) and D.C. yes-man Brett (Clark Duke) through a series of workplace comedy hijinks, only in this case, the workplace in question was a shadowy organization that secretly helped control the planet. Cognito Inc. was founded by Reagan's ultra-paranoid dad Rand (Christian Slater), and as the first season revealed, the company was even shadier than Reagan realized. The emotional finale ends with Reagan taking a deal with the Robes, the leaders of Cognito, after wiping her boyfriend Ron's (Adam Scott) memory to give him a new life.
"Reagan and Brett deserved to get their ending and finally find happiness," Takeuchi wrote on Twitter, "and I would have loved to [have] been able to share what was in store with you all." The series creator also thanked everyone who watched the show and cared for its characters. Unlike some shows that have been subject to sudden cancelations and renewal reversals, there's no indication that the team behind "Inside Job" is planning to shop the show around, so the first season finale will likely be the last we see of it.
Luckily, the show was able to give us one last laugh on the way out, via this hilariously context-free plot point revealed via writer Alison Agosti's Twitter: "Final thing," she wrote. "Brett WAS going to marry Air Bud this season, so when you think of 'Inside Job,' please think of that."