Avatar: The Way Of Water Is Profitable, So James Cameron Supposes He'll Go Ahead And Make The Rest Of The Movies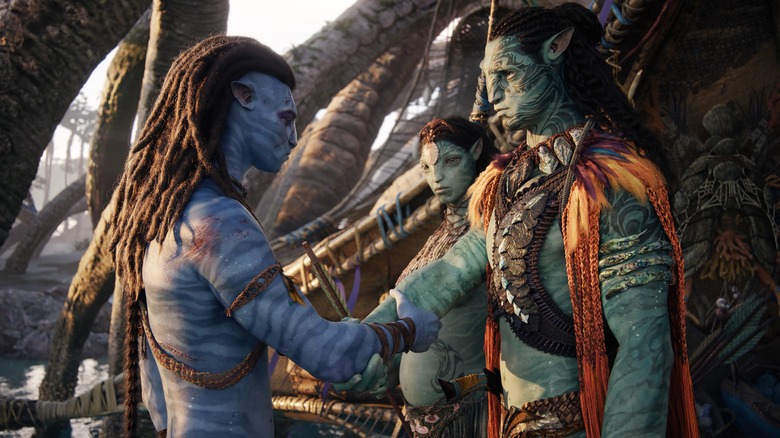 20th Century Studios
The world of "Avatar" might be inhabited by the blue Na'vi, but right about now all they can see is green ... and lots of it.
As inevitable as a fresh wave of capitalistic humans crossing the stars to exploit all of Pandora's natural resources, the news has officially landed that the latest James Cameron movie has turned a profit. More to the point, the widely well-received "Avatar: The Way of Water" has now justified the enormous financial commitments that James Cameron tricked convinced 20th Century Studios to devote to the long-gestating project. The filmmaker made some waves (get it, because water?) when he previously announced that the hundreds of millions of dollars poured into the production and marketing budget meant that his latest movie would need to become "...the third or fourth highest-grossing film in history. That's your threshold. That's your break even."
Well, that hasn't quite come to pass just yet (our last box office update pointed towards a worldwide total of $1.4 billion), Cameron has now admitted that his initial estimates may have been slightly pessimistic. With updated figures now indicating a haul of well over $1.5 billion globally, the "Titanic" and "Avatar" filmmaker can look forward to many more years of crafting stories set in the world of Pandora.
In an amusingly understated interview with The Hollywood Reporter, Cameron had this to say about the future of the franchise:
"It looks like just with the momentum that the film has now that will easily pass our break even in the next few days, so it looks like I can't wiggle out of this, I'm gonna have to do these other sequels. I know what I'm going to be doing the next six or seven years. The point is we're going to be okay."
You get an Avatar sequel, and you get an Avatar sequel...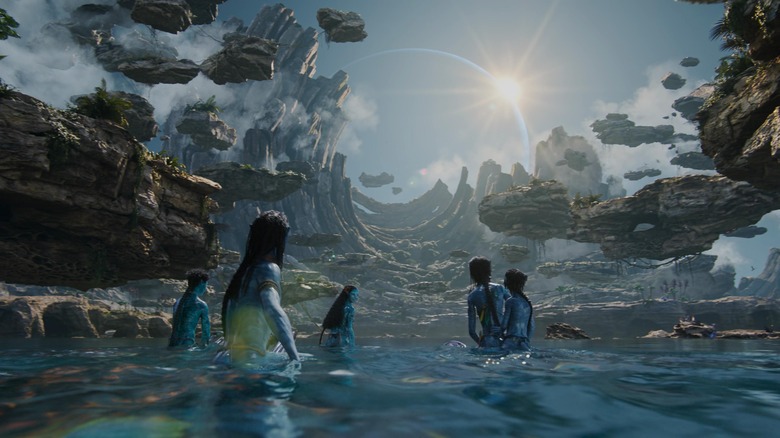 20th Century Studios
Well, at least James Cameron can now sit back and relax in the afterglow of yet another profitable movie, right? Okay, just kidding, because the news means that the man basically has no choice but to keep making blue cat alien sequels for the rest of his life. But hey, there are far worse ways to spend your retirement years!
Granted, we already knew that we were getting at least one more "Avatar" movie no matter how "The Way of Water" ultimately performed at the box office. That's the perk of taking upwards of $200 million (THR estimates, partly based on Cameron's previous comments, approximately a combined budget in the vicinity of $600 million) and investing it into multiple sequels at once. At a certain point, it simply makes the most amount of business sense to forge ahead and release the movies no matter what. Confusing? Well, that's why we typically leave box office reporting to our very own Ryan Scott, folks.
In any case, with the "Avatar" sequel now on track to get close to (if not surpassing) $2 billion worldwide, it's a no-brainer to greenlight the fourth, fifth, and possibly even sixth and seventh films in the series. According to Cameron:
"I'm sure that we'll have a discussion soon with the top folks at Disney about the game plan going forward for 'Avatar 3,' which is already in the can –- we've already captured and photographed the whole film so we're in extended post-production to do all that CG magic. And then 'Avatar 4' and '5' are both written. We even have some of '4' in the can. We've begun a franchise at this point. We've begun a saga that can now play out over multiple films."
Never bet against, well, you know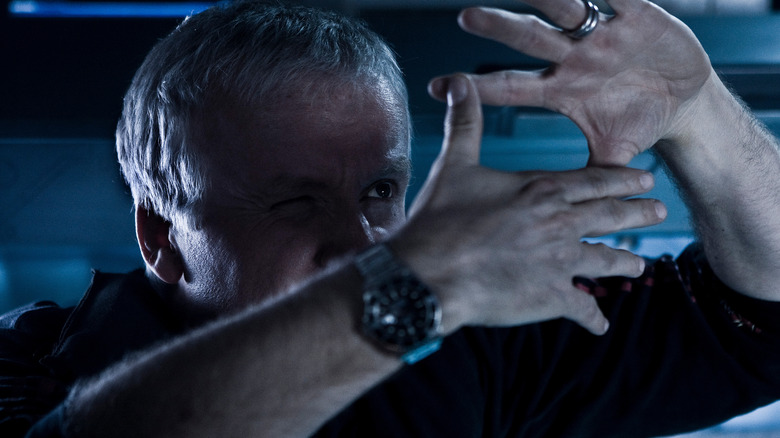 20th Century Studios
Yeah, so remember all that talk about "Avatar: The Way of Water" needing to eclipse $2 billion at the box office to even remotely reach the break-even point? James Cameron is slightly walking that back ... in a manner of speaking, at least. "To clarify, I never actually gave it a number," said the incorrigible director to THR. "I said it would has to be among the highest-grossing films in history and somebody else applied that number and it got picked up. The number is actually less."
However you crunch the numbers — wait, do you find all this confusing? Well, tell us about it. There's a reason we tend to let our very own Ryan Scott handle all the math – it appears that even the sneakiest form of Hollywood accounting can't deny the fact that the "Avatar" sequel is well on its way to finding itself in the black instead of the red. (My sources tell me this is, indeed, an accounting term, and even more impressively, one that I'm pretty sure I'm actually using correctly. Please clap!) As Cameron's ego grows even more out-of-control and Disney's coffers swell to even more obscene riches, it appears the only thing in short supply these days is patience — patience for the third "Avatar" movie that will continue the rivalry between Sam Worthington's Jake Sully and Stephen Lang's resurrected Colonel Miles Quaritch.
"Avatar: The Way of Water" is currently playing in theaters. The following sequels, in all likelihood, will also do so for years and years and years to come. Say it with me, folks: I see you.