There Are (At Least) Four Live-Action Star Wars TV Shows Filming In 2023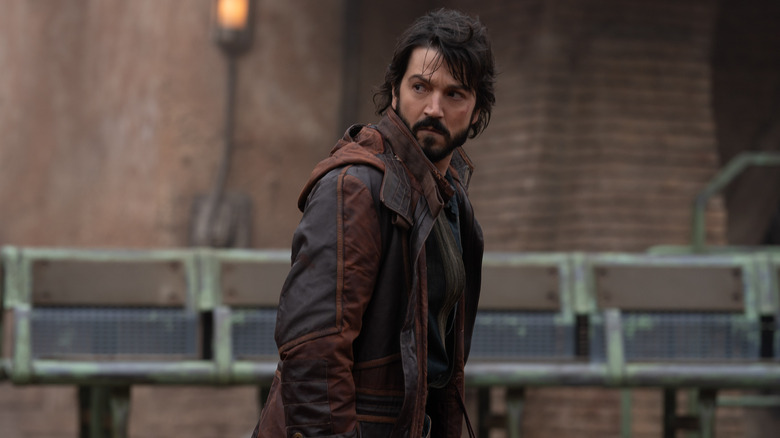 Lucasfilm
It looks like Lucasfilm is by no means prepared to pump the brakes on "Star Wars," even if it is merely limited to the small screen for the time being. Case in point, when we crunch the numbers, it seems at least four live-action shows set in a galaxy far, far away will be filming in 2023. As for when they all will arrive on Disney+? That's another question entirely. Still, that's a whole lot of TV for a franchise that's largely existed as movies for most of its lifespan.
The news was revealed by Variety and, more specifically, Lynwen Brennan, the executive vice president of Lucasfilm. They were discussing how Wales has become a bit of a hub for the studio as of late, with projects like "Willow" making use of the country. Brennan revealed the status of several "Star Wars" shows at the moment:
"We have started production on 'The Acolyte' [in the U.K.], Leslye Headland's show, which is very exciting. And they've been doing some location work back in Wales, so that's a nice through-thread as well. And yeah, so we've got several productions. We're finishing up on 'The Mandalorian' Season Three, and we're also working on 'Skeleton Crew' [both in L.A.], and we are about to get working on 'Andor' Season Two [in the U.K.], as well. So, there's no lack of work happening."
Of note, "The Mandalorian" season 3 is coming very soon and is presumably nearly done with post-production. We know for sure that season 4 is already in the works, meaning that it's incredibly likely that the next round of Mando's adventures will roll cameras this year as well. Also of note, there's no mention of "Obi-Wan Kenobi" or "The Book of Boba Fett." It appears those are going to remain limited series for now.
Lots of shows, but what about the movies?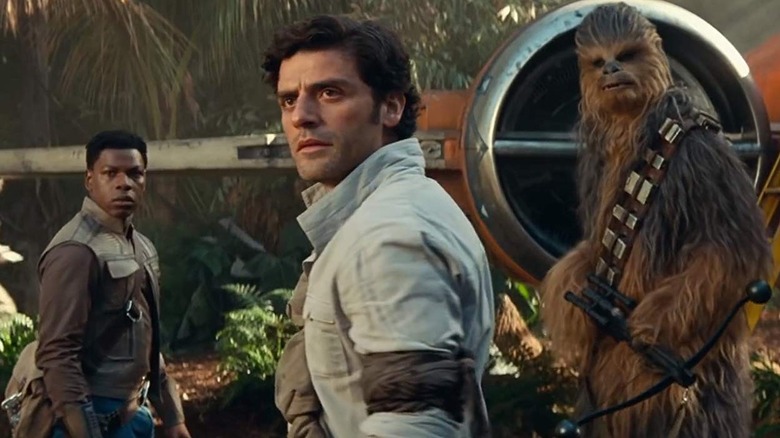 Lucasfilm
"The Acolyte" is a show that is set during the High Republic era, roughly a century before the events of the "Star Wars" prequel films. Production got underway on that one back in Fall 2022 and there's a real possibility it will stream on Disney+ before 2023 draws to a close. As for "Skeleton Crew," that's the show that Jon Watts (director of the Tom Holland-led "Spider-Man" trilogy) is making, and seemingly the project that pulled him away from directing "Fantastic Four." Meanwhile, "Andor" season 2 will pick up where season 1 left off, though we might not actually see that one until 2024.
In short, we've got plenty of "Star Wars" on the way but some might be wondering, what is going on with the movies? "The Rise of Skywalker" hit theaters in December 2019 and it's mostly been crickets ever since. Plenty of films have entered development, but nothing has materialized. "Rogue Squadron" from director Patty Jenkins seemed poised to get the job done, but it's currently languishing in development hell. We also have some promising ones on the burner, including the mystery movie being produced by Marvel's Kevin Feige, as well as one being written by Damon Lindelof of "Watchmen" and "Lost" fame. If the last 10 years have taught us anything, however, either of those could fall apart.
It's hard to imagine that the next wave of "Star Wars" movies will stay away for that much longer before something gets the go-ahead, though it's downright amazing that this franchise has pivoted so hard and so quickly to TV. Is this for better or for worse? That is largely for the individual to decide.