Frank Darabont Wanted Thomas Jane To Star In The Mist From The Very Start [Exclusive]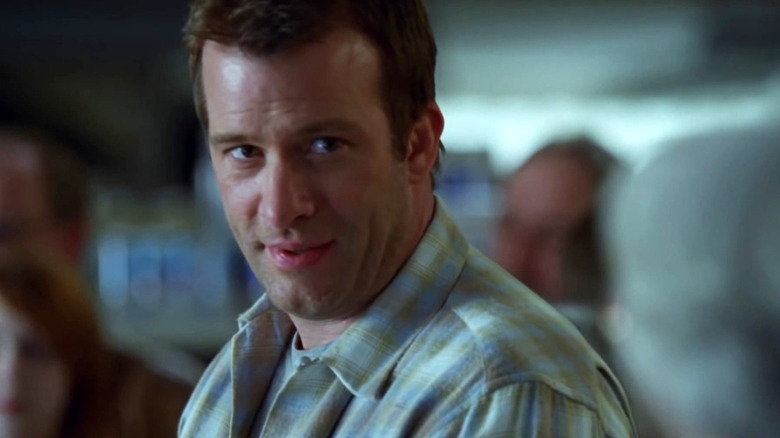 Dimension Films
Fifteen years ago, moviegoers were collectively hit with a narrative haymaker – one its director firmly stands by. In 2007, it didn't matter whether you had already read Stephen King's 1980 novella "The Mist," because director Frank Darabont changed the story's hopeful ending to something much heavier in his adaptation, requiring a lead actor who could sell its bleak emotional truths without going over the top. The "Walking Dead" scribe knew exactly who he wanted to play painter David Drayton, the man who would guide the audience through the besieging of a small Maine town by cosmic, tentacled creatures. According to the director himself, Thomas Jane was always at the top of the list.
For the 15th anniversary of "The Mist," /Film's Eric Vespe (who spent time on the set of the movie in 2007) spoke to the cast and crew through a series of fresh, exclusive interviews, crafting an oral history of one of Darabont's most polarizing films. Therein, producer Denise M. Huth recalls the casting process as a quick one; under the guidance of "The Shawshank Redemption" casting director Deb Aquila, several repeat performers in Darabont movies were "earmarked" for roles in "The Mist." The "Darabont Traveling Players," as they're known among the production team, include Laurie Holden, Jeffrey DeMunn, and William Sadler. But the lead role of David Drayton was considered a lock from day one. Huth tells /Film:
"For [the role of] David, he really did have Thomas Jane in mind from the very beginning. I'm sure we talked about other people, but Thomas Jane was sort of his goal. He really felt he was perfect for the role, and I think he was."
What put the "Deep Blue Sea" star at the forefront of Darabont's mind? The answer, Darabont explained, is simple: "I'd always loved his work."
A grounding presence in King's world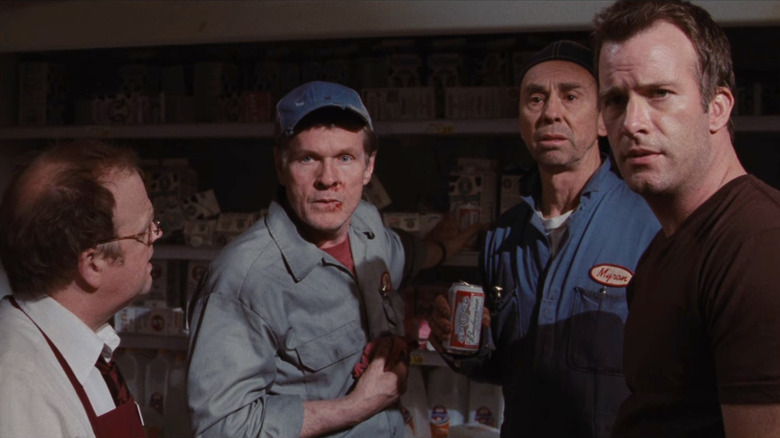 Dimension Films
Following smaller roles in the likes of "Buffy the Vampire Slayer" and Albert Pyun's cyberpunk extravaganza "Nemesis," Jane found work in films with more public exposure and critical acclaim. Meaty roles in "The Thin Red Line" and "Magnolia" in the late '90s raised the American actor's profile, but the work that Darabont enjoyed most — and the performance that convinced him that Jane was his David Drayton — was Paul Thomas Anderson's breakout feature, in which Jane plays a loose cannon who is clearly looking for trouble from the jump (as seen in his memorable introduction scene here). Darabont reveals to /Film:
"He's got a very grounded quality on screen, even when playing that marvelously amped-up extreme character in "Boogie Nights." A lesser actor would have gone over the top in a not believable way, but Tom kept it feeling real. Tom's got a great working-class everyman quality that I felt fit perfectly with Steve King's world, and with that character. And, boy, did Tom deliver. I loved his performance. The man is a tireless pro, a pleasure on the set, and he really nailed it."
Speaking to Eric Vespe, Jane adds that upon meeting Darabont, they bonded on a "mutual love for classic comic book art." It would come in handy later, when "The Green Mile" director would craft the character of David Drayton based on legendary movie poster artist Drew Struzan, who also designed several rejected posters for "The Mist." Jane, a Constant Reader who would go on to lead another King adaptation in 2017, devoured the script immediately when it arrived on his doorstep. To /Film, he sums up the moment he signed on for the creature feature: "It's one of those things where I got nothing to say, except for, "Yeah, let's, let's do it."