Frank Darabont Explains The Original Plan For Laurie Holden's The Walking Dead Character [Exclusive]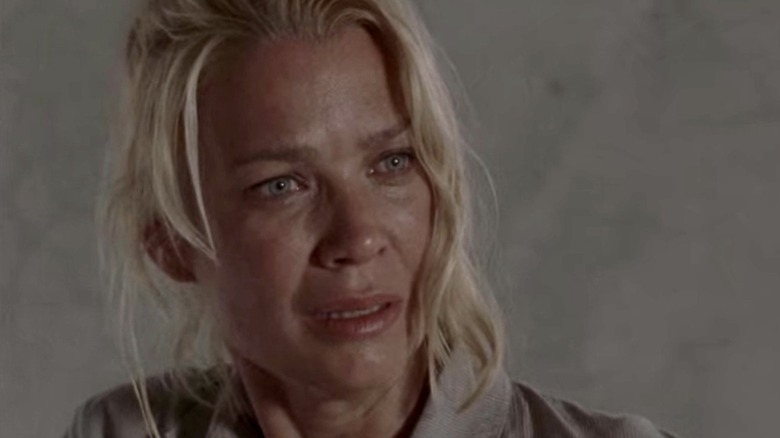 AMC
When "The Walking Dead" first launched as a TV series with Frank Darabont as showrunner, one of the main cast members was Laurie Holden, who had co-starred in "The Mist," Darabont's film adaptation of the Stephen King novella. Holden's character, Andrea, was among the first group of zombie apocalypse survivors that viewers met, and she was based on a comic book character who lasted a lot longer on the page than Holden did on the show. In the "Walking Dead" comics, Andrea went on to develop a relationship with protagonist Rick Grimes, and she made it all the way to issue #167, published in 2017, fourteen years after her first appearance in issue #2.
Holden, on the other hand, exited the "Walking Dead" TV series in the season 3 finale, while Rick (Andrew Grimes) instead developed a relationship with Michonne (Danai Gurira), who made her first appearance on the show opposite Laurie. Andrea would return to "The Walking Dead" in season 10 via archive footage, as Michonne hallucinated about their first meeting and opted not to save her this time. However, if Darabont had his way, the character would have stayed with the show longer and developed into an "ace sniper."
As part of Eric Vespe's all-new 15th-anniversary oral history of "The Mist" for /Film, he spoke with Darabont about the original plan for Andrea on "The Walking Dead," which has now finally shambled across the finish line with the airing of its series finale on Sunday night. Darabont, who departed the show ahead of its second season, said he "never auditioned anybody else" for the part of Andrea other than Holden, having written the part specifically for her, just as he wrote a part in "The Mist" for her after working with her on his earlier film "The Majestic."
Andrea was going to marry Dale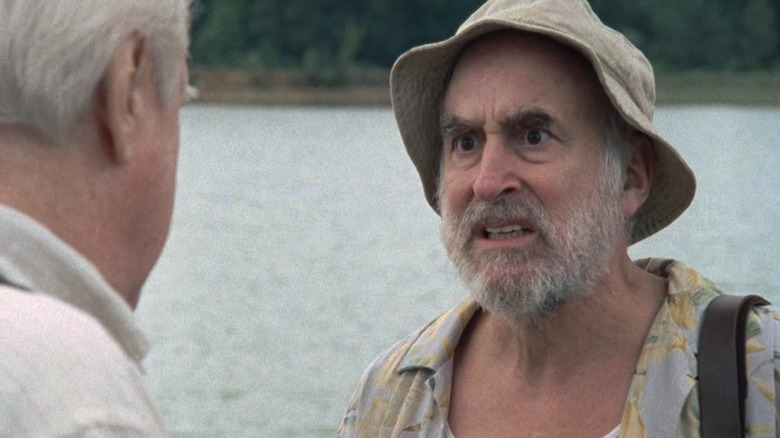 What's most surprising is the arc Darabont had planned for Andrea, which would have seen her relationship with Dale — played by fellow "Mist" alum Jeffrey DeMunn — develop beyond platonic into a full-on "May-December situation." Darabont told us:
"Laurie's role in 'The Walking Dead' was intended by me to have a substantial character arc that never transpired. She would go from being a mentally jangled, super self-absorbed, badly traumatized and angry girl to the opposite end of the spectrum: their most reliable soldier, an ace sniper, and a grown-ass woman who becomes all about self-sacrifice and protecting the group. And her relationship with Dale would blossom into a very deep May-December situation, a real marriage based in deep abiding feelings and respect. I aim for characters and situations based in messy and complicated feelings, as happens in life. And no, she was never intended to be a love interest for Rick, as I read somewhere. She was never meant to be thrown away as zombie food. Nor was Dale, for that matter."
Needless to say, this is very different from what ultimately happened to Andrea and Dale on the show. Dale had his guts ripped out toward the end of season 2, even before Andrea was killed off. This allowed DeMunn, who had a role in every movie Darabont directed going back to "The Shawshank Redemption," to appear with fellow "Walking Dead" casualty Jon Bernthal in Darabont's short-lived TNT series "Mob City."
Before Darabont got tied up in litigation with AMC for years, Andrea, meanwhile, got tied up with Milton (Dallas Roberts) and bitten by him after he zombified in season 3. Somewhere out there in the zombie multiverse, though, there's a reality where Andrea and Dale lived happily ever after on "The Walking Dead."