Yellowstone Sets A Huge Record As The Most-Watched TV Show Of 2022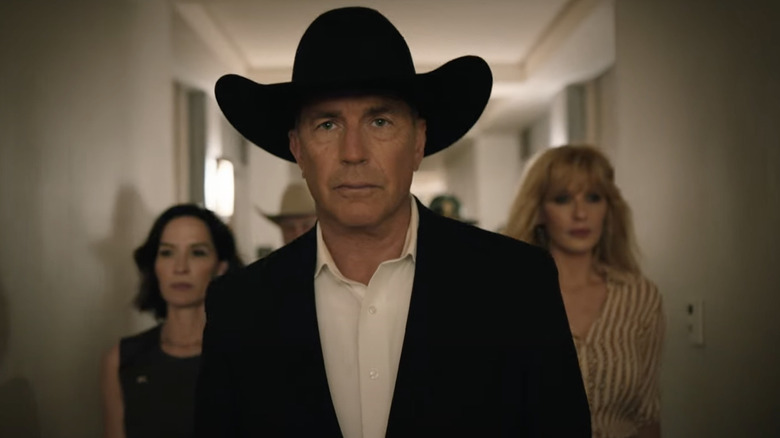 Paramount
Taylor Sheridan's "Yellowstone" continues to absolutely crush it in the ratings game, with Deadline reporting the season 5 simulcast premiere of the hit series brought in nearly 16 million viewers, making it the most-watched show on TV for all of 2022 and the most-watched cable premiere since "The Walking Dead" in 2017. While "Yellowstone" doesn't typically end up in the Emmy conversations, the show has proven that they don't need a statue to garner an audience. Series creator and showrunner Taylor Sheridan has already been greenlit for two other series on Paramount+ in the wake of the success of "Yellowstone," because apparently, people can't get enough of Kevin Costner on the Dutton Ranch.
"Taylor Sheridan has done it again with nearly 16 million viewers watching 'Yellowstone's' return on Sunday night, solidifying its status as the number one show across all of TV," Chris McCarthy President/CEO of Showtime/Paramount Media Networks told Deadline. "The premiere night was up across all demos, most interestingly with younger viewers up nearly 60%, proving this franchise still has a lot of room to grow." With a demographic boost like that, maybe it's time we at /Film finally admit that it's a show watched by more than just dads. Don't worry, we won't, because the bit is too funny to let go.
Big things for Dutton Ranch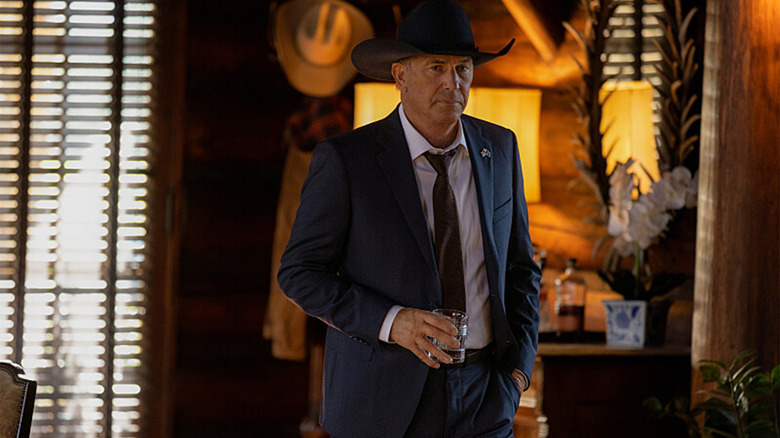 Paramount
"Taylor and I could not be more thrilled with the response to our season five premiere," said David Glasser, CEO of 101 Studios to Deadline. "When we started this journey, we all truly believed in Taylor's vision for the Dutton family and now the fans have spoken." Glasser also commended the support of MTV Entertainment Studios and Paramount Network for their continued support. "They have taken our show to places we never dreamed possible and we value their partnership and friendship more than we can say."
According to Ashwin Navin, co-founder and CEO, Samba TV, which simulcasts the series, "Yellowstone" also saw a massive uptick in popularity in the Midwest, despite its Montana setting. "Viewership significantly over-indexed for the season premiere within cities such as St. Louis, Cleveland, and Pittsburgh and not surprisingly under-indexed in the largely coastal urban centers of San Francisco, Los Angeles, and New York," Navin told The Hollywood Reporter. It sounds like Navin is throwing some mild shade here, but "Yellowstone" underperforming in coastal cities should be as expected as a show like "RuPaul's Drag Race" underperforming in rural red states.
The season 5 premiere of "Yellowstone" showed John Dutton (Kevin Costner) and his cowboy hat starting a new venture in government, despite him and his daughter Beth (Kelly Reilly) feeling less than thrilled about the whole ordeal. The series has already been renewed for a sixth season, with many initially believing that season 6 would be the last. However, after these record-breaking viewership numbers, it won't be surprising if Paramount convinces Taylor Sheridan to stretch out "Yellowstone" as long as possible.