Timothée Chalamet Got Bones And All Made, According To Luca Guadagnino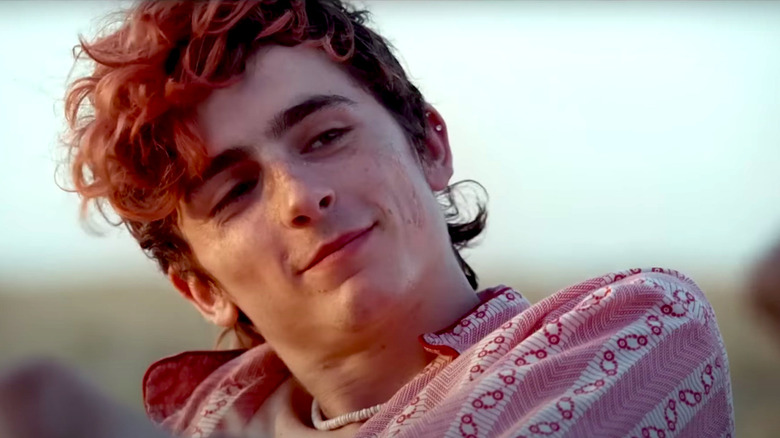 United Artists Releasing
Timothée Chalamet and Luca Guadagnino first worked together on Gudagnino's 2017 sun-dappled romance, "Call Me by Your Name." The award-winning movie about a teenager who falls in love with his family's summer house guest (Armie Hammer) while vacationing in Italy became an instant sensation due largely in part to Chalamet's and Hammer's insane on-screen chemistry and James Ivory's exquisitely adapted screenplay — which ending up winning him an Oscar — of André Aciman's book of the same name. 
Since then, Chalamet has become a celebrity of magnificent proportions, and though he has seemingly retained his humble, boy-next-door charm, his star is quickly on the rise. Next year will see the release of two major Chalamet movies, Denis Villeneuve's "Dune: Part 2" and Paul King's "Wonka" (raise your hand if you can't wait to see Timmy sing and DANCE!), but fans of Chalamet don't have to wait until 2023 to see those familiar curly locks on the big screen once again because Guadagnino's new film about cannibal lovers is set to hit theaters this month. 
Guadagnino — whose soft spot for horror was revealed in his 2018 remake of Dario Argento's beloved classic, "Suspiria" — returns to the screen with "Bones and All" starring Chalamet and Taylor Russell in the lead roles. But according to Guadagnino, the film — which is based on Camille DeAngelis' book of the same name — would never have made it to the screen if it wasn't for Chalamet himself.   
Putting some meat on those metaphorical bones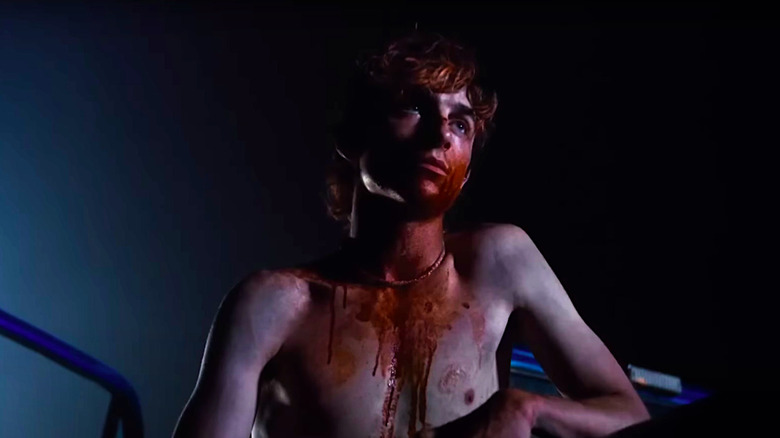 United Artists Releasing
If you're a fan of Timothée Chalamet and you are alive in this, the 21st century, you most likely follow the boy wonder on social media. And if you're a super fan, you no doubt have realized that Timmy T recently changed his Instagram profile picture to feature none other than the marvelous Luca Guadagnino. The actor/director duo are definitely extremely fond of each other, and their mutual affections shine whenever they are asked to speak about one another in interviews. It's no surprise then that Guadagnino was open to collaboration on "Bones and All" with one of his favorite actors.
Recently, Chalamet, Guadagnino, and Taylor Russell sat down with Variety to talk about their upcoming film. The article is filled with lots of praise from all three, with Guadagnino even going so far as to say that Chalamet was the main catalyst behind turning "Bones and All" into a movie. When explaining how the movie came about, Guadagnino tells Variety, "The honest, direct and completely unapologetic answer is Timothée."
Guadagnino explains that he always had Chalamet in mind for the part of Lee, and when he shared the script with the young actor, a conversation between the two men began. "I felt the bones of Lee — no pun intended — were there, but there was a lack of direction" explains Chalamet who ended up working with the screenwriter, David Kajganich, to create a more substantial character in Lee. 
The result of their work together is a production credit for Chalamet, as well as a more well-rounded depiction of Lee. Chalamet was happy to provide Guadagnino input for the film, stating, "It excited me, because it felt like it was very different than the first project we had done together." Here's to hoping that the two have many more years of collaboration ahead of them.
"Bones and All" hits theaters on November 18.