Agatha: Coven Of Chaos: Everything We Know About Marvel's WandaVision Spin-Off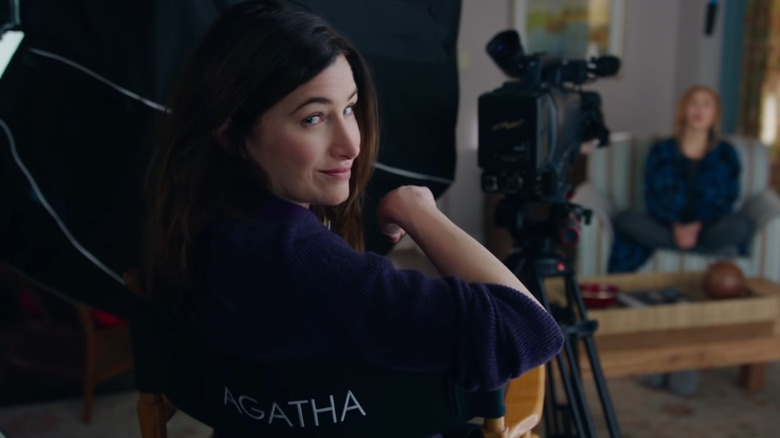 Marvel Studios
We all know it was Agatha all along behind the scenes of the Marvel series "WandaVision." That's true, even though Wanda (Elizabeth Olsen) proved herself to be quite a formidable force in the little town she and Vision (Paul Bettany) settled in. It was all her warping of reality through her grief that changed things, not that Agatha (Kathryn Hahn) helped matters. A witch who has been in the magic game for centuries, she couldn't stand that Wanda was so good at it. At the end of the series, Wanda turns Agatha into what she pretended to be through each episode; a suburban nosey neighbor. 
As we know, though, Kathryn Hahn is far too awesome for that to be the end, and we're getting a Disney+ spin-off series centered around her. That show, which was originally called "House of Harkness," is now "Agatha: Coven of Chaos," and the casting news is coming in fast and furious. Here is everything we know so far about the upcoming spin-off. 
What we know about the cast and crew of Agatha: Coven of Chaos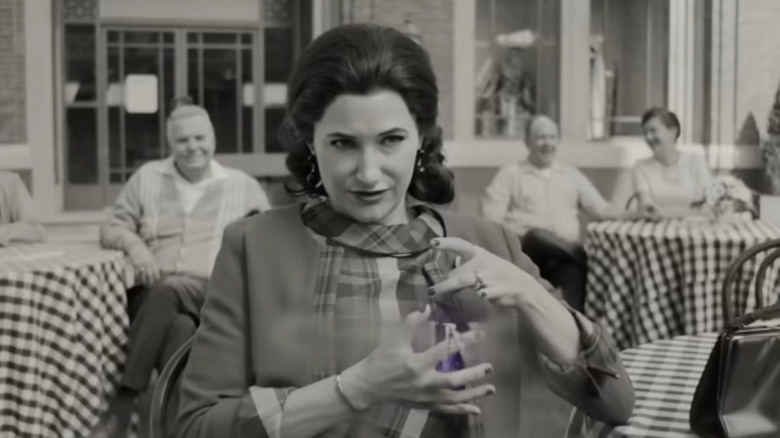 Marvel Studios
"WandaVision" creator Jac Schaeffer will serve as writer and executive producer for the new series.
A coven is a group of witches, so Hahn's Agatha won't be alone. Joining the cast is Aubrey Plaza ("Parks and Recreation"), who will reportedly play a villain. Just the idea of these two comedy heavy hitters doing a scene together gives me chills. It will be interesting to see how they define "villain" here. Agatha is a villain by most standards, though, to be fair, so is Wanda Maximoff if you really think about it. Does this mean Plaza's villain will be a good character? Maybe she's just messing with Agatha? 
Also along for the witchy festivities is Joe Locke, whose star is on the rise after his turn as Charlie Spring in the hit Netflix series "Heartstopper." We don't know how he's connected to the chaos magic yet, but he's certainly going to bring in some new fans. Joining Plaza and Locke are Ali Ahn ("Raising Dion") and Maria Dizzia ("The Staircase"), according to Deadline. Again, their roles are mysterious, which makes sense for a show about a coven. 
One very intriguing name that is returning to reprise a role from "WandaVision" is Emma Caulfield Ford, who played Sarah Proctor, aka Dottie, the "ruler" of the neighborhood and organizer of events. Whether or not that means we'll see other "WandaVision" actors remains a mystery. 
With Paul Bettany's Vision getting his own series, it's possible that we might get a cameo from him, though nothing has been said. Fingers crossed. 
What we think Agatha: Coven of Chaos will be about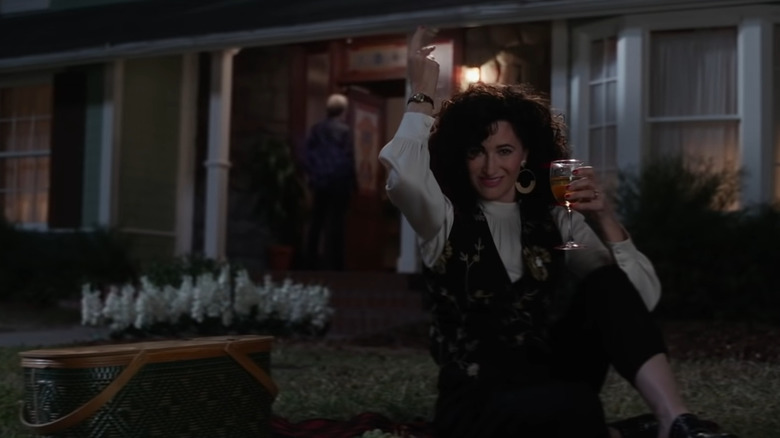 Marvel Studios
Harkness was a witch back in the late 17th century and killed all the members of her coven, including her own mom. In Agatha's eyes, that made sense because they were trying to keep her from using dark magic. Pesky morals, right? 
The storyline for "Agatha: Coven of Chaos" is currently unknown. As mentioned, the last time we saw Agatha, she was under Wanda's spell and thought she was a regular neighborhood dweller. Did Wanda's demise in "Doctor Strange in the Multiverse of Madness" undo that spell? Does she remember who she was? Will she try to take over now that her rival is out of the picture? Will we get flashbacks? 
The big question here for me is Dottie. Obviously, a lot of the fan speculation about what was going on in "WandaVision" before the reveal was wrong. We didn't see Mephisto, though how they could not bring him into the MCU at some point is beyond me. Dottie did have some moments that made me think she might have been involved, from the line about the devil in the details to the fact that her blood was red in a black-and-white episode. 
There is also the fact that Emma Caulfield Ford played Anya in "Buffy the Vampire Slayer," and having her wind up as just some lady doesn't seem right at all. Whether or not it was always the plan to have her take on a bigger role, Marvel has surely heard what people were saying. My money is on her having a secret connection, whether it's to Agatha, her original coven, or something else. 
"Agatha: Coven of Chaos" has no release date yet, but is expected at the end of 2023.