What Was Syril Karn Thinking During That Awkward Moment With Dedra In Andor? [Exclusive]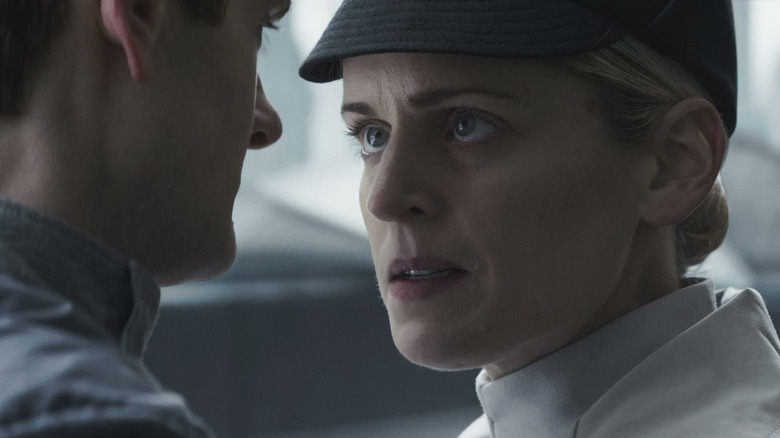 Lucasfilm
In "Andor," the shadow of the Imperial Empire looms over the galaxy. Entire planets are under their occupation. Their influence is silently felt across the galactic senate. Though "Star Wars" has never been a stranger to political themes, we've never quite seen daily life in this universe seem so bleak. The scale of the show is deliberately more intimate and personal to match our titular Cassian Andor's (Diego Luna) status. Instead of faceless Stormtroopers and powerful Sith Lords, our villains come in the form of the insidious Imperial officer Dedra Meero (Denise Gough) and weaselly bootlicker Syril Karn (Kyle Soller).
Though mostly separated for the first few acts of the series, in episode 8, Syril and Dedra finally cross paths. Brought in for questioning over his obsessive pursuit of Cassian Andor, Dedra sees something potentially valuable in his quest for vengeance. Though there was some speculation that Syril could eventually defect to the rebels, episode 9 throws that possibility off the table. Instead of disillusionment, Syril has found himself pathetically obsessed with Dedra.
In one of Syril's most unsettling moments of the show so far, he stalks Dedra and confronts her outside her workplace, gushing his feelings over her. When Dedra tries to walk away, he forcefully grabs her arm. It could not be any clearer that whatever Syril feels is one-sided, as Dedra threatens to have him locked up in the outer rim.
He might be one of the nastier characters we've met in the "Star Wars" universe, but Syril remains equally perplexing and enigmatic. When /Film's Ryan Scott spoke to "Andor" star Kyle Soller, he shed some light on Syril's mindset during his encounter with Dedra.
Kyle Soller admires Syril's 'incredible trajectory'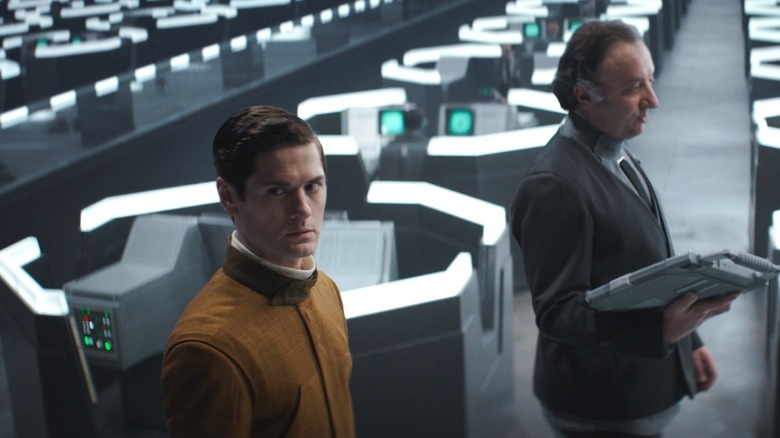 Lucasfilm
"Star Wars" as a franchise has strong ties to themes of redemption. Darth Vader, Han Solo, Kylo Ren, Din Djiarin. Creator George Lucas said it himself, "[Star Wars] is like poetry, it rhymes." Naturally, fans speculated that "Andor" would have its own redemption arcs, and between our two main antagonists, Syril seemed the more likely candidate. When asked if he knew where Syril was going, Soller admitted that creator Tony Gilroy kept his cards to his chest.
"I had a conversation with Tony at the very beginning when we were chatting about the role before I took it on and I really wanted to know where Syril was going to end up. Is he good? Is he bad? You've written a really complicated character here that could go either way. Tony was like, 'Yeah, I don't know. It could go there, it could go there. I don't know.' And I think Tony did know. And I just think he was doing me a really awesome solid as a fellow creative ... trusting me with leading Syril to where I intuitively was feeling him going."
What Soller really did not expect, however, was Syril's newfound drive and confidence after his encounter with Dedra. "He has a real incredible trajectory," Soller said. "Within the first three episodes, he has a massive high and a massive fall and then has to build himself up by going back to live with his mother and then being given a handout job. His crawling back from this complete depression, I never expected ... It feels like he's got two arcs within 12 episodes."
Dedra awoke something within Syril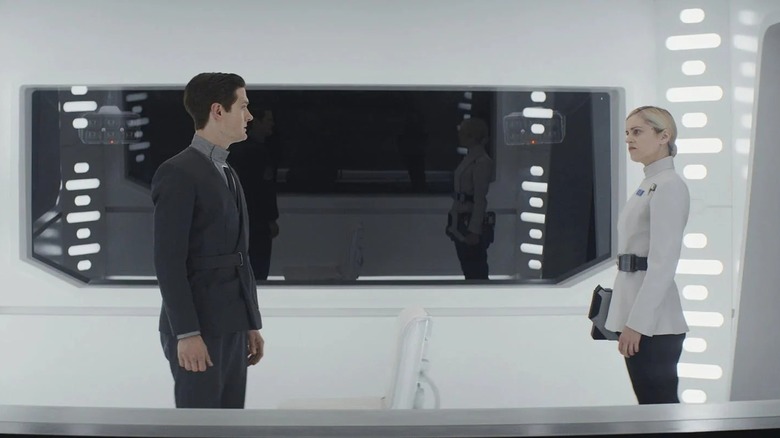 Lucasfilm
Though a deplorable character, Soller approaches Syril as any skilled actor should — with genuine compassion. Syril, like all other characters in "Andor," is a byproduct of the fascist regime he lives under. For privileged men like Syril, the search for meaning and belonging in the Imperial dystopia can often be channeled in the wrong ways. Soller remains fascinated by Syril's emotional journey.
"I think seeing and meeting Dedra feels like a fire has been rekindled within me because I see myself in her. I see all of my ideals within her and what she represents and her instincts about Cassian and this burgeoning rebellion are the same as mine. And feeling seen and acknowledged literally within the heart of the empire at the ISB, which is exactly where Syril wants to be ... He goes about it the wrong way, of course, by stalking somebody. I would never condone that. But Syril's emotional acuity, his social acuity and his developmental acuity are really not, I guess what you would call fully developed."
The face of Imperial masculinity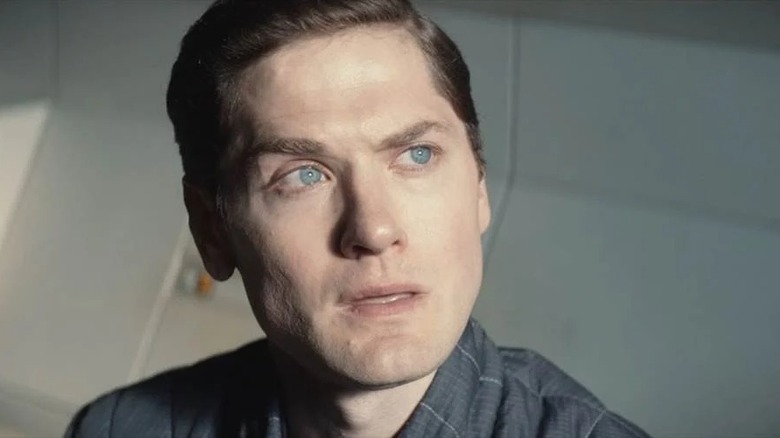 Lucasfilm
Soller's insight into Syril's mind is illuminating. When you dislike a character, it's often hard to see what's going on in their inner psyche. But as someone who embodied him, Soller brings new layers of depth to the character in retrospect, down to his polished appearance. "He doesn't really know where the lines are and he has a deep emotional well and level of frustration and anxiety that sits below the surface of this polished and tailored exterior," Soller explained. "But it's almost like he's trying to wrestle his inner life within the constrictions of that suit and that hair..."
Like any true nuanced villain, we may not be able to excuse Syril's actions, but understanding why he is the emotionally fraught person he is may hold the key to "Andor" and its more sophisticated themes. "Star Wars" usually paints bad and good in broad strokes, seldom really elaborating on the political systems that make the Imperial Empire and Rebel Alliance ideologically defined.
In Syril Karn, we have an embodiment of the kind of man Imperial masculinity and privilege breeds within. Though he has every resource he needs to live comfortably, the fascist systems he upholds demand more of him. His hunger for Imperial greatness, his desire to bring dignity to his mother, to be a man of significance in a wider galaxy ... it all comes from a place of unfulfillment and entitlement.