Weird: The Al Yankovic Story Star Evan Rachel Wood Wants To Try New Things [Exclusive Interview]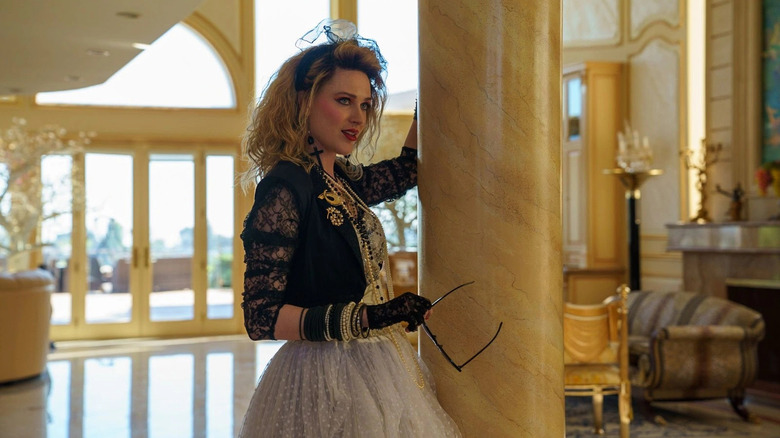 Roku
Singer and actor Evan Rachel Wood has been captivating audiences since she was a teenager, but somehow she still manages to be full of surprises. She's done a little bit of everything, starring as the leader of the android uprising in HBO's "Westworld," performing the hits of the Beatles in the musical "Across the Universe," and now, she's playing Madonna opposite Daniel Radcliffe as Weird Al in "Weird: The Al Yankovic Story," debuting on the Roku Channel this week.
"Weird" was written by director Eric Appel and Weird Al himself, and it's a send-up of rock 'n' roll biopics, sharing DNA with something like "Walk Hard: The Dewey Cox Story" while still having a signature Weird Al silly sensibility. For more on that, you can read our review. The movie is fun and fluffy and very funny, held together by pitch-perfect performances by Wood and Radcliffe. 
I had the opportunity to chat with Wood via Zoom about her time portraying the Material Girl, and we had a blast discussing the costumes, the music, and of course, Weird Al himself. Hopefully when audiences see just how wonderful and "Weird" Wood can get, she'll start getting more opportunities to go truly wild. 
'The first thing I saw of his was the Like A Surgeon music video'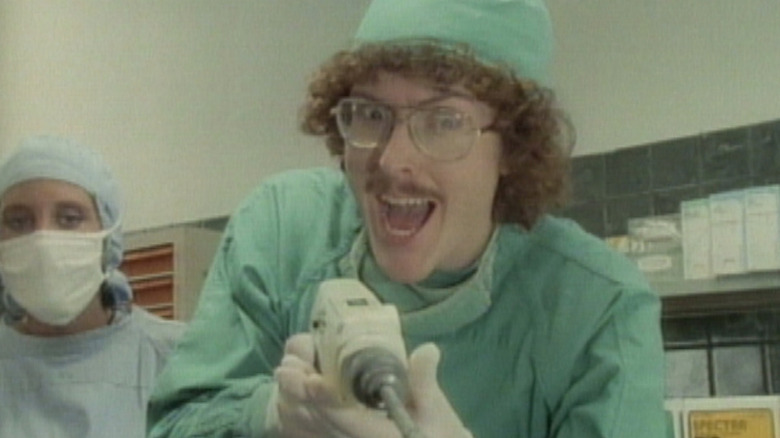 Scotti Brothers Records
This interview has been lightly edited for content and clarity.
Were you a Big Weird Al fan before you signed on for the movie? What are some of your favorite Weird Al songs?
I was a huge Weird Al fan. I think, actually, the first thing I saw of his was the "Like A Surgeon" music video. So quite fitting. [Note: The song is based on Madonna's "Like a Virgin," and Wood plays Madonna.] But yeah, I really underestimated just how loved he was until doing this film and seeing just the outpouring of people and fans that he has inspired and that adore him. It's really wild to see.
'Oh, no. I'm only going to want to do comedies now'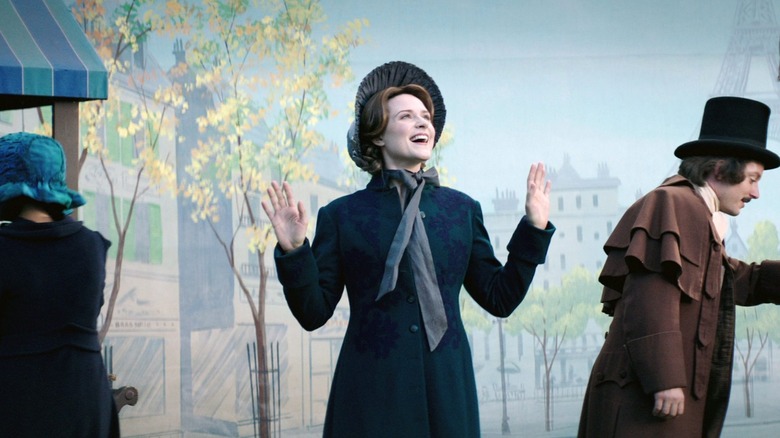 Comedy Central
Other than your cameo on "What We Do in the Shadows" and your episode of "Drunk History," you don't really get a chance to do a lot of comedy, which is a shame.
I know.
How is it different filming something weird compared to something like "Westworld" or these other big dramas you do?
It's really fun. Yeah. I loved getting to do "Drunk History" and the comedy that I have been asked to do. "Doll & Em," I got to do a little bit. But this was a whole other level of comedy that I've been wanting to do and was so excited that they asked me. And I looked at Dan [Radcliffe] halfway through filming and thought, "Oh, no. I'm only going to want to do comedies now. This is so much fun." I was like, "What do you mean you just show up on set and make people laugh all day, and you don't have to get dragged through the mud or cry or scream or anything?" I was like, "Oh, my God. This is great." So yes, I do hope that this actually opens the door for some more character acting and some more comedies.
'It was like lightning in a bottle'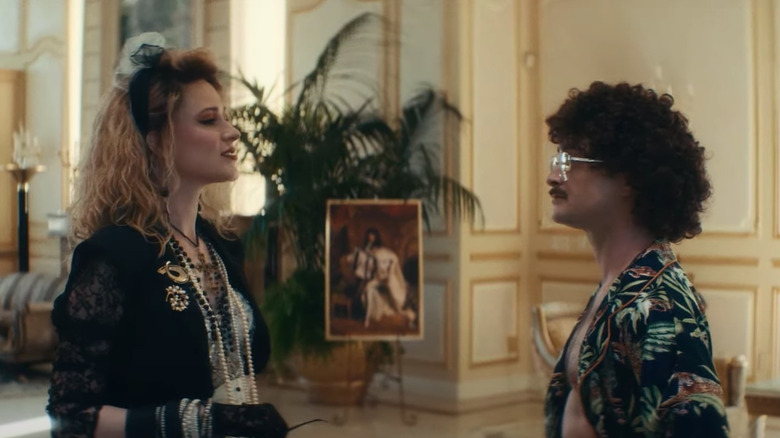 Roku
Radcliffe absolutely goes for broke as Al in this, and the two of you together are just a blast of kinetic energy. How did you approach Madonna and Al's whirlwind romance?
We just dove headfirst into it. We both fully committed. It was just amazing to watch Dan every day on set go all out. And I think we all knew that we had a limited amount of time to film, and we all just had to not overthink it and jump in and stick the landing. And luckily, it was like lightning in a bottle where everybody involved was just really good at what they did and were able to pull this off in 18 days.
Can you tell me a little bit about that 18-day shoot, just how you got involved with it and what was it like?
It was so fun. We said constantly on set how fun it was. And then the joke was always like, "Well, yeah. If you're not having fun doing the Weird Al movie, what the hell are you doing with your life?" [laughs] So it was hilarious to see all the crazy cast of characters recreating all of these famous people and all the iconic looks from the '80s. Hair and makeup every day was just a blast. It was like, "What Weird Al song is going to be playing? What Madonna song is going to be blasting?" For as quick of a shoot as we had, we did still manage to joke around a lot. It was just a lot of really lovely people coming together for the sake of Al. It was just made with love and with fun and with the utmost admiration for this person.
'You didn't have to question whether or not he was going to like it'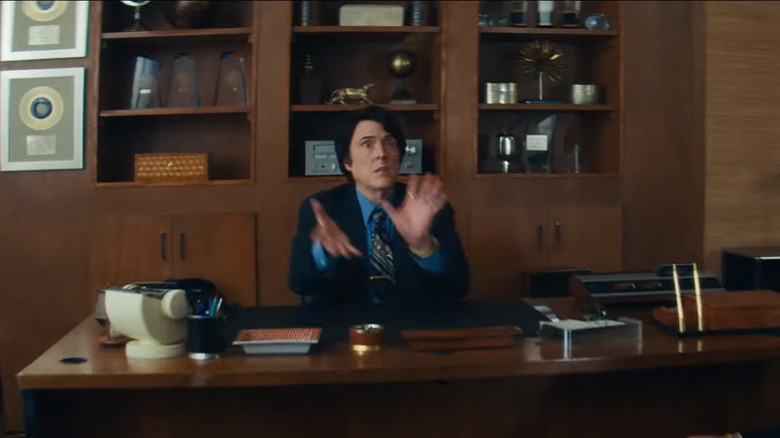 Roku
Did you get to work with Al much in person? I know you don't have a lot of scenes together, but did you at least get to see each other on set?
We did, yeah. I don't think I knew that he was going to be on set until my first day. I kept seeing, out of the corner of my eye, somebody who looked like Weird Al. So I finally asked. I was like, "Is Al here?" They're like, "Yeah, man. He's been here every day." And I thought, "Oh, the pressure!" But after my first day of filming, he came up to me and told me how well everything was playing and how impressed everybody was with the Madonna impression. So that was a great safety net, having him there and knowing that he was approving of everything. So you could relax a little bit. You didn't have to question whether or not he was going to like it.
'It just was not complete until we put the beauty mark on'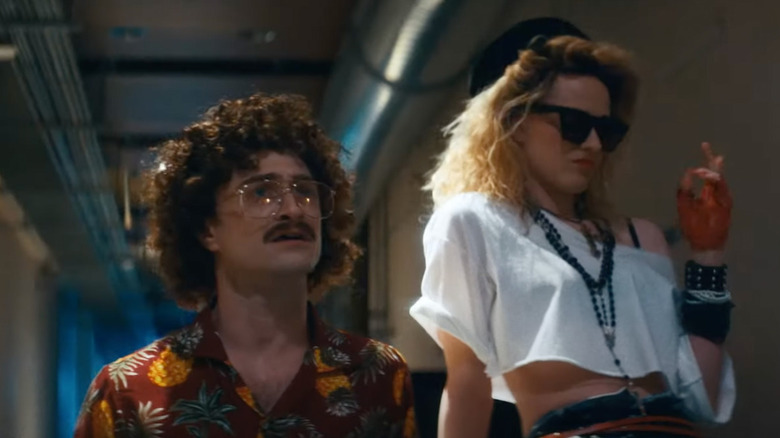 Roku
What was it like putting that Madonna costume on for the first time? Were there any little bits of the costume that really helped you feel more in character?
Yes. Honestly, showing up for that first fitting, me, the costumers, everyone was just skipping into work that day because we just knew we were about to have the best time. And so we put on "The Immaculate Collection" and just had a blast recreating a lot of our favorite Madonna looks, and then putting our own spin on it. I never wanted to take it off. It felt so good. I don't know a person that hasn't wanted to cosplay that look. But it was the beauty mark going on that solidified everything. It just was not complete until we put the beauty mark on, and then game over.
'She is controlling every room that she's in'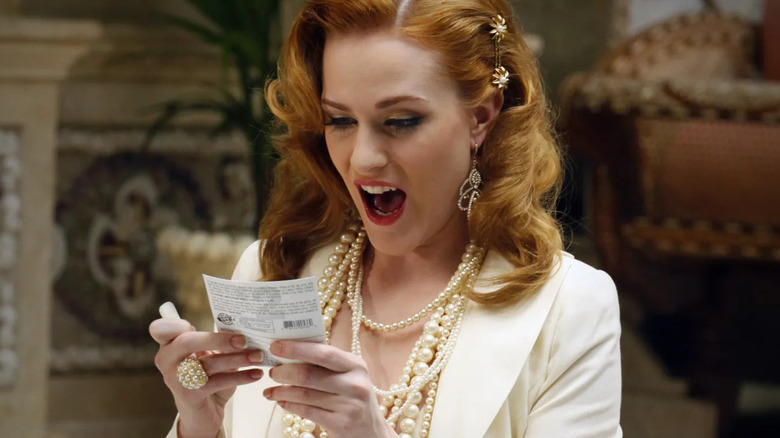 HBO
I love that. How did you approach your Madonna performance? I just imagine dancing in your kitchen singing "Lucky Star," but how did you tap into her, exactly?
Well, I did watch a lot of her early '80s interviews, because she's evolved and changed so much. I tried to focus on the time period that we were doing for accuracy. So yeah, I watched a lot of her interviews and how she was in a conversation, how she carried herself, her mannerisms. So it was a real treat for me, because I got to revisit a lot of the incredible Madonna material and be reminded what a genius she's always been. I think the main thing I had to get over and work on was just her — I feel like a nerd sometimes and [I'm] sometimes modest. And she is just fully confident, completely self-assured. She is controlling every room that she's in. So that was a switch I had to lean into and flip, I think.
I imagine you probably pulled from Sophie-Anne from "True Blood" a little bit, that same villainous-ness, because this Madonna's a villain.
Yeah. I think there probably were some moments where she could definitely slip into some Sophie-Anne territory. Absolutely. She starts off as the Madonna we know and love, and then slowly morphs into, yes, a total Maleficent, villainous, sociopathic version of Madonna from another dimension. So we get to have a little fun.
'I would love to play a Disney villain'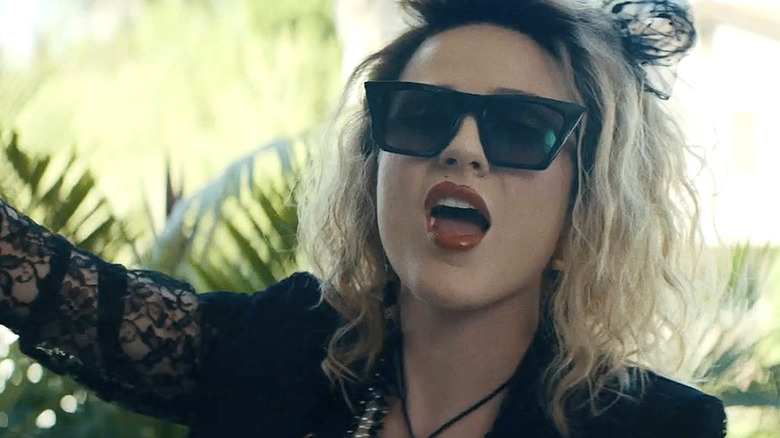 Roku
Do you think that you would be interested in playing another villain again? Another really villainous villain, not so much a complicated one like you have before?
Oh, man. I would love to. If there was another live-action Disney film, I would love to play a Disney villain or something along those lines. But it's funny, I don't like playing the villain most of the time. A lot of people say it's more fun, but I don't like being mean. [laughs] So it can be hard for me at times. This is the amount of villain I can do without feeling terrible.

You are a musician yourself as one half of the duo Evan + Zane. Did your experience performing in real life help you with any insight playing one of the world's biggest pop stars?
Yeah. In a way, I think it helps. Being a singer my whole life, I think, helps me have an ear for accents or the way people speak. And so definitely helped me when I was trying to get Madonna's voice and cadence right and the way she pronounces certain words. I think the musical ear certainly helps. And now weirdly, I'm better at singing her songs than I was before, because I think I studied so hard. And so now we've started doing Madonna's songs at our Evan + Zane shows. So it just keeps growing.
'I don't think even I realized that I could sing Madonna until doing this'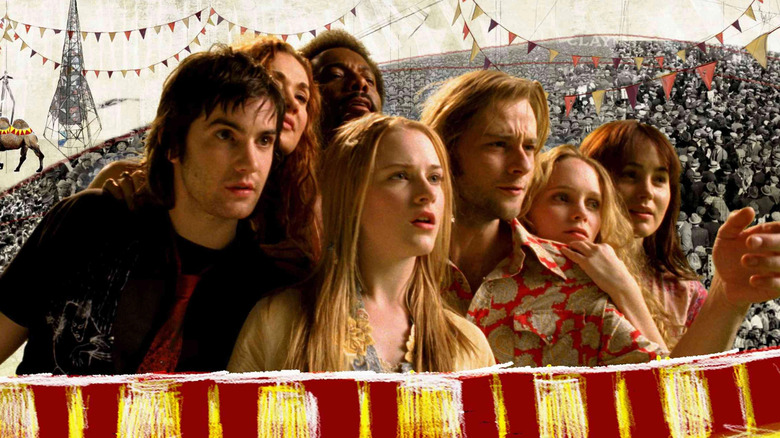 Sony
Would you ever be interested in doing a musical again, like "Across the Universe"? I almost expected you to sing as Madonna in this!
Well, that was a misstep on their part, which they realized after the movie had wrapped and one night we were all doing some karaoke. And of course, I sang Madonna. And Dan and Eric [Appel, the director] were just like, "Oh, we messed up. We messed up so hard not having Evan sing in this movie." But I don't think even I realized that I could sing Madonna until doing this. But I would love to do another musical. I would love to do musical theater in New York. That's where I started, was musical theater. And so that's really where I feel the most at home. It's funny, Hollywood pigeonholes people. [I'm seen as] this dark and brooding dramatic actress, but I can actually do multiple things.
'I really want to host SNL now'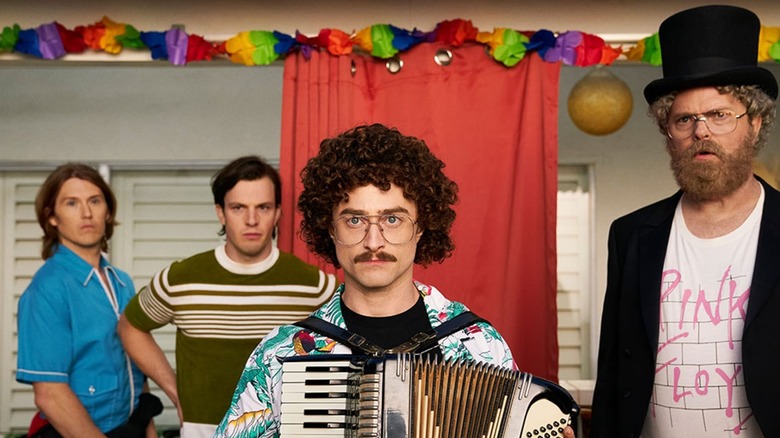 Roku
This movie is chock full of cameos from Weird Al himself to Josh Groban as a waiter. Did you have any really funny cameo moments or anything that you were just beyond excited to see?
I was very excited to see Conan O'Brien as Andy Warhol. It's so brief, and I don't even know if some people would even recognize that's him, but it is. That one, I was stoked about. And the Josh Groban cameo made me laugh maybe more than any of them, because he was playing it so straight. He wasn't playing an iconic character from the '80s. He was just our waiter that just had to act quietly, super uncomfortable, and get food knocked out of his hand. It was just so funny watching somebody of his caliber play that role. [laughs] So that really made me laugh, honestly.
Is there anything that doing this really taught you about comedy?
Yeah. I think it gave me more confidence that I could do skits or sketch comedy or something like that. I was just like, "Man, I really want to host 'SNL' now, so that I can play a bunch of different characters and sing and be funny and wear funny disguises and costumes." So yeah, it definitely gave me a taste for sketch comedy, I think.
'We were going for accuracy with this one'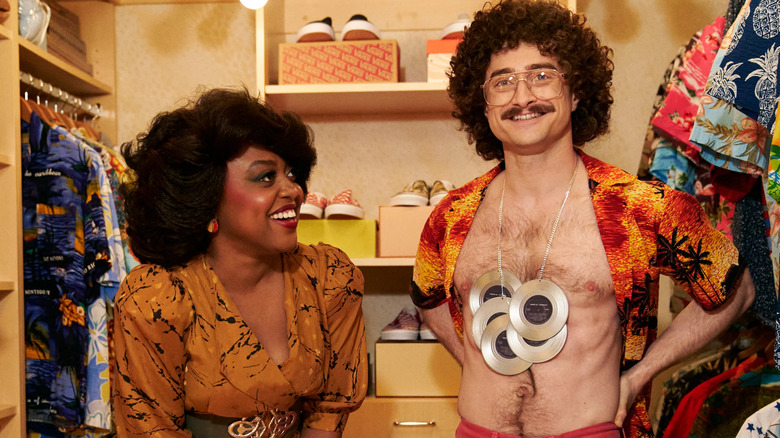 Roku
What's next for you? You've done so much this year. It's been a lot.
It has been a lot. Yeah, it's been a lot. So I'm taking a bit of a break, but I'm still singing a lot. And Evan + Zane are finally able to perform live again after a couple years. So we're getting back into the swing of that. Hopefully, there'll be a tour and some things on the music side. I'm working on an EP of my own songs. I've got another music side project going on that should be coming out soon. So a lot of music happening, actually. And then we'll see if "Westworld" is going to come back or not.
Is there anything that you want the readers at /Film to know about "Weird: The Al Yankovic Story?"

It is absolutely true. 100% accurate. Very excited for people to learn about this romance that Weird Al had with Madonna. And yeah, we were going for accuracy with this one.
"Weird: The Al Yankovic Story" premieres on Roku on November 4, 2022.