Westworld Star Evan Rachel Wood On How Dolores Is An Imperfect Hero For Our Times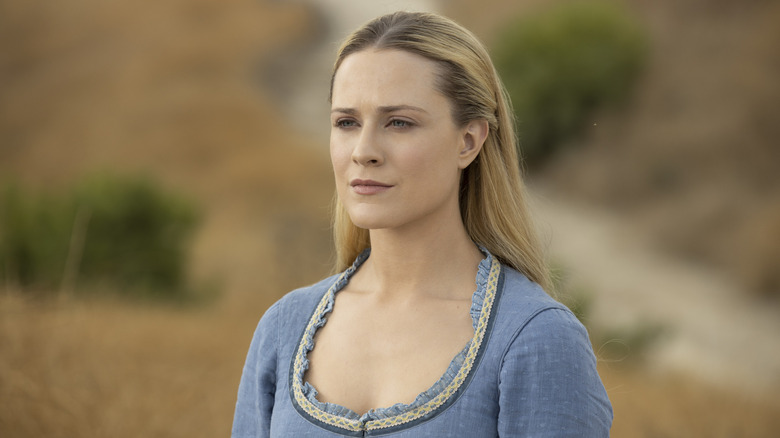 HBO
This piece discusses sexual assault and domestic abuse. Reader discretion is advised. 
Dolores Abernathy, the sweet farmer's daughter on "Westworld," undergoes an incredible metamorphosis over the course of the series. In the beginning, she's just another prop in the Westworld park, though she is developing feelings and thoughts of her own. She is victimized repeatedly, both at the hands of total strangers and by those who have promised to love and protect her, and eventually, something in her awakens and she refuses to be a victim any longer. Dolores became a powerful though flawed heroine for survivors of sexual assault and domestic abuse. She survived the unimaginable over and over again, only to rise and become mightier than any of her abusers. It's an experience that actor and activist Evan Rachel Wood, who plays Dolores, sadly knows all too well. 
I had the honor of attending a roundtable press conference with Wood to promote "Westworld" season 4, and wanted to ask her a question that I had held near to my heart since season 1. Wood has been an inspiration of mine since I was young, but her portrayal of Dolores and her real-life activism made her something more in my adulthood. Reliving the pain of trauma in therapy can be challenging enough, so I couldn't imagine "reliving" similarly painful experiences as a performer, even if it goes on to inspire other survivors everywhere. Wood has a way of looking at things that helps keep her going, however, and it mirrors Dolores' own hopeful vision. 
'There is no perfect victim or perfect survivor.'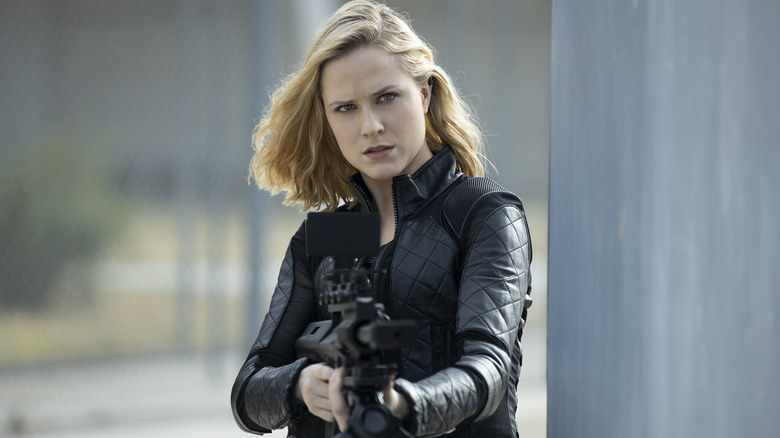 HBO
A documentary about Wood's work to pass the Phoenix Act, a law that increased the statute of limitations for domestic-violence felonies in California from three to five years, is currently streaming on HBO Max. The documentary, "Phoenix Rising," also details Wood's allegations of abuse against her ex-boyfriend, Marilyn Manson. Wood herself has become a figurehead for assault and abuse survivors, and her strength in coming forward inspired many others to do so as well. Wood's courage helped give me strength to be more open about my own experiences, and it was a major step forward in healing. It's never an easy time to be a survivor, but the ongoing cultural reaction and potential fallout of the Johnny Depp and Amber Heard case has made things even more painful. 
In need of a little inspiration to keep fighting the good fight myself, I asked Wood about how she managed to keep Dolores' trauma separate from her own while still imbuing the character with something personal:
"I mean, that's always the dance that you do with characters of ... especially when you relate to the character so much is, sometimes you have, you are at war with yourself of, but I want to do it like this. And it's like, but that's not the story that we're telling, that's not the world that you're in, that's not the character that you're playing. Make sure you're still separating the two experiences. But it's one of the reasons why I love Dolores and the way that they have explored that character is that heroes aren't perfect and things are messy and there is no perfect victim or perfect survivor. You know, it's all the lens in which we look at them and the experiences that we've had, that influence our perception and in that way, I relate to her. I'm in no way, shape, or form perfect. But I may be optimistic like Dolores in that I do think that, evil never dies, but it also never wins and it can seem hopeless to keep fighting, but you have to fight not to necessarily defeat the thing, but to maintain the balance."
Dolores' battle to free both hosts and humans from their bondage is often a losing battle, and Wood's battle to protect fellow survivors is similarly challenging. Instead of feeling defeated that evil never dies, we can take a page from her book and look to simply maintain the balance. Let's keep fighting. 
If you or anyone you know has been a victim of sexual assault, help is available. Visit the Rape, Abuse & Incest National Network website or contact RAINN's National Helpline at 1-800-656-HOPE (4673).